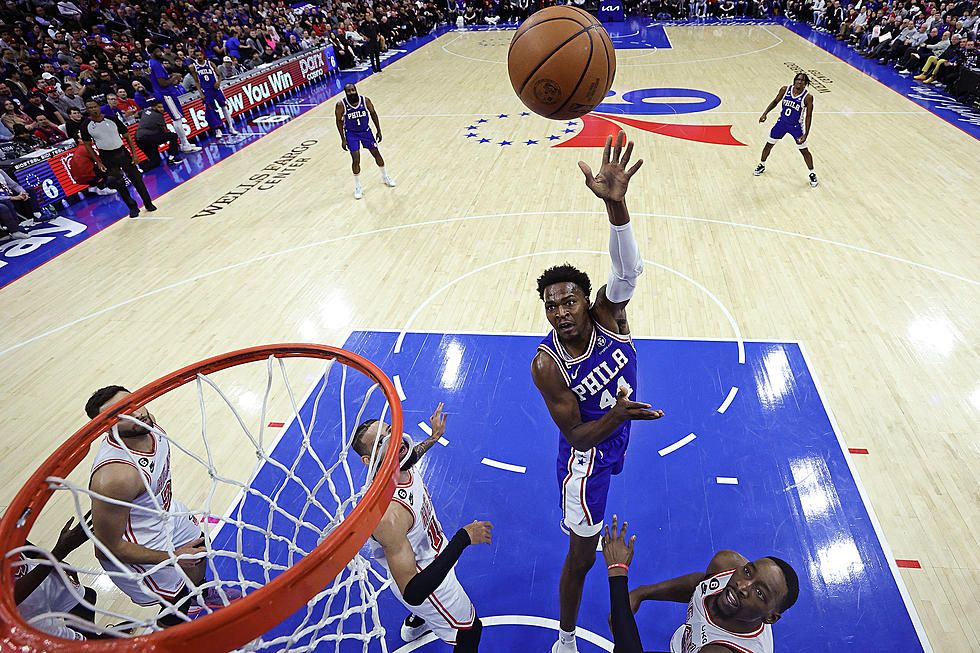 Three subplots that should interest the Sixers nerd in your life
Photo by Tim Nwachukwu/Getty Images
Stop me if you've heard this before, but the Sixers didn't exactly have a thrilling offseason. Not unless you're a huge fan of Patrick Beverley's antics and concern for whether officials need cameras to see the foul that had just occurred. The regular-season wins get old when the season ends at the exact same time every year, but that doesn't mean there aren't some subplots for those religious fans who will glue their eyes to their screens for all 82 games to be intrigued by.
Here are three things for the Sixers sicko in your life to be interested in as the season comes and goes.
Paul Reed taking catch-and-shoot threes
And no, that isn't to say that popping midrange jumpers will suffice. Defenses aren't going to respect his jumper regardless. Nor should they. Reed hasn't proven to be a respectable jump-shooter through three NBA seasons.
But, if they're going to ignore him regardless of whether he's shooting from 17 feet or from 24 feet, take the extra point on the same shot quality.
Ben Simmons taught me not to take really any stock in offseason workout videos. But, there is a sign that I do believe in that shows he's working hard to develop his perimeter game. Developing shooters tend to keep their guide hand pointed to the basket or the sky when they take catch-and-shoot jumpers in live action. It's just a habit of upper-body shooting mechanics that you want to instill in a player building up a jump shot. It's also a subconscious habit when the touch feels good coming off the hands. The only way you feel that touch is by working hard on shooting.
Take a look at what Reed does after letting it fly off the catch in a recent pick-up game during the legendary Rico Hines runs:
That left hand is touching the sky.
What Reed does in a private pick-up game is not certain to show up under the bright lights of The Center. But, the Rico Hines runs are a bit more credible than the untraceable clips Simmons popularized in his summers.
The meaningful subplot in all of this is whether Reed can make 30-35 percent of those threes he's comfortable taking. That willingness to extend his offensive repertoire to the perimeter licenses the Sixers to experiment with Reed at positions beyond center, which means they can help their own cause on defense by pairing him with Joel Embiid.
But, putting him on the court with Embiid has its own mandate. Unless Reed is shooting 40 percent on a meaningful volume of threes, defenses are going to choose to pinch on Embiid in the paint or at the elbows over staying home or sitting in normal help out of respect for Reed. They're going to do that every time. So, it's not about opening the lanes for Embiid to attack. It's about having someone on the court who is going to get an open look from deep by simply standing there more often than not. All Embiid and any other comrade has to do is pass the ball his way. All Reed has to do is make it worth their while. It's not a meaningful experiment if he doesn't make good on those open shots.
Tyrese Maxey's assist-to-turnover ratio
I used to think of assist-to-turnover ratio as simply playmaking aptitude. If you were a guard with a ratio of at least 2.5:1, you were an adept playmaker. I no longer think that's an appropriate definition of that metric. There are players who don't have the vision or the skills to be playmakers, but they're not risky decision-makers and they generally do a good job of spotting open teammates.
I think a more appropriate description of assist-to-turnover ratio is "efficiency with the ball in your possession". It's not perfect. It doesn't account for players like Maxey's teammate, Joel Embiid. A silky smooth, wildly efficient scorer who has turnover issues. You could argue he's efficient with the ball in his hands, but I wouldn't classify him as a consistently good playmaker.
To me, that definition ultimately works because, in my mind, it captures the value of being a risk-taker on the floor. The value of full-court passes; the value of skipping the first pass because you have a teammate open across the court.
Tyrese Maxey has a career assist-to-turnover ratio of 3.17:1. That's really good. It's also a bit misleading. Maxey has committed less than 90 turnovers in each of the past two seasons. Some of the players in the ballpark of Maxey's turnover volume include Khris Middleton, who played 33 games last season; Tobias Harris, who toggled between third and fourth option on offense for most of last season; and Damion Lee, who was a 3-and-D role player on the fringes of the Suns' rotation in the playoffs last season.
Maxey's assist-to-turnover ratio reflects someone who is efficient with the ball in his hands. The underlying context suggests he's efficient because he either doesn't take risks as a playmaker or isn't licensed to be the lead guard of an offense night in and night out.
What his assist-to-turnover ratio looks like this season is ultimately important for two reasons. First, if a disgruntled James Harden can't get on the court for the Sixers, the only way Philadelphia will have a puncher's chance of shouldering his absence is if Maxey (or someone else) steps up. Not as a scorer or shooter - Maxey already proved he can take a big bite there when Ben Simmons held out in hopes of a trade in 2021-22. Rather, as a facilitator and playmaker.
An objectively disappointing offseason later, the Sixers are going to have to manufacture offense by making each other better. There just isn't enough proven individualized talent down the roster. The playmaker is the one who makes his teammates better. Maybe it's Embiid, maybe he becomes a passing wizard in the post, face-up, and at the elbows. But, it's probably Maxey who has more upside there.
Second, in terms of roster construction, it's just easier to build a winning team when the smallest guy on the court is the point guard. Up to this point, Maxey has been an undersized shooting guard. He's gotten away with it on offense because of his electric scoring and stunning development as a shooter. But, his defense has always been a problem because of his body. If he can be the point guard, he'll theoretically draw the opposing point guard on defense, and the Sixers would no longer be trying to shove an oval peg in a round hole.
The double-big lineup
Thought you were done with the double-big lineups when Al Horford left, right?
It's more palatable this time because the bigs in question are not due $109 million. It's more palatable because it isn't necessarily the core of the team.
And like it or not, it might be their best chance of treading water until the Harden situation is resolved.
Yes, that means leaning more towards defense than offense. It's not to say Mo Bamba is a tremendous defender. A significant reason for his not living up to his draft slot up to this point is that Bamba can't defend in space. But, Mr. Reed can do that. There have also been some innovations in double-big defensive schemes in the years since Horford donned a Sixers jersey. Sure, there are limitations on offense. Sure, that's even problematic in a lineup that features Embiid. But, Embiid is probably going to be more of a rim-protector on a Nick Nurse-coached team. So, put him on the weak side and let him pivot around as a helper. Watch the drivers and camped-out bigs freak out as the reigning MVP meets them in the paint, ready to swat the ball to Xfinity Live. Let Reed guard the switch on the perimeter.
Does Embiid become the guy on the perimeter if he's playing next to Bamba? What happens when you play Reed and Bamba together?
It's almost time to find out.
Cape May County Bars to watch Football this season (alphabetical order)