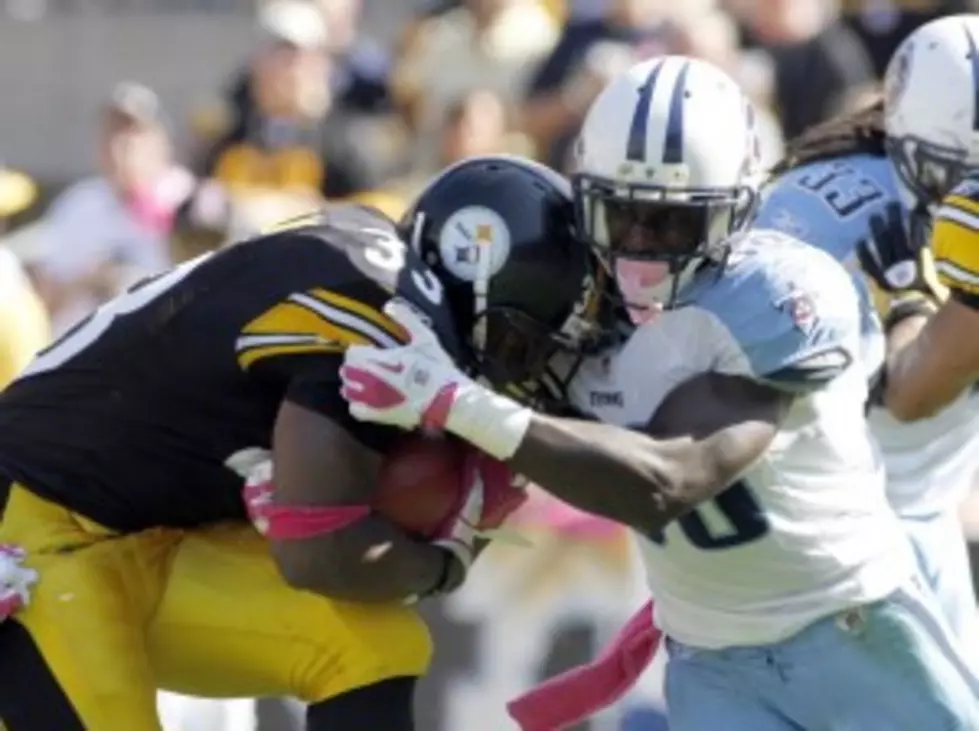 Thursday Night Football on 1450 ESPN: Steelers vs Titans
Steelers vs Titans on 97.3 ESPN (Photo by Justin K. Aller/Getty Images)
Thursday Night football on 97.3 ESPN, Steelers vs Titans.
Coach Mike Tomlin said SS Troy Polamalu (calf) will not play in Thursday's game against the Titans.  The Titans have ruled out Jake Locker (shoulder) for Thursday night's game against the Steelers.  Though he missed Monday's practice, Titans coach Mike Munchak expects Kenny Britt (ankle) to play Thursday night against the Steelers.
The Pittsburgh Steelers are back at .500, but injuries on defense continue to be a concern even with a potentially favorable prime time matchup ahead.
Trying to win two in a row for the first time this season, the banged-up Steelers look for a fourth consecutive victory over the struggling Tennessee Titans on Thursday night in Nashville.
Coming off its bye week, Pittsburgh (2-2) rallied for a 16-14 home victory over Philadelphia on Sunday. Ben Roethlisberger engineered a 64-yard drive over the final 6:33 and Shaun Suisham hit a 34-yard field goal as time expired to help the Steelers carry some momentum into this short week.
"We had the ball last," coach Mike Tomlin said. "Such is life."
Life can be better for the Steelers, especially on defense. Pittsburgh ranks fifth in the NFL with 280.0 yards allowed per contest, but it's given up 65 total points in road defeats to Denver and Oakland.
Though Tennessee (1-4) ranks 27th averaging 17.6 points, the Steelers will line up without one, and possibly two, of their top defenders.
That's enough to leave Tomlin wary of this challenge, along with the fact that Pittsburgh is 2-7 in Tennessee since the former Houston Oilers relocated there in 1997.
"We just need to respect the fact that we have yet to (win on the road) this year and we have an opportunity on Thursday night," Tomlin said.
Star safety Troy Polamalu will miss a third game after re-aggravating a strained calf Sunday. Tomlin, however, is cautiously optimistic that linebacker LaMarr Woodley could play despite a strained right hamstring.
"We're at the early portion of the season and we've got to be smart with how we deal with that," he said of Woodley.
Linebacker James Harrison will play following Sunday's effort in which he harassed Michael Vick in his return after missing the first three games while recovering from knee surgery.
While the Steelers hope a potentially patchwork defense can come through Thursday, their offense is healthy and could be in for a productive evening.
Rashard Mendenhall looks to build on his strong performance last week in which he rushed for 68 yards, and caught three passes for 33 yards and a touchdown in his first game since tearing his ACL on New Year's Day.
"Our savior is back," Roethlisberger said. "It was great to see him out there and he did a great job."
Mendenhall ran for 69 yards on 23 carries as Pittsburgh snapped a three-game skid at Tennessee with a 19-11 win Sept. 19, 2010.
Roethlisberger missed that contest while serving a four-game suspension for violating the NFL's personal conduct policy, but he threw for five touchdowns in a 38-17 win over the Titans on Oct. 9, 2011.
Roethlisberger is 3-1 versus Tennessee, with the lone defeat coming in Nashville on Dec. 21, 2008. He threw for 329 yards with two touchdowns, but was intercepted twice and sacked five times as the Steelers fell 31-14.
He passed for 220 yards with a TD on Sunday, recording his 25th career fourth-quarter comeback.
"I always have confidence in myself and the guys that we can do it," said Roethlisberger, who has completed 65.6 percent of his passes for 1,111 yards with eight touchdowns and one pick in 2012.
He might not need another fourth-quarter rally against a Titans club that has allowed a league-high 181 points. Tennessee yielded its lowest point total of the season in a 30-7 loss at Minnesota on Sunday.
"It's frustrating," said coach Mike Munchak, whose team has totaled 21 points in two losses since a 44-41 overtime home win over Detroit on Sept. 23. "We know this is our big opportunity to hopefully change the opinion of a lot of people by how we play on Thursday night."
That could be a tall order for a team that has committed 10 turnovers and struggles to run the ball. Chris Johnson had 45 rushing yards over the first three games before gaining 141 in a 38-14 loss at Houston on Sept. 30. However, he managed 24 yards on 15 carries versus Minnesota.
Johnson won't get much help with backup Javon Ringer out at least four weeks with a knee injury.
"We don't look like a good team, so I wouldn't sit here and say that we're close," said Johnson, who has averaged 52.8 rushing yards in four games versus Pittsburgh.
Matt Hasselbeck, who started his second straight game in place of the injured Jake Locker last week, went 29 of 49 for 262 yards with a TD and an interception at Pittsburgh last season.
Tennessee has not lost three in a row since a six-game skid Oct. 31-Dec. 19, 2010.
Rushing: Redman - 45 car, 113 yds, 1 td
Receiving: Brown - 25 rec, 326 yds, 1 td