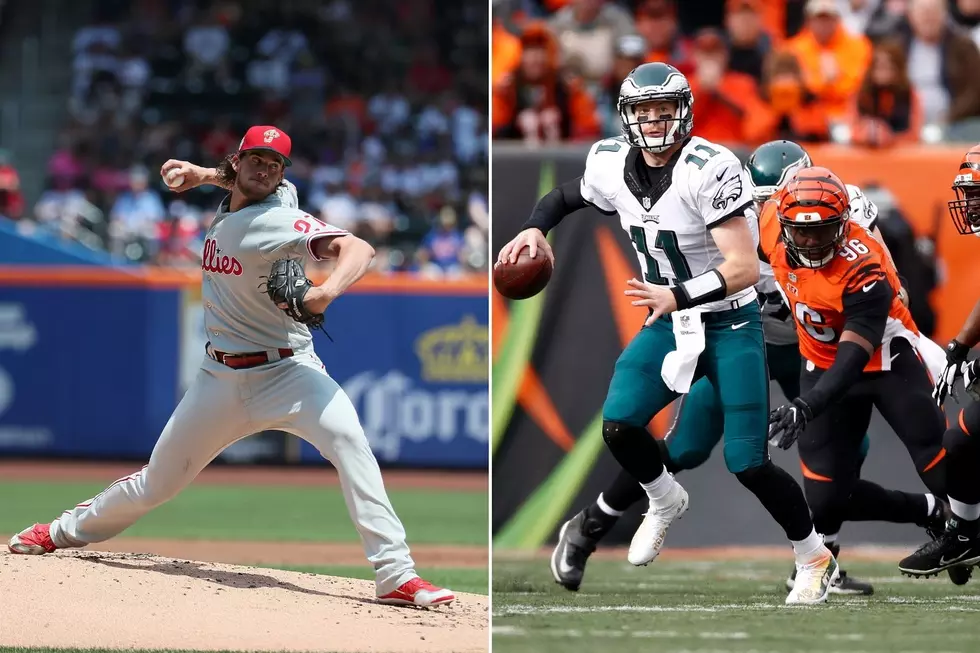 We Need Four Solid Games this Weekend From Phillies And Eagles
-Aaron Nola: (Photo by Al Bello/Getty Images) -Carson Wentz: (Photo by Gregory Shamus/Getty Images)
This weekend is critical for our Philly sports teams with the Phillies playing their final three games of the abbreviated 2020 season in Tampa Bay against the AL East Champion Rays.  For the Phillies to make the postseason they will need their starters to pitch well in order to sweep the Rays.  The Phillies will also need the Giants, Reds and Marlins to lose at least two of their remaining games on their schedules.  Vince Velasquez, who in his last three starts, posted a 4.30 ERA with 20 strikeouts in 14 ⅔ innings, needs to have his best stuff Friday Night while Zack Wheeler and Aaron Nola will start the final games Saturday and Sunday respectively.  However, the last two games that each of the Phillies top pitchers started they are a combined 0-4.  One other thing to consider: while the Rays clinched the AL East they are still competing for the coveted first overall seed in the AL Playoffs.
On Saturday's THE LOCKER ROOM Scott McKay and I will talk Phillies baseball and review Friday night's results along with look at the remaining two games versus the Rays.  We will talk with former Phillies relief pitcher Scott Eyre about his days on the Phillies Pitching staff and the challenges relief pitchers face coming into a tight situations.
Meanwhile, the Eagles look to avoid a 0-3 start to their season which has not happened in Philadelphia since 1999.  Carson Wentz has been inconsistent at best and has a stat line that looks more like a career backup; Carson needs to turn it around with a solid performance this Sunday.  Wentz has thrown four interceptions and only two Touchdowns this season; He has not thrown multiple interceptions in back to back games since November 11th and 18 of 2018.  Rookie Quarterback Joe Burrow is the 2019 Heisman Trophy winner and he leads the 0-2 Cincinnati Bengals to Lincoln Financial Field to face an Eagles defense that has allowed 32 Points Per Game so far this year.  If the Eagles are to win on Sunday, they will have to contain Joe Burrow by pressuring the rookie into making mistakes. The Eagles defense has only forced one turnover in two games this year; Since Jim Schwartz became the Defensive Coordinator the Eagles Defense has averaged 1.5 Turnovers Forced Per Game in the previous 64 regular season games.
On Saturday's show, we will visit with Hall of Fame offensive lineman from the Cincinnati Bengals, Anthony Munoz and talk about his career along with his perspective on the new look Bengals.
On Sunday don't miss The Locker Room's  Eagles pregame show on 973 ESPN!  We will break down the keys to the game for an Eagles victory with Scott Grayson from Fox 29 and 973espn.com.  He joins the show weekly at 10:15am. This Sunday in our "Where are they now" segment we will talk with former Eagles defensive back Sheldon Brown.  Sheldon will tell us what he's been doing since his playing days in Philadelphia. Finally my Fantasy Football Guru Brian Hartley checks in on Sunday to give you his plays for Week 3 in the NFL. 
The Locker Room with Billy Schweim is live every Saturday and Sunday starting at 10am on 97.3 ESPN!
Phillies Major Award Winners Since 1980