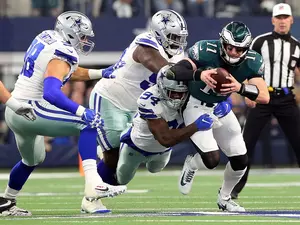 Wentz Could Use Three Months to Heal 'Stress Injury'
(Photo by Richard Rodriguez/Getty Images)
PHILADELPHIA (973espn.com) - Carson Wentz's back injury is serious enough to cost him the rest of the regular season, according to NFL sources.
The third-year quarterback suffered what was described as a hairline fracture of the vertebrae, an injury which will not require surgery but will demand potentially up to two months of the rest, a number Doug Pederson actually increased by 30 days at his Friday press conference.
Either of those timetables would take Wentz past the regular-season finale and into any potential playoff run for Philadelphia if the Eagles can overcome the odds down the stretch.
One source claimed the organization believes the fracture occurred in last week's overtime loss to the Dallas Cowboys and is unrelated to a balky back Wentz was dealing with in October which left him limited for one day at practice during two consecutive weeks.
Pederson was far less definitive on that subject, however, saying the injury has "evolved" over time but declining to go into medical specifics. Pederson did reveal that the official disgnosis only came after a CT scan on Tuesday.
Pederson defined Wentz's injury as "a stress injury" that will not require surgery. He also said Wentz would be listed as questionable for the game in Los Angeles on Sunday and would be making the trip although that certainly smacks of gamesmanship.
Wentz missed practiced on Wednesday, Thursday and Friday while his normal weekly press briefing was canceled.
-John McMullen covers the Eagles and the NFL for 973espn.com. You can reach him at jmcmullen44@gmail.com or on Twitter @JFMcMullen