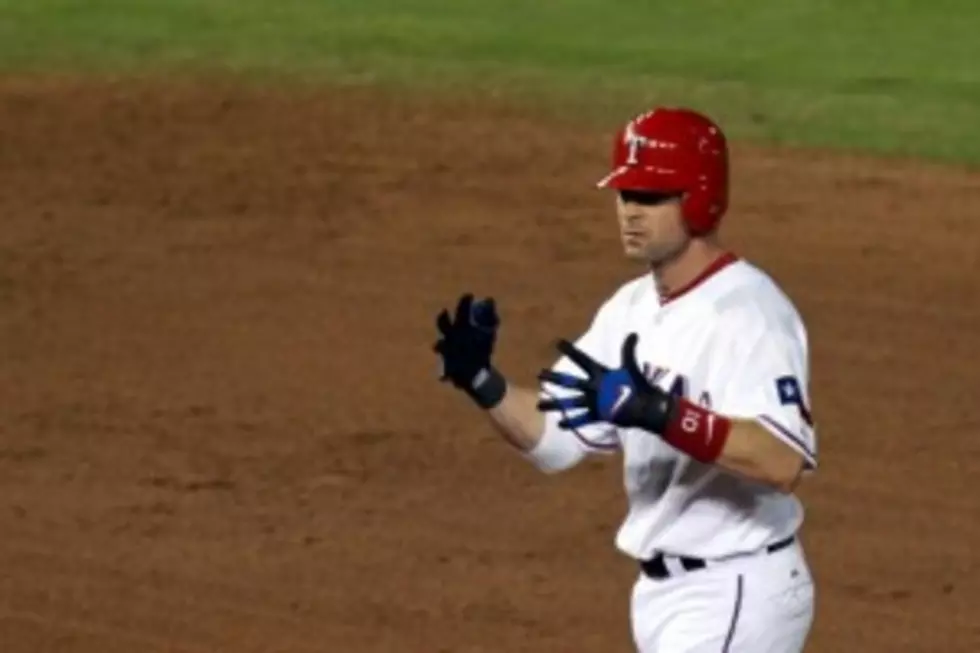 What Does Young Deal Mean to Phillies?
The Phillies get veteran Michael Young in a deal. (Photo by Ronald Martinez/Getty Images)
Ruben Amaro Jr. made it clear that the hot corner was a priority this off-season for the Phillies, so they made a deal do get Texas Rangers icon Michael Young on Saturday.
So what does Young bring to the Phillies?
(Listen to ESPNDallas.com Rangers reporter Richard Durrett on the Sports Bash talk about Michael Young)
What Young ultimately brings is leadership, intangibles and a resume that makes him one of the best players in Rangers franchise history (if you turn a blind-eye to the 2012 season).  He is coming off the toughest season of his career, both offensively and defensively.  The Rangers made this move because they have a plethora of players that can play in the infield and the Phillies were willing to take a shot on a former star player having one more year left in him in a weak free agent market.
Essentially, this deal came down to what was available and what the Phillies needed to fill.
The free agent selections at third base included Kevin Youkilis and not much else and with Youkilis getting a $12 million offer over the weekend, the Phillies made the right decision to take a shot on a clubhouse leader who might be able to crank up one season to show the Rangers they made a mistake.  Are the questions about Young?  Sure.  But at $6-million dollars, its less of a gamble and one worth taking when you look at what else was out there.
Many have asked the question now about what this deal could mean for Josh Hamilton.
It seems to me in talking to some people like Richard Durrett of ESPNDallas.com and Keith Law of ESPN.com that Young and Hamilton don't have much of a relationship.  Right now Hamilton is looking at how bad he wants to go back to Texas and the Rangers, after missing out on Zach Grenkie might miss out on Hamilton now too.  But losing Young certainly doesn't hurt the Rangers on the field - where they had no opening for Young to play in 2013.