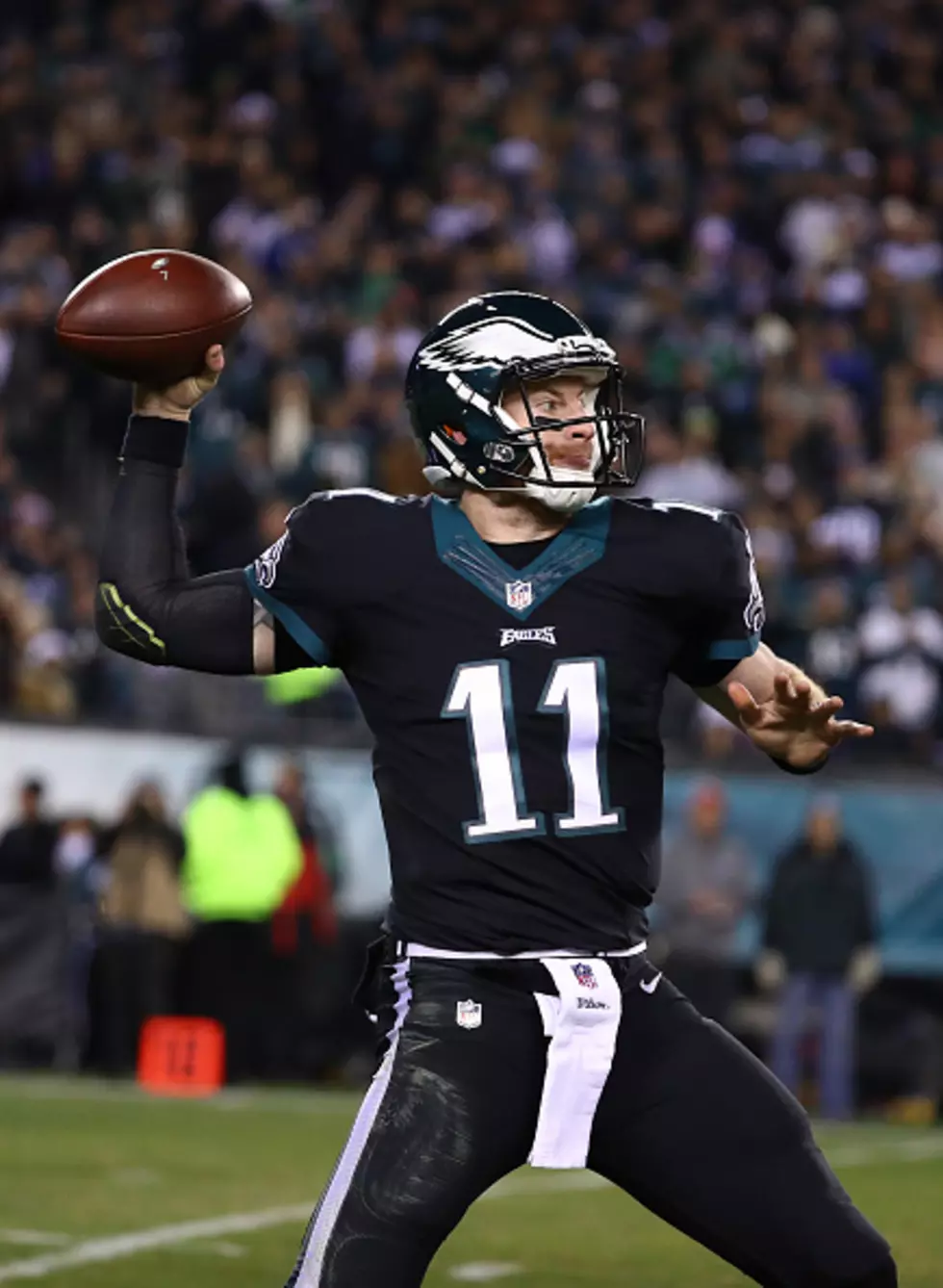 What Makes Carson Wentz Unique And His Ceiling Very High?
Photo by Al Bello/Getty Image
Despite playing without his starting Right Tackle for 10 games in 2016, missing most of the Preseason due to injury, and his receivers dropping a league-high 5.8 percent of his passes, Carson Wentz still compiled 3,782 Yards and 16 Passing Touchdowns his Rookie season.  Heading into 2017, The MMQB ranked Wentz as the 16th Best Quarterback in the NFL and the 202nd Best Player Overall in the league.
Andy Benoit of The MMQB and Sports Illustrated joined The Sports Bash on Wednesday and discussed Wentz ranking on their Top 400 list:
"Eagles fans should be elated to have Carson Wentz.....He had some ups and downs (his rookie season) as that offensive line had some inconsistencies, he didn't respond well to that. But overall his learning process, I think he's going to be top 10 (Quarterback in NFL) by the end of this season, certainly by next season. He's on that kind pf trajectory. What makes him unique, he showed last year that he can run a quick strike offense....When you're doing that you have to be reading the defense sharply before the snap. That's how you're able to get the ball out so quickly after the snap. He was very comfortable in all of that....But its a high level offense when you factor in before the snap phase. He showed he could do that....I think his ceiling is very high because he's already had success in an offense that really isn't to his skill set. And we 're going to see as things get more developed there in Philadelphia and the coaches get more comfortable with Wentz, we're going to see them call more plays that are conducive to his skill set. And I think the results are going to be tremendous."
Checkout what Benoit had to say about expectations for Alshon Jeffery in 2017, what makes Fletcher Cox one of the top 30 players in the NFL, how the Eagles Offensive Line stacks up compared to the rest of the league, and more on the MMQB 400 rankings of the best players in the NFL heading into 2017