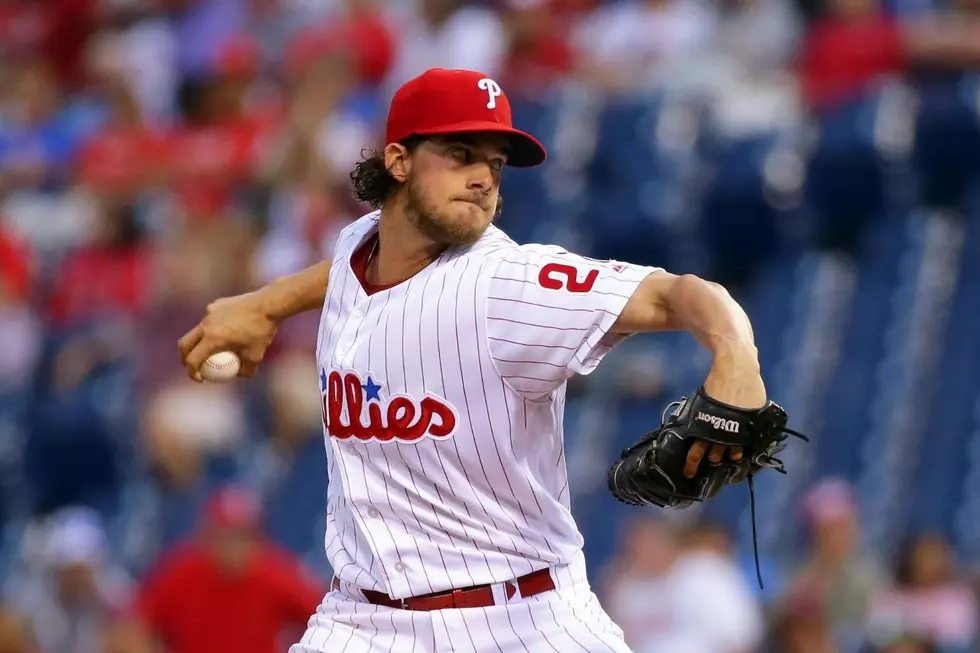 Where Does Aaron Nola Rank Among MLB Opening Day Starters?
Photo by Hunter Martin/Getty Images
The 2020 Major League Baseball season marks the third straight year the Phillies have named Aaron Nola the team's Opening Day starter.  Drafted Seventh Overall in the 2014 MLB Draft, Nola has produced a stellar career so far in Philadelphia with a 60.2 Win-Loss Percentage in 127 career starts.  Since becoming the Phillies' Opening Day starter, Nola has been an All-Star and finished in the top three in the 2018 Cy Young voting along with finishing the season among the Top Ten in the National League in Wins Above Replacement for Pitchers (2017, 2018), Strikeouts per Nine Innings (2017, 2018), Games Started (2018, 2018), and Pitcher Fielding Percentage (2017, 2019).
Nola, 27 (years old), took a slight step back in 2019. He was in the Cy Young mix for most of 2018, but struggled with inconsistency leading to a 3.87 ERA and 1.27 WHIP in 34 starts. Philadelphia bolstered the rotation by signing Zack Wheeler in free agency, but Nola should still serve as the ace for years to come.
Nola was ranked ahead of Four-time All-Star Madison Bumgarner, 2019 NL ERA Leader Hyun-Jin Ryu, along with Two-time All-Stars Charlie Morton and Sonny Gray.
Note how at the end, Yahoo Sports noted that "Nola should still serve as the (Phillies Ace for years to come" - Despite a 3.23 ERA over the last three seasons, the best Baseball still may be in the years to come for Aaron Nola.  Former Phillies Opening Day Starters Cliff Lee, Roy Halladay, Jon Lieber, Curt Schilling, and Terry Mulholland all had their best statistical seasons after turning 27 years old.  If history repeats it self, we could see Nola really earn the ranking as one of the best pitchers the National League this season.
Phillies Major Award Winners Since 1980