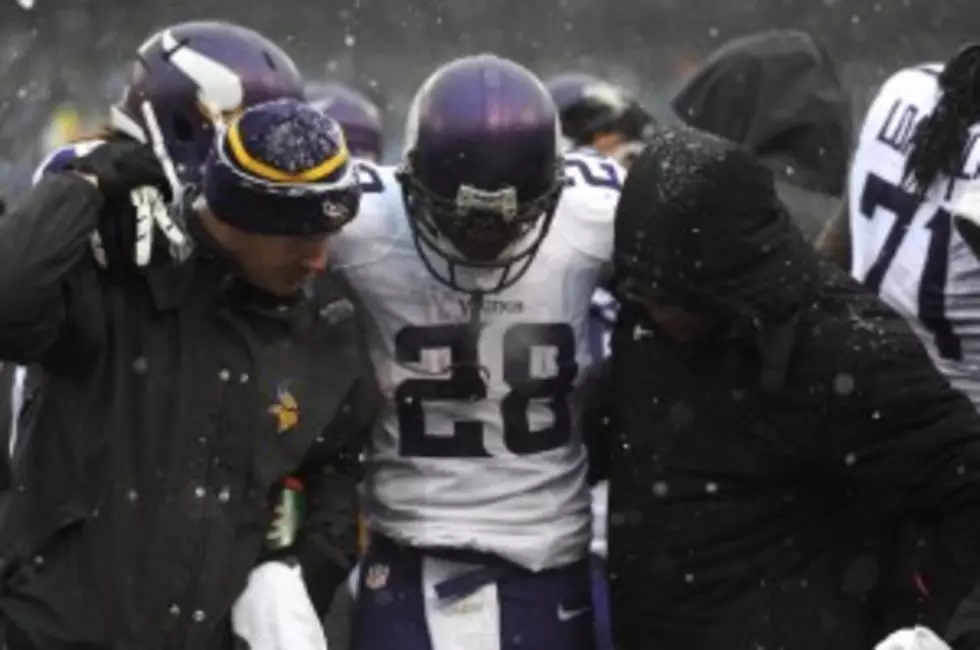 Who Will Play Running Back vs. Eagles on Sunday?
Coach Leslie Frazier said he's a little more optimistic on the status of Toby Gerhart than Adrian Peterson. (Photo by Larry French/Getty Images)
Minnesota running back's Toby Gerhart and Adrian Peterson remained out of Vikings practice Thursday as they get ready to host the Eagles on Sunday at Mall of American Field (Listen Sunday, 1pm on 97.3 ESPN).
"I won't be surprised if both players don't play in Sunday," Vikings beat writer Judd Zulgadd of ESPN 1500 told me today on the Sports Bash.  Former undrafted free agent out of Utah, Matt Asiata would play if Peterson and Gerhart can't play Sunday.
(Listen to Vikings reporter Judd Zulgadd from ESPN 1500 in Minnesota discuss the Vikings injuries).
The Eagles are preparing as if both Peterson and Gerhart will be available on Sunday according to head coach Chip Kelly.
"We prepare for healthy at every position and we'll make adjustments if we feel the game plan changes.  I think when you watch Minnesota, their game plan doesn't change if Adrian doesn't play because Toby [Gerhart] is a similar‑type back.  We're preparing as if he's going to play."
Both players will test their injuries on Friday. Speaking Wednesday, coach Leslie Frazier said he was "a little more optimistic" on Gerhart's status than Peterson's.
As for the quarterback Matt Cassel will start Sunday's game against the Eagles even though Christian Ponder has been cleared from his concussion, but he won't get his job back. The Vikings will instead stick with Cassel, who has gone 37-of-71 (52.1 percent) for 508 yards with three touchdowns and one interception over the last two weeks -- an overtime win against the Bears and a brutal late loss at Baltimore.
Coach Kelly really didn't think there was much of a difference in the Vikings three available quarterbacks
"I don't think it changes much," Kelly said.  "They both have a little bit different skill set in terms of what they do.  The gist of what Coach [Bill] Musgrave is doing there offensively doesn't change much."
Eagles starting safety Earl Wolff (knee) has been cleared to practice.  Wolff has missed the last four weeks with a knee injury, but weather he'll play or not is still up-in-the-air.
"We'll see," Kelly said about Wolff's availability for Sunday.  "We've got three more days of training.  He made it through a lot more yesterday than on Tuesday."
If Wolff can't play most likely it will again be Patrick Chung starting in his place.
Eagles corner back Cary Williams was added to the injury report today with a hamstring issue, getting in a limited session. Williams should be considered questionable for Sunday's game against the Vikings.
• Eagles linebacker Najee Goode practiced on a limited basis today and is still questionable for Sunday.
• Vikings tight end John Carlson (concussion) remained out of Vikings practice Thursday.