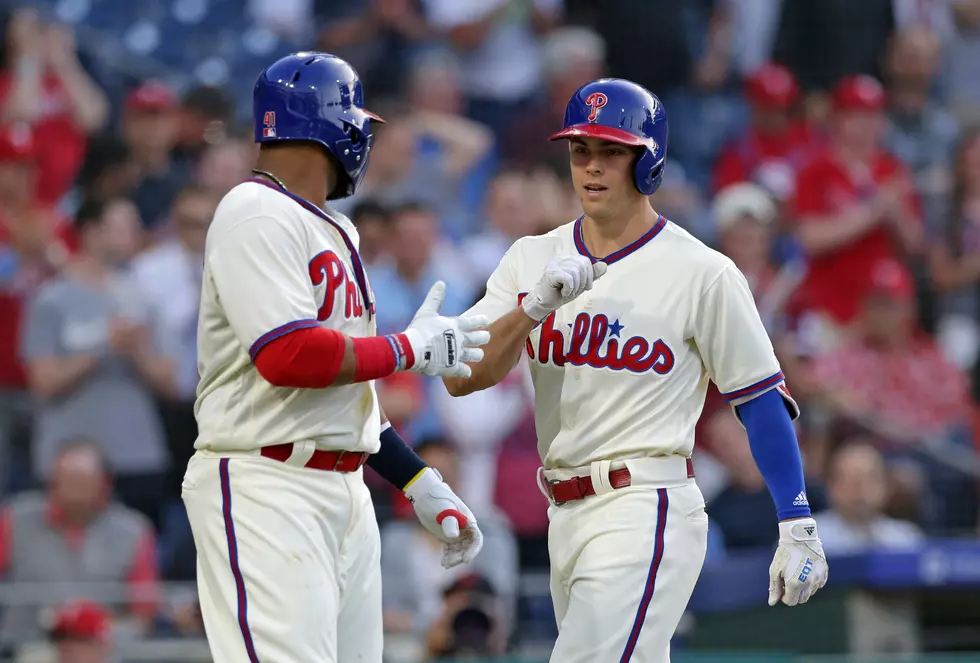 Why Has The Phillies Offense Struggled This Season?
Photo by Hunter Martin/Getty Images
The Phillies offense is struggling heading into action Wednesday and even with Rhys Hoskins returning from from the Disabled List the team has still been inconsistent.  The Phillies Hitters have the third most strikeouts in Major League Baseball (624) along with the fourth worst Batting Average in MLB (.229) and the fewest Hits (482).  Even more frustrating is the Phillies lineup features only two players with a Batting Average above .260 this season: Odubel Herrera (.283) and Cesar Hernandez (.264).
TheAthletic.com Senior Baseball Writer and MLB Network Contributor Jayson Stark joined Mike Gill on Wednesday discussing why the Phillies Offense has been struggling:
"(Phillies) are on pace to Strikeout more than any (MLB) team ever but they might not be the only team that does that because the Padres are right there with them – They hit with two strikes it feels like every at bat; it's the way they've been coached, (Phillies) want these hitters grinding at bats and running deep counts and it worked well early on.  But now they're averaging 21 times a game where they hit with two strikes and they rank in the top five in Baseball in most plate appearances that get two strikes and they've played at least two fewer games then everyone ahead of them….I understand what they're trying to get to – But there's an art to (grinding at bats) and we're looking at largely the same cast of characters who were here last year…and with a couple of exceptions, this is not how they hit and learning how to hit this way takes time.  A lot of guys are struggling with how to take that philosophy and turn it into results."
Hear what Stark had to say about Maikel Franco's future with the Phillies, perpsective on Scott Kingery, if Pat Neshek's return from the Disabled List will change Gabe Kapler's strategy with the Bullpen, and more