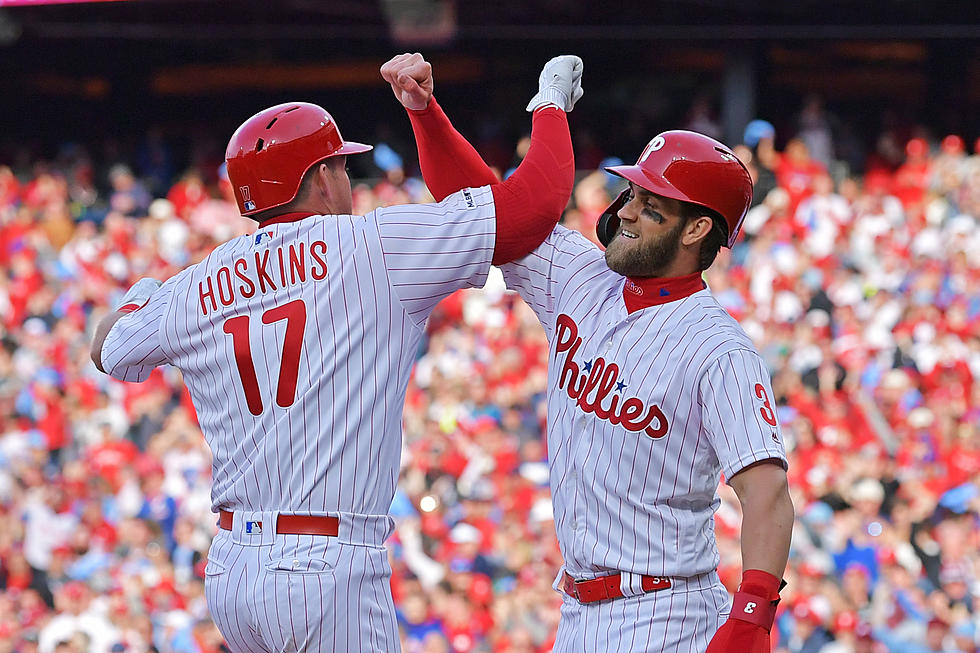 Will Rhys Hoskins be Ready for 2023 Playoffs?
Rhys Hoskins and Bryce Harper. (Drew Hallowell/Getty Images)
The Phillies are currently the top team in the National League Wild Card race.
But could the team get some more help if they make the postseason?
It's possible.
According to Jon Heyman of the NY Post, the team could get Rhys Hoskims back if they make a deep run in the 2023 playoffs.
Rhys Hoskins tore his left ACL in a spring training game March 23, and the expectation was that he would miss the season. But he has progressed to running two out of every three days and doing some hitting off a tee. He has a ways to go and — like Schwarber — might need the Phillies not only to make the playoffs, but also to advance a bit, if he is going to have a shot.
Schwarber came back and had 7 hits in 17 at bats during the 2016 World Series with the Cubs.
Getting Hoskims back would give the Phillies an additional right-handed bat with power, something the has lacked most of the season.
He hit six home runs, including four in the NLCS against the Padres, during the team's run to the World Series.
The one issue would be, he would likely have to DH, which means Kyle Schwarber would have to remain in left field, with Bryce Harper at first base.
Currently with Harper at first, Schwarber has been the DH with Brandon Marsh playing left field.
The team is also due to get Christian Pache back soon, which would be a right-handed option to play left field.
At worst, Hoskins might be able to provide some right-handed power off the bench in a pinch-hitting role.
Time will tell, but the first prerequisite will be making the playoffs, and then making a deep run.