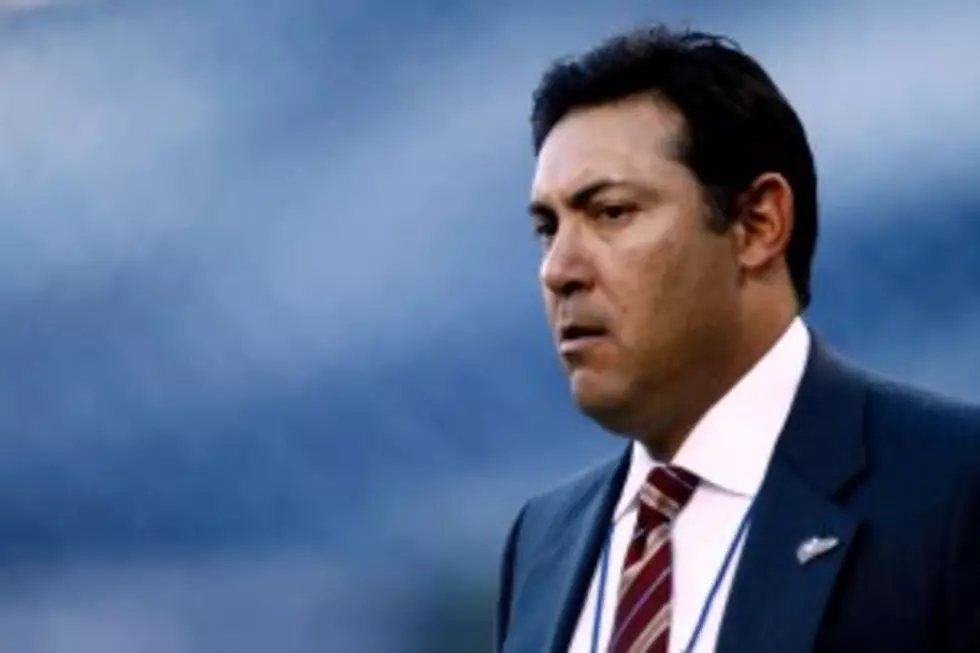 Winter Meetings: Amaro Gives Updates On Utley, Howard
Jeff Zelevansky, Getty Images
Moments after the 2012 season ended, Ruben Amaro ID'd the foremost point of emphasis for a better 2013.
"The bottom line is this," he said at the team's year-end press conference, when questions had already turned to the center field and third base markets that have since dominated the conversation.
"If our players that we paid a great deal of money to do not perform next year, we're going to be in trouble."
At the height of the Winter Meetings, when it's figured that the Phillies will at the very least lay the groundwork for reconstructing their roster, it's important to remember that the chief determinants of the team's success next year, to the general manager, are the seven to whom $123 million is committed, among them, Chase Utley and Ryan Howard.
Amaro offered updates on both Monday.
He said he expects Utley, who over the last three seasons has missed 185 games and didn't debut in 2012 until Game 77, to be ready for Opening Day.
Utley is due to make $15 million this season, the last year of his deal.
To live up to Amaro's ultimatum, Utley will have to improve. Last season, his .259 batting average almost marked a career low -- he hit .239 in 2003 -- though his on-base and slugging percentages were near career average-level.
Still, Amaro's progress report for Utley was positive. Not only is he reportedly taking ground balls two to three times a week and is expected to start strength training soon, but the Phillies head trainer, Scott Sheridan, is keeping tabs on his progress.
Amaro said Sheridan has visited Utley already, and is expected to again in January in what appear to be regularly scheduled check-ups.
For a player-team relationship whose communication has often been criticized  -- especially since many feel Amaro didn't adequately address second base because of expectations that Utley would return sooner -- that is encouraging.
"He's doing really well, and we're optimistic about him playing in spring training games an opening the season with us," Amaro said.
After his debut, Utley assumed an everyday role for the Phillies, once starting in 30 consecutive games, reliability Amaro will hope continues next year.
Amaro also said he expects Ryan Howard, who suffered a minor fracture in his foot that cost him the last five games of last season, to return to top form.
"I had lunch with him, had some discussions about what our goals are, and he's on board," Amaro said, insisting that Howard's recent marriage won't derail his focus. "I think he's raring to go to put up the kind of numbers necessary for us to win a championship again."
Last season, Howard had career-worsts in batting average (.219), on-base percentage (.295) and slugging percentage (.423). That spring, he underwent and Achilles reconstruction and suffered multiple setbacks.
Still, for a former NL MVP due a minimum of $105.5 million through 2017 -- his club option for that season has a $10 million buyout -- the Phillies need better returns next year.
There are still questions to be asked elsewhere.
Roy Halladay is due $20 million in 2013, the last year of his deal. Yet concerns about his ailing shoulder and 2012 production were troubling enough that the club "battled around" offering him a contract extension.
A year ago, Halladay posted a 4.49 ERA, the lowest of his career since becoming a full-time starter.
Jimmy Rollins is owed $11 million every year through 2015. Though his defense a year ago was enough for a Gold Glove, in key metrics -- fielding percentage, range factor and runs saved -- Rollins put out career-worst stuff.
His offensive numbers were reputable, especially for his position. But, at 34, he's due up for decline.
Still, those answers can't be provided by the general manager in the winter.
For those, we'll have to wait for the players and Opening Day.