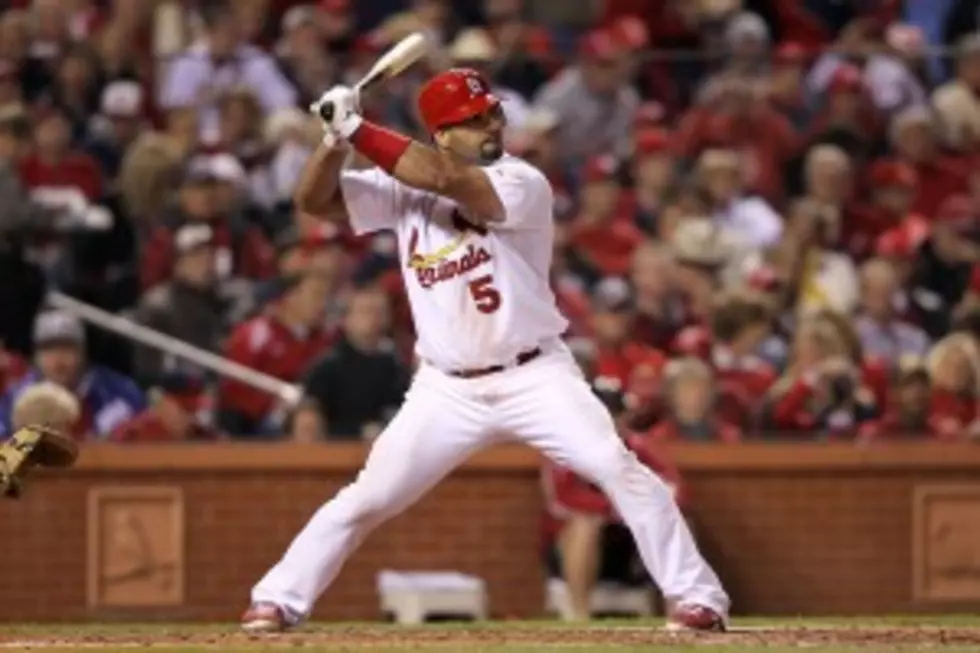 Winter Meetings Blog: Day 2
The Major League Baseball Winter Meetings have kicked off in Dallas. I'll write a piece each night on the major and minor news of the day, especially involving the Philadelphia Phillies.
-The talk of the event remains Albert Pujols and the full court press being put onto him by the Miami Marlins. It seems like the entire baseball world is waiting on a decision in Dallas as to where the best right-handed hitter of a generation will land. Here is a rundown of the days events/rumors: Miami has a legitimate 10-year offer on the table...St. Louis has increased their original...Marlins executives have had multiple meetings, most likely to discuss the parameters of a deal...Miami's reluctance to hand out no-trade clauses in any contract seems to be a major disagreement point...Reports have a third team in on the 10-year bidding. While the Cubs have an offer out, most people think the mystery team is the L.A. Angels.
As strange as it sounds and feels, I think Albert Pujols is going to be a Marlin. I can't believe I just typed that. We all know how much Albert means to St. Louis and how much he has talked about wanting to remain there for his entire career, but two things could be major factors here. First, Pujols has felt disrespected by St. Louis ever since they gave Matt Holliday more money then he ever saw from them. Second, don't under estimate how much it bothered him that the organization didn't take his suggestion when hiring their new manager.
-The big Phillies news of the day wasn't a signing or a trade, but rather the set up for a possible awkward reunion. Due to a shrinking closer market, Ryan Madson is seriously considering accepting arbitration from Philadelphia, returning for a year to set up Jonathon Papelbon, and trying free agency again next season. This would be a dream scenario for the Phillies bullpen, but doesn't it just seem odd? They almost gave the guy over $40 million to be their long term closer, now could have him for peanuts on a one-year deal as a set up man to a better, more expensive closer? It feels like Scott Boras goofed on this one.
-One of the big reasons for the shrinking closer market is the trade market rearing its head on Tuesday. Toronto grabbed Sergio Santos (cheap, lights out alternative to an expensive FA closer) from the White Sox for a Double-A pitcher. The New York Mets signed Frank Francisco to be their 9th inning guy, along with signing Jon Rauch for the 8th inning, and swapping Angel Pagan to San Fran for reliever Ramon Ramirez (really underrated righty) and center fielder Andres Torres. Colorado grabbed starter Kevin Slowey (excellent K/BB ratio) for a Player To Be Named Later.
-Most reports have David Ortiz planning on accepting arbitration from Boston.
-Don't be surprised if there is a fire sale on the South Side of Chicago. On Tuesday, General Manger Kenny Williams already moved Sergio Santos to Toronto for a minor league arm that some project to be a future stud starter. John Danks, Gavin Floyd, Carlos Quentin, and Gordon Beckum could be the next to move.
-According to ESPNDeportes.com, Hanley Ramirez would rather be traded than move to third base. Albert or not, Ozzie Guillen has his first controversy to smooth over as manager of these new Fish. They need this guy to be productive and happy. First selling point: Third base will keep him healthier and fresher through his prime. Just take a look at Alex Rodriguez's '05 and '07 seasons.
-Roy Oswalt is seeking a three-year deal.
-According to Jim Bowden of ESPN.com, the Seattle Mariners are currently the front runner for Prince Fielder. Although Safeco Park is a deterrent to sluggers, it hurts righties far more than lefties. This marriage could work.
-Despite the Phillies interest in Aramis Ramirez as a fall back to the Jimmy Rollins situation, Milwaukee has emerged as the front runner for the slugging third baseman.
-C.J. Wilson has a 4-year, $60 million deal on the table to return to Texas.
-Four reasons why the Yankees and Red Sox are so quiet: Hamels, Cain, Greinke, and Danks. All are free agents after 2012. Save now, spend later. Note to Phillies fans: Everyday that Cole Hamels isn't locked up is a day closer to those behemoths bidding for his left arm.