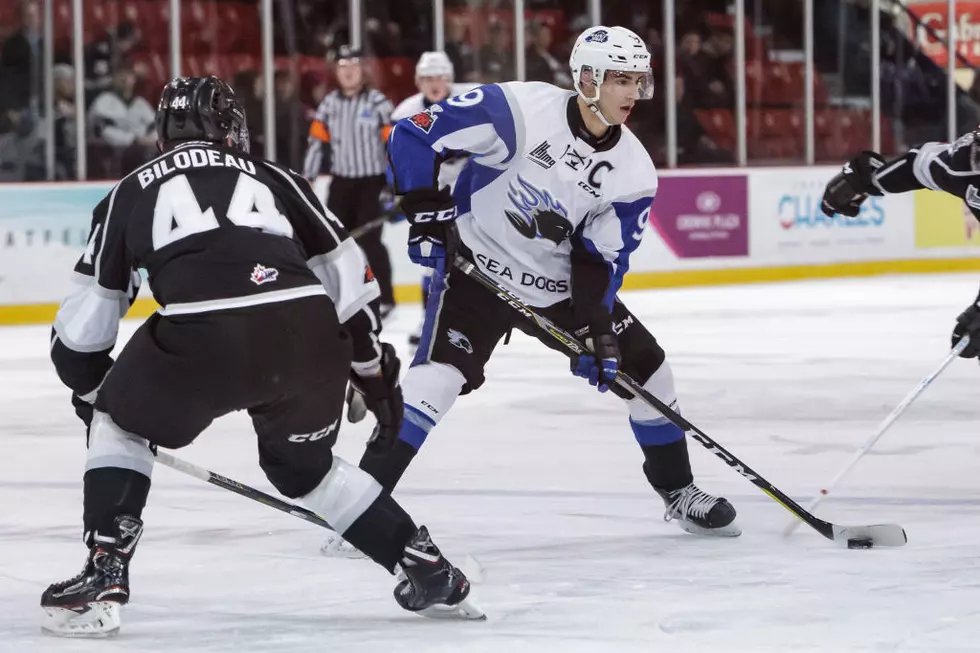 2018 NHL Draft Prospect Profiles: Centers
(Francois Laplante/Getty Images)
Later this week, hundreds of prospects will have a new home following the NHL Draft. In particular, the first round can hold many potential stars in the league for years to come.
The Flyers have two picks in the first round at 14th and 19th overall. Throughout the week, we're looking at prospects available at each position as potential targets and top players available in the draft.
We begin our NHL Draft preview with a look at centers.
Remember this kid? That was Oliver Wahlstrom at age nine. Wahlstrom just turned 18 five days ago, and he is one of the top prospects available in this year's draft.
If you thought nine-year-old Wahlstrom had some moves and scoring prowess, it remains a staple of his game now. His shot is among the best in the draft, combining a quick release with heavy velocity and great accuracy. Overall, he's a gifted offensive player, able to work magic with his puck skills and strong skating.
His weaknesses are mainly in his defensive play and at times he lacks the consistency needed to stick at the NHL level, but at 18, those are things that can be improved upon with some additional development. All that considered, he still has top-line scoring potential, and scored 40 goals and had 83 points in 54 games with the USA U18 team this season.
"A scoring threat when ever he is on the ice," Dennis MacInnis, Director of Scouting for ISS Hockey writes in the 2018 ISS NHL Draft Guide. "Wahlstrom has one of the best shots of any 2018 eligible draft prospect. Gets himself into dangerous spots and has a shot that can beat any goaltender at any level."
If Barrett Hayton's name sounds familiar, it's because he was another of the Sault Ste. Marie Greyhounds best players this season, alongside current Flyers prospect Morgan Frost.
Hayton brings a well-rounded game up the middle, possessing all the tools necessary to be a solid NHL center.
Offensively, he's not expected to be a first-line producer -- Hayton scored 21 goals and had 60 points in 63 games -- but his two-way ability gives him second-line potential. Hayton plays in all situations, so he can be a solid penalty killer and contribute on the power play. His excellent hockey sense is evident in his decision-making and sees the ice well.
Hayton also brings a level of intensity to his game. He's willing to go into the dirty areas and battle, while having the elusive skills that can help him stickhandle around defenders and footwork to make defenders miss as well.
"Goes hard to the net, spent a lot of time parked out front in the blue paint, he's definitely willing to take his lumps to go to the dirty areas," ISS Scout Justin Scheerer writes in the 2018 ISS NHL Draft Guide. "Offensively, he's good at recognizing when he has an offensive lane, and using his speed to exploit it."
Jesperi Kotkaniemi is one of the top-rated Finnish players in the draft and his experience at the top elite league in Finland will certainly go a long way.
Kotkaniemi had 10 goals and 29 points in 57 games at that level, which is certainly a good start for the kid. He was also a standout for Finland at the U18 World Championships, scoring three goals and picking up nine points in seven games.
What makes Kotkaniemi a strong prospect is his all-around offensive abilities. He's a dangerous player capable of setting up teammates and potting a few goals as well. He's not afraid to get to the dirty areas and seems to be in the right spot offensively constantly. He has good size and skates well for his size.
Kotkaniemi is probably not the scorer fans are looking for the Flyers to get, but he's got the skill to be a big offensive contributor. He could improve on his defensive abilities, though he did play penalty kill and did a good job. He needs to get more consistent with his physical play and play away from the puck, but his hockey sense is very good and provides to potential to be a complete player.
"He's a horse. Skates well, is physical, good puck skills," Dennis MacInnis writes in the 2018 ISS NHL Draft Guide. "Strong on the puck and wins a lot of wall battles. Skates well for a guy this size. Also possesses high-end puck handling. Uses his reach to keep the puck away from defenders."
A year ago, Joe Veleno was quite possibly one of the top prospects eligible for the 2018 NHL Draft. That status has changed a little bit. It's hardly a knock on Veleno. He entered the QMJHL league with exceptional status, highly praised as a potential top pick.
Veleno had his struggles to start the year. After reaching the Memorial Cup with the Saint John Sea Dogs in 2017, a year where he scored 13 goals and had 40 points in 43 games and scored another eight goals and 11 points in 18 playoff games, he had just six goals and 31 points in 31 games with Saint John this season. He was traded to Drummondville mid-season and started to produce and turn the corner on his game. He scored 16 goals and 48 points in 33 games.
Ultimately, his play with Drummondville may have saved his draft stock. He was sinking fast with Saint John this season, but brought a level of passion and compete level back to his game that produced results. If that's the player that eventually makes his way to the NHL, then there is plenty of upside in Veleno.
He's creative, good hockey sense and puck skills and has great vision. He certainly has the offensive tools and smarts to be a successful playmaking forward.
That said, it's his consistency and size that provides questions. Development remains key for Veleno. He needs to be more physical. He needs to be more consistent in his compete level from game to game. As with most 18-year-olds, defensive play needs work as well.
All things considered, Veleno has a lot of potential and is just the type of player you might be able to get in the middle of the first round. The Flyers could very much be interested in working with him in his development and bringing the potential to fruition.
"Big time upside if he puts it all together," Dennis MacInnis writes for the 2018 ISS NHL Draft Guide. "Overall strong two-way game and can play different roles and responsibilities A raw offensive product that will need more seasoning."
Much like Kotkaniemi, Rasmus Kupari is another Finnish Elite prospect with a good foundation established in his skill set.
Kupari played only 39 games at the Finnish Elite level, scoring six goals and adding eight assists for 14 points. He's a skilled forward with creativity to beat players one-on-one and get to the net. He has a good shot, good skating ability and good offensive instincts that make his a constant threat and he battles for loose pucks and does a good job protecting the puck.
Kupari also has the two-way ability that gives him NHL potential. It's important to have the offensive skills, but he's also got the defensive foundation to be a solid two-way player. He needs to work on his defensive zone awareness and add some size, but these are typical areas of improvement for draft prospects.
"Kupari was a player that stood out from all players in Hlinka tournament," ISS Scout Onjrej Otcenas writes in the 2018 ISS NHL Draft Guide. "Playing with strong puck coverage. Very hard and accurate wrist shot. Sees game very well. Hard to say if he is more playmaker or sniper. Has strong NHL potential."
After a couple of Finnish entries on this list, here comes a Swedish entry. In 42 games at the Swedish Elite level, Isac Lundestrom scored six goals and had 15 points.
Lundestrom is a prototypical center prospect. He's got the offensive skills to be an impact player and couples it with defensive responsibility. He's a hard-working player at both ends of the ice and possesses good hockey sense to show off some playmaking ability. His strong skating and puck protection helps creative opportunities and if he can build up some additional size and strength, he could be an even more dynamic player.
His weaknesses, then, are typical -- improve his physical play and add some size to his frame. But ultimately, Lundestrom has the skills and playmaking ability, as well as the responsibility in all three zones, to be a complete player with second-line potential.
"Complete package for a two-way forward. Highly intelligent player with good skills and physical tools," Dennis MacInnis writes in the 2018 ISS NHL Draft Guide. "He's competitive, focused and plays to win. Already in his second season in the SHL. Two-way center with flashes of some offensive upside - potential to develop in to a top 6 two-way center at pro level."
Kevin Durso is Flyers editor for SportsTalkPhilly.com. Follow him on Twitter @Kevin_Durso.