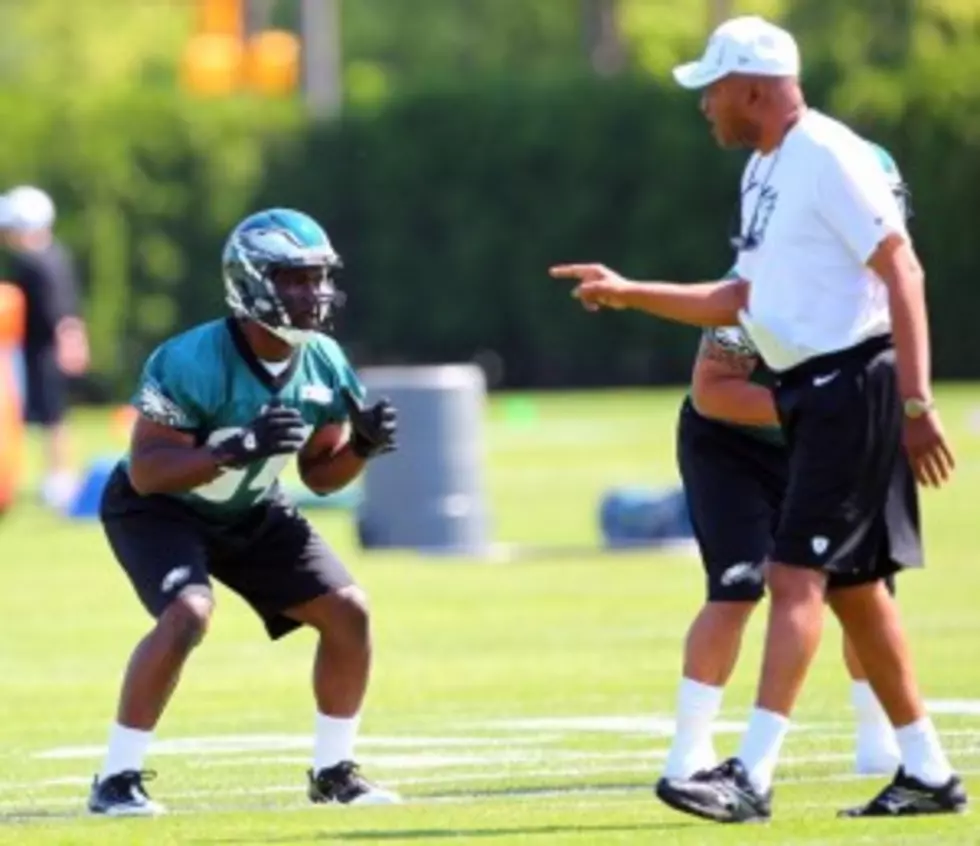 5 Players to Watch in Eagles Opener
The Eagles open the pre-season portion of the schedule tonight (on 97.3 ESPN) against the Pittsburgh Steelers. While I would not expect to see to much of the Eagles regulars, here are five guys I am going to be watching tonight:
1. Marvin McNutt | Wide Receiver: When Riley Cooper went down with a broken collarbone Coach Andy Reid confirmed that the Eagles won't pursue a veteran wideout to replace him and the reason could be McNutt.  A sixth-round pick, McNutt will get his chance to play tonight. With a big performance tonight and throughout the preseason, he could slip into the No. 4 wideout job behind Jeremy Maclin, DeSean Jackson and Jason Avant. McNutt has the size and hands to excel at the NFL level, but speed and quickness are question marks.
2. Bryce Brown vs Chris Polk | Running Back: Brown ran a 4.48 forty and is 6'0, 223 pounds.  His pass-catching skills have been better than expected and his short-yardage prowess evident.  If he can take his size and speed turn into production on-the-field, he has a shot to win a roster spot.  As for Polk, he continues to impress with his blocking at Lehigh and that is a very important hurdle with making a Andy Reid coached team.  Furthermore, Polk's biggest asset is his receiving ability, he has decent size and with a big performance could distance himself from Brown.
3. Brandon Graham | Defensive End: The former first round pick needs to start showing why the Eagles took him No. 13 overall and many NFL observers thought he could be the NFL defensive rookie of the year when he was drafted.  Graham has gotten himself into top physical condition entering a make-or-break third year.  Graham has been an injury-prone bust through two seasons, but the 2010 first-round pick chopped his weight from 285 to 265 while adding muscle - he will need to hold off this year's second round-pick, Vinny Curry.
4. Kurt Coleman/ Jaiquawn Jarrett | Safety: Jarrett was a disappointment as a rookie, and the Eagles operated during the offseason as if they don't foresee him being a factor for the starting position by bringing in veteran safety O.J. Atogwe.   Coleman began last year as a starter before being benched and really never stood out, a former seventh round-pick has the starting spot right not, but tonight and the rest of camp could go a long way in him keeping or losing that spot.
5. Mychal Kendricks |Linebacker: Coach Andy Reid said back in July that second-round pick Mychal Kendricks will open camp as the Eagles' starting strong-side linebacker, tonight we will get to see why the Eagles took Kendricks in the second round of this years draft.  Kendrick has showed explosiveness, athleticism, pass-rush, and coverage ability this offseason, but will he bring that into real game action - Eagles fans hope so, its a position that the Eagles have been looking to fill since Carlos Emmons left the team.
Defense: Fletcher Cox, Curtis Marsh, Brandon Boykin
Offense: Mike Kafka, Dion Lewis, Demetress Bell
Extra Points: Don't forget the battle for the punting position between Mat McBriar and Cahs Henry and the punt return game with rookie Cliff Harris, Boykin and Damaris Johnson trying to make the team as special team stand-outs.