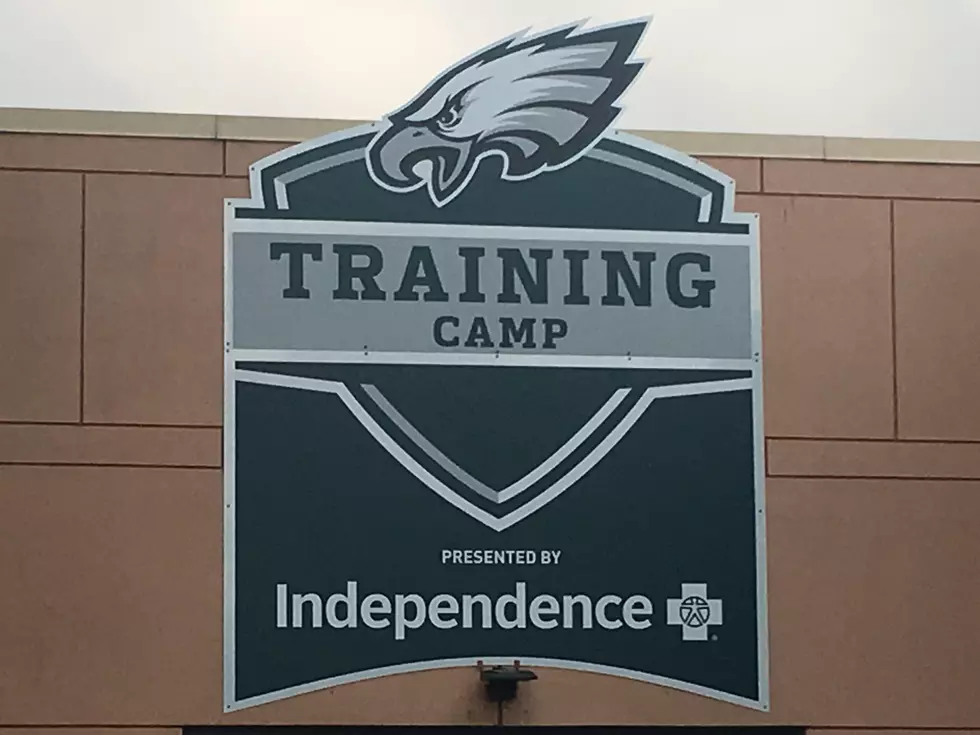 973ESPN's Annual Eagles Training Camp Awards
(Photo: John McMullen/973espn.com)
PHILADELPHIA (973espn.com) — The official training-camp portion of the Eagles' summer is over after Tuesday's 15th practice session and we've got all the awards for you.
That includes the 2019 Mr. NovaCare Award winner, the player honored with the mythical "Paul Turner Trophy," even though we should all understand there is little chance the current champ could ever be quite as good as that other PT who was once so beloved by so many in the Delaware Valley.
So without further adieu, the envelopes please:
Most Improved: LG Isaac Seumalo - The "weak link" of an offensive line with two All-Pros, a future Hall of Famer, and a Pro Bowl selection, Seumalo had settled in as left guard flashing the size, smarts and athleticism Jeff Stoutland has always raved about when talking about a player that needed a little time to find his stride. Seumalo also moved to center with the first-team during Jason Kelce maintenance days, the position that may be his best, according to Stout.
Best Rookie: LT Andre Dillard - The first-round pick has lived up to the billing as a natural pass protector while taking the second-team LT reps behind Jason Peters and also getting plenty of first-team reps when the Eagles put the aging Peters on a pitch count. There are still questions about run blocking because Dillard simply wasn't asked to do much of that at Washington State but Stoutland insists that Dillard has been quick to pick up the techniques that will translate well to that part of his job description.
Toughest Rookie Debut: QB Clayton Thorson - You hate to pile on after an 0.0 passer rating in the preseason opener but Thorson has not looked like an NFL prospect to date even from a developmental standpoint and will need to finish strong to merit a practice squad spot. Accuracy is the biggest problem and the issues have been consistent.
Best Undrafted Rookie: LB T.J. Edwards - A natural linebacker, the issue for Edwards is the changing NFL and the devaluation of his position. He's proven to be an instinctive downhill run-stuffer who is better in coverage than advertised due to a solid understanding of zone coverage schemes.
Toughest Injury: DE Joe Ostman (torn ACL) - Most will go with Nate Sudfeld or Kamu Grugier-Hill but those will be short-term issues from a regular-season perspective and it sure looked like Jim Schwartz was carving out a role for Ostman as a pass rusher, breaking out a stand-up joker look as an inside rusher which could have offered Schwartz another option in the NASCAR package other than the beefy interior duo of Fletcher Cox and Malik Jackson. In fact, that may be why the Eagles took a flyer on Eli Harold because he offers some of the same physical attributes as Ostman as an undersized, movement-based player.
The hand-wringing over Sudfeld (broken wrist) not only assumes Carson Wentz getting injured early but it also gives a little too much weight to what Sudfeld is as a backup quarterback right now which may not be much more than Cody Kessler. Grugier-Hill, on the other hand, was having a great camp before going down with a Grade 3 MCL sprain in his knee and on track to be the second nickel linebacker with Nigel Bradham. In his absence, which will be multiple weeks in the regular season, Schwartz will likely use Nate Gerry or plenty of "big nickel" with Malcolm Jenkins essentially playing a LB role.
Toughest to Figure Out: WR Mack Hollins - Most default to Hollins as the fifth receiver on this team but that's all about pedigree as a former fourth-round pick and little else. Last season Hollins was shut down with multiple core injuries and this time he was hampered by a hip injury. When he's been on the field, meanwhile, the lengthy WR has been nondescript and offensive coordinator Mike Groh didn't exactly give a ringing endorsement with his words or body language on Tuesday.
"He needs to be healthy," Groh said. "I don't know anything else beyond that, where he can really go out and play full-time, which I think we're still progressing through that."
Best Late Pickup: S Johnathan Cyprien - The former starter in Jacksonville and Tennessee is working his way back from a torn ACL and should give the Eagles impressive veteran depth and more chess pieces for the big-nickel package. A true box safety, Cyprien has lost a little weight, likely to lessen the impact on his legs, and has proven to be better in space than advertised.
Fastest Player: WR DeSean Jackson - At 32 Jackson still runs by everyone, even those 10 years younger, with ease. It really is amazing and from what I can tell the cheetah still doesn't stretch. It will be interesting to see the Jackson/Ronald Darby matchup when the latter is fully cleared from his torn ACL because Darby is clocked at 22 MPH by the Eagles' GPS tracking system.
Best Fighter: Dillard - From the fighting city of Woodinville, WA. it's first-round pick Andre Dillard, who finished camp strong in this category after dust-ups with Cyprien and Derek Barnett during a 10/10/10 practice and following that up by battling with Shareef Miller on the final day of camp. Miller gets an honorable mention because he also started the camp scuffles with now IR'd offensive tackle Casey Tucker, who may or may not have gotten a concussion from duking it out with Miller.
Best Quote: RT Lane Johnson - We might have to retire this category and put Lane Johnson on a pedestal after this gem: "That's football. Sometimes you get s@#$ on, sometimes you have birthday cake."
Mr. NovaCare: WR Carlton Agudosi - There was no real breakout candidate. The most hype probably went to Miles Sanders on offense and Sidney Jones on defense but that kind of stuff is expected with a current and former second-round pick. As far as the unheralded catching some eyes you have to go with the 6-foot-6 Agudosi. The Rutgers proved to be another in a long line of contested-catch options for the quarterbacks and shifted himself from the bottom of the WR depth chart to a likely practice-squad player.
But, he's no Paul Turner.
You remember the hands on that guy?
-John McMullen covers the Eagles and the NFL for 973espn.com. You can reach him at jmcmullen44@gmail.com or on Twitter @JFMcMullen