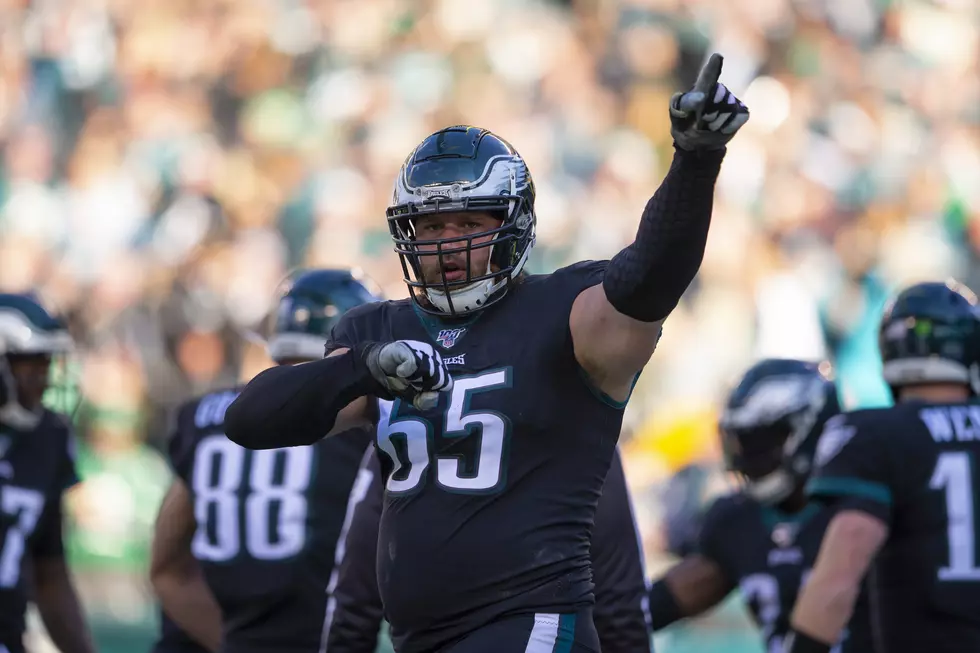 Lane Johnson Could be Back for Seahawks
(Photo by Mitchell Leff/Getty Images)
PHILADELPHIA (973espn.com) - The injury report is going to be a big part of the story in the leadup to Sunday's Wild Card Weekend game between the Philadelphia Eagles and Seattle Seahawks.
Each team is significantly banged-up and the Eagles had to shut down two players who were injured in last Sunday's NFC East-clinching win over the New York Giants, Pro Bowl right guard Brandon Brooks (dislocated shoulder) and reserve edge player Daeshon Hall (torn ACL), replacing them on the roster with two skill-position players in running back Eliah Holyfield and receiver Shelton Gibson, a familiar face who could help as a gunner on special teams against the Seahawks.
The biggest boost the Eagles could get is the return of star right tackle Lane Johnson, who missed the final three games of the regular season with a high ankle sprain. Halapoulivaati Vaitai did yeoman work as Johnson's replacement up front and the versatile veteran would slip inside to RG to replace Brooks if Johnson is ready to go against Seattle.
Johnson was back at practice on Wednesday for a light walkthrough. If he can't make it through the week Vaitai would stay at RT and Matt Pryor, who replaced Brooks in-game against the Giants, would start inside. Doug Pederson also mentioned undrafted rookie Nate Herbig as a potential option.
The news isn't as good for tight end Zach Ertz, who is suffering from a broken rib and lacerated kidney. Pederson is playing coy with Ertz, implying he will be taking mental reps but the Pro Bowl selection is still not medically cleared for contact and it's hard to imagine that happening by Sunday because of the risk of further injury.
"I'm gonna leave that up to the doctors," Pederson said. "When they clear him, they clear him. Until that time, I don't know."
Both running back Miles Sanders and cornerback Jalen Mills are dealing with ankle injuries are expected to play Sunday but will be brought along slowly.
Sanders is still dealing with some swelling in his ankle but does not have a high ankle sprain, which would likely be multiple weeks.
"You have to be careful early in the week," Pederson said of Sanders. "I don't want to set him back at all."
Sanders, along with Nelson Agholor (knee), were the only two players estimated to be a did not practice at the walkthrough.
Johnson, Mills and Ertz were among the limited with Mills being the only one of the three who came in the locker room and again indicated he would be a go on Sunday.
As for Holyfield, Pederson indicated that the signing had nothing to do with the status of Sanders or Jordan Howard, who missed six games with a shoulder/stinger issue, before dressing in Week 17 against the Giants in case of an emergency.
"We've always had our eye on him," the coach said of Holyfield. "We liked him all the way back in the draft. I actually went to a private workout with him at Georgia this past spring and was down there. We really liked the kid coming out and all-that, so obviously had our eye on that."
Pederson also noted that the Eagles like to be four deep at RB when it comes to the 53-man roster.
"We've had four guys on our roster typically most of the season. It gives us depth obviously at the position," the coach said. "Obviously he has to come in and pick up the playbook, at least the game plan for this week, before we can do anything. But a player that we were excited to pick up when we had the opportunity."
Gibson, meanwhile, is a known commodity who is insurance at WR while also helping Dave Fipp as a gunner on special teams.
"We know him," Pederson said of Gibson. "He definitely gives us, again, depth at the receiver spot. He's a core [special] teams player for us as well."
-John McMullen covers the Eagles and the NFL for 973espn.com. You can reach him at jmcmullen44@gmail.com or on Twitter @JFMcMullen