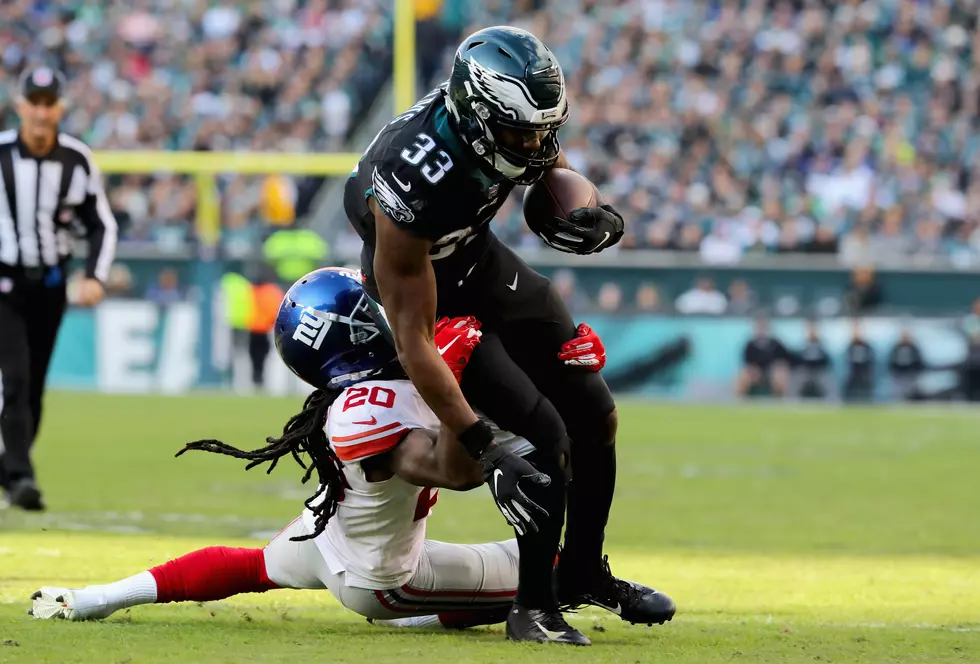 Adams Goes From Undrafted to Feature Back
Getty Images
PHILADELPHIA - The NFL Draft came and went in April with Josh Adams failing to hear his name called. He chose to begin his NFL career as an undrafted free agent with his hometown team, the Philadelphia Eagles. By their 11th game, Adams took over as the featured back and carried the ball 22 times for 84 yards and a touchdown.
The 22-year old Running Back out of Notre Dame knew he would have a major uphill battle to climb from undrafted to making the 53-man roster on a team that just won a Super Bowl title months earlier. In fact, he was cut by the Eagles on September 1st and placed on the practice squad before ultimately  getting elevated to the 53-man roster.
Adams joined a crowded preseason backfield with names like Jay Ajayi, Darren Sproles, Corey Clement and Wendell Smallwood. Along with hard work, Adams benefitted from a little luck. Injuries helped clear the way for added reps in the preseason. That eventually turned into a spot on the 53-man roster. Once Ajayi was injured, the Eagles needed to find a feature back. Then Clement got hurt. Smallwood had his chance and finally Adams got his turn.
He played an integral role in the Eagles 25-22 win over the New York Giants on Sunday. Adams hit the holes hard and typically carried the pile a few yards further.
"I just tried to go out there and stay focused," Adams said after the win. "I just try to take it one play at a time, relying on the guys in front of me."
"He was big for us," Quarterback Carson Wentz said of Adams. "He's done a great job in everything we've asked him to do this year. Today he got the workload [and] he did a great job. He took it and ran with it."
Adams benefitted from some solid blocks by his offensive line. They opened holes for him, some of which took a little time to develop. Adams at times waited for a crease and then shot through that opening.
"Most of his runs today he was patient," Tackle Jason Peters explained. "He bounced it outside or he was patient and hit it inside and then bounced it out."
"He's fast man, he's really quick," Tackle Lane Johnson said. "He goes about his business, really smart. As the season has gone on, he keeps improving and improving and I'm really proud of what he did today."
Adams does not say a whole lot. In fact, after getting the opportunity he dreamed of and cashing it in for a very solid performance, he was quick to deflect the attention to his teammates.
"We knew what we were capable of up front and we wanted to stay aggressive," Adams stated. "The offensive line did a great job with that. So a lot of credit goes to the unit as a whole."
Adams lets his play do the talking. Certainly he earned another opportunity to get the bulk of the carries next week when the Eagles host the Washington Redskins in a huge Monday Night game that could determine first place in the NFC East.
Perhaps Lane Johnson inadvertently issued a warning to future opponents, "He's just one of those guys that's a silent killer."
Silently he waited and pounced on an opportunity to shine. Now the question is, what will he do with it?