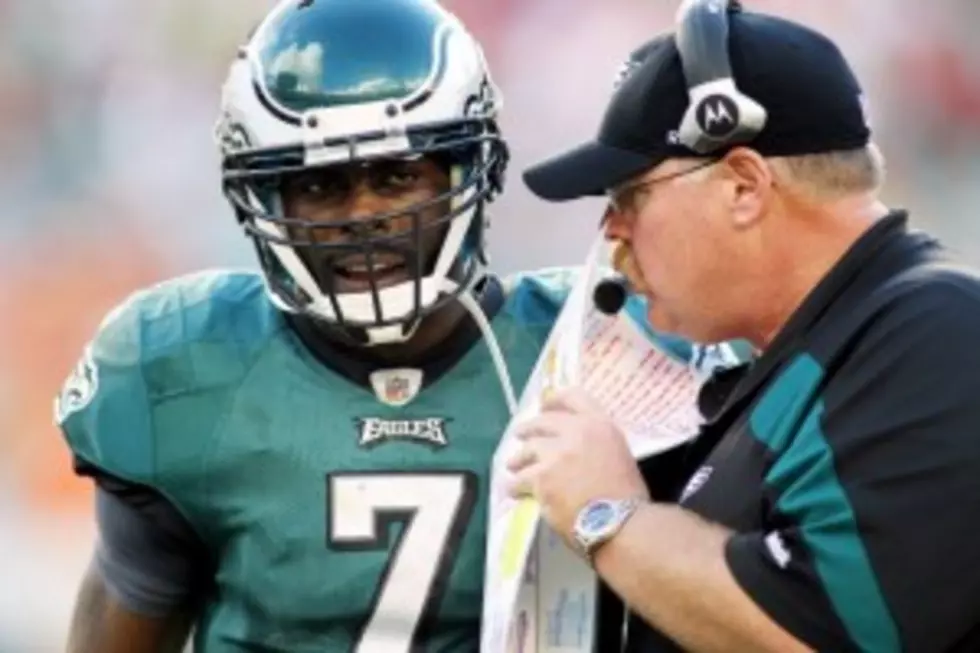 After Firing Castillo, Reid Says More Moves Could Come
Andy Reid did not give Michael Vick a ringing endorsement as his starting quarterback, using similar language to that he used in discussing Juan Castillo yesterday. (Photo by Marc Serota/Getty Images)
PHILADELPHIA, Pa. -- Philadelphia Eagles head coach Andy Reid announced the firing of defensive coordinator Juan Castillo and the promotion of secondary coach Todd Bowles to take his job, and didn't rule out additional moves.
"I'm starting with myself and I've done that and I've gone through in evaluating our football team, both coaches and players," Reid said. "So this is one of the moves and we'll see where this goes from here."
The most talked about possibility for an additional move is likely to be the benching of quarterback Michael Vick, after Reid used the same language he used yesterday in discussing Castillo, calling Vick the starter "right now."
"As I sit here today, he's the starting quarterback," Reid said. "I'm going through and I'm evaluating everything. Everybody and everything."
Castillo's firing came after just 22 games as defensive coordinator. The long-time Reid assistant had never coached on the defensive side of the ball at the NFL level and spent 13 years as an offensive line coach in Philadelphia. Sunday his defense blew a 10-point lead in under five minutes to lose 26-23 to the Lions in overtime.
After the game, veteran cornerback Nnamdi Asomugha was critical of Castillo, questioning his decision to change up a defensive strategy that had held the Lions to six points and 163 yards through three quarters.  Asomugha said he had told his coaches they should keep doing what was working.
Today, Reid downplayed the role of Asomugha's comments on his decision.
"Nnam told me what he really meant by it and explained that before it ever, this ever took place," Reid said. "I appreciate that but he was in favor of what we did and he liked it."
Reid didn't make it entirely clear whether Asomugha was in favor of Castillo's fourth quarter coaching or the decision to fire him and promote Bowles, Asomugha's position coach.