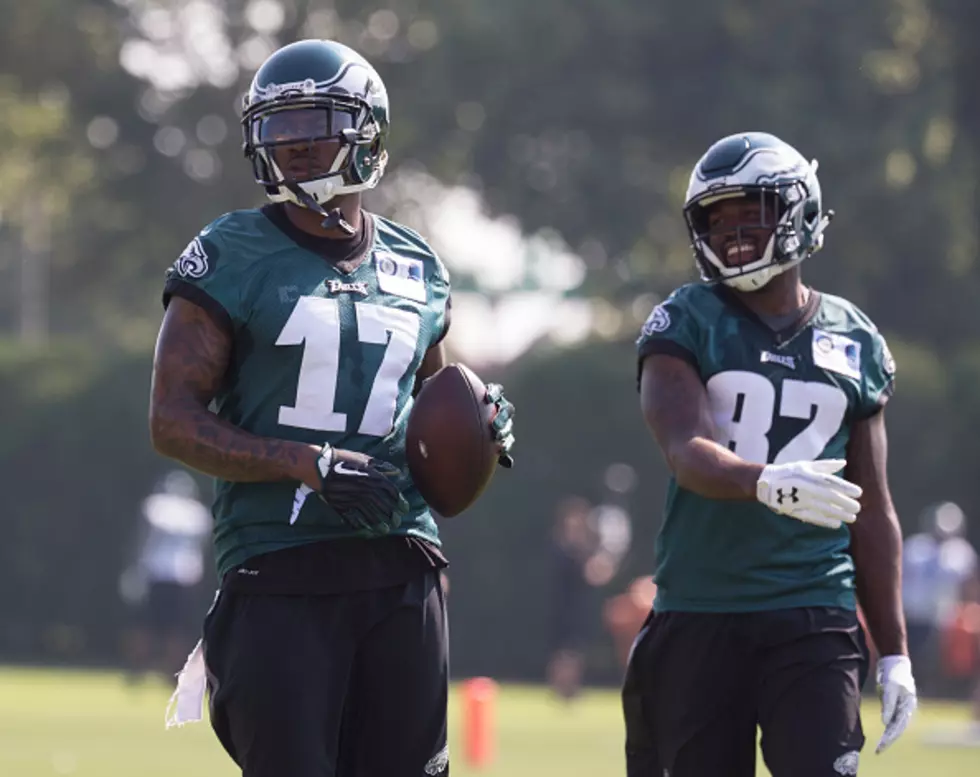 Alshon Jeffery Will Not Play in Sunday, Closer to Return
(Mitchell Leff/Getty Images)
While the Eagles got some good news with Alshon Jeffery returning to the practice field on Thursday, he will not play in the game on Sunday against the Bengals according to head coach Doug Pederson on Friday.
Enter your number to get our free mobile app
Pederson said while it was nice to see Jeffery back out on the field, they hope to have him back out on the field in a game soon.  Seeing how his foot responds to the workouts will be key in seeing when he can play in a game.
"It was great to get Alshon on the practice field in some individual, the routes-on-air period that we were able to throw with him," Pederson said. Just beginning to incorporate him back into a full practice schedule."
"I'm optimistic moving forward in the next couple weeks, possibly, but again it just depends on how he does, how he recovers today. You put a guy that's had an injury out there. You want to test it. You want to see where he's at, but it's all about today; the day after, 24 hours, how he recovers and being able to do some more with him."
"Yeah, I'm excited. We've got a little bit of time. I don't want to push him, but at the same time, it's good to see him get some work in with Carson Wentz"
With Jeffery not ready to play and rookie Jalen Reagor out this week, expect to see a lot of DeSean Jackson, Greg Ward and J.J. Arcega-Whiteside at wide receiver.
Pederosn stressed his confidence in Arcega-Whiteside, noting that they can use him both inside and outside in the offense.
So far in 2020 he has yet to catch a ball. He has been out-targeted by rookie John Hightower seven-to-4 so far this season.
KEEP READING: Eagles Quarterbacks With the Most Wins Since 1980