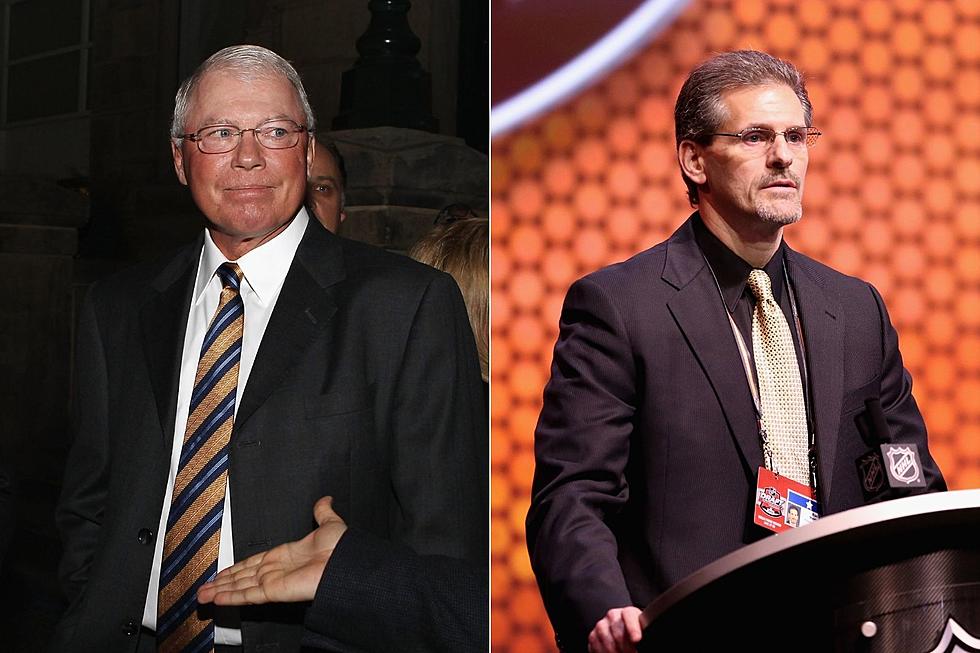 Bobby Clarke reveals Grim Details about Hextall's Tenure as GM
-Bobby Clarke: Photo by Bruce Bennett/Getty Images -Ron Hextall: Photo by Mitchell Leff/Getty Images
The Ron Hextall Era as General Manager in Philadelphia was originally something that was praised by many fans and experts when he was hired but when he was fired four years later the exit happened under a dark cloud of issues.  Hextall is now the General Manager of the Flyers' rival Pittsburgh Penguins and the Flyers are still trying to find their way back to being a consistent playoff contender.
Former Flyers General Manager and Hockey Hall of Famer Bobby Clarke was a guest on The Cam and Strick Podcast which opened the door for the Flyers' Legend to put on the record some scathing details about Ron Hextall's tenure as Flyers' GM:
"(Ron Hextall) alienated everybody right away; He shut his door, he locked the doors, he was the boss and nobody else was part of (the decision making). We get the second pick in the (2017 NHL) Draft and we end up drafting Nolan Patrick; None of our scouts wanted Nolan Patrick, I don't know where Patrick should have gone...he's a pretty good player but (the scouts) wanted (Cale) Makar. Of course, he went next (in the draft), now he's a superstar and Patrick hasn't played (at that level). But Hextall made that choice himself and there are other choices made in our drafts we are paying for; You know we've got two or three first-round picks that are never going to play and that's why (the Flyers) are struggling."
The Nolan Patrick selection is definitely a decision that was a huge miss on Ron Hextall's part and the Flyers would have been much better off with Cale Makar.  Makar won the 2019-20 Calder Trophy (NHL's Rookie of the Year Award) and he has tallied 125 Points in 129 games with the Colorado Avalanche. Patrick's inability to be a consistent contributor led current Flyers General Manager to unload him on the Vegas Golden Knights.
This portrayal of Hextall as this tyrannical General Manager by Bobby Clarke is both eye-opening and explains a lot about why some things happened during those four years. If Hextall is making the roster and draft decisions unilaterally, not consulting the team's scouts, this explains why their draft record for those four years was so inconsistent.
Clarke also revealed some interesting details about the trade that sent Brayden Schenn to the St. Louis Blues in exchange for a 1st round pick in the 2017 NHL Draft (that turned into Morgan Frost) along with a conditional 2018 First Round Pick (that turned into Joel Farabee) and Jori Lehtera (who played two seasons in Philadelphia). Clarke's account of what happened paints an ugly situation:
"(Schenn trade to the Blues) was just as bad, nobody knew it, Hexy made that (trade) on his own. All of our scouts were at the draft, our scouts were so mad at Hexy for doing that. We had a chance to get (Ryan) O'Reilly from Buffalo (and) we didn't...That was another (decision) the scouts were not consulted on."
Now to be fair, walking away from the Schenn trade with Farabee and Frost is a solid return in that deal. But the fact that Hextall refused to work with others in the Flyers organization, had the chance to get Ryan O'Reilly from Buffalo before the Blues landed him, and the dark picture of Hexy ruling with an iron fist is a bad look for a guy who was a very popular player during his years in-between the pipes for the Flyers.
Ironically, O'Reilly and Schenn were key contributors to the St. Louis Blues winning the 2019 Stanley Cup with a Head Coach who Ron Hextall fired: Craig Berube.  Many Flyes fans are still not happy that Berube was fired and it seems like Hextall did more to help the Blues to win a championship than he did help the Flyers have any success.
10 Winningest Head Coaches in Flyers History
Here are the top Flyers head coaches in the history of the franchise.