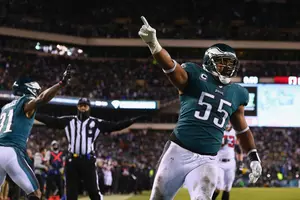 Brandon Graham is Working His Way Back
(Photo by Mitchell Leff/Getty Images)
PHILADELPHIA (973espn.com) - Storybook endings don't often need rewrites but Brandon Graham's strip sack of Tom Brady, which sealed Super Bowl LII for the Philadelphia Eagles, was even more impressive than first thought.
Graham ensured the Lombardi Trophy would end up in Philadelphia for the first time despite dealing with ankle and hamstring issues.
We knew the former but the latter was something Graham revealed when talking with reporters at his locker on Thursday after the team's final OTA practice of the spring.
Graham injured his ankle on Christmas night against the Oakland Raiders before missing Philadelphia's regular-season finale against Dallas and returning for the playoffs at far less than 100 percent.
"I needed six weeks instead of three," Graham explained when discussing what he described as a high-ankle sprain. "But, I had to do what I dad to so, it's a once-in-a-lifetime experience playing in the playoffs and make a run with the team we had. All I did as grind it out and end up paying for it."
In fact, Graham acknowledged that compensating for the balky ankle was the reason his strained his hamstring against the Patriots in Minneapolis but nothing was taking him off the field, except for play heard 'round Philadelphia when the hampered veteran raced around right tackle to shake the ball loose from the greatest quarterback of all-time, who happened to be red-hot at the time.
"I've watched that play, I don't know, 100 times?" Graham said. "I just know that doing what we did, with this group of guys, and doing it for Eagles fans in this city, that's what it's all about. It's been special."
Ultimately Graham needed offseason surgery to "clean out" the ankle and remains on crutches with a walking boot for the time being. He's obviously missed all of the OT work and will also miss next week's minicamp. Graham refused to put a timetable on his return but he certainly plans to be available for Week 1 on Sept. 6 against Atlanta.
"The surgery, you know, nobody wants to go through that, but at the same time it's football, and you're going to have these kinds of things happen," he said. "I feel great now. I'm working on other things, and I'm going to be stronger and better when I come back."
At 30 and entering the final year of his current deal Graham and the cap-strapped Eagles have been wrangling over a contract extension, something no doubt complicated by the surgery and perhaps the optics of announcing a new deal with an aging commodity on crutches.
"I know this next deal is going to be potentially my last deal," Graham said. "Hopefully I get more after that, but you just never know, so I want to make sure that I get it done right so it works for both ways. For me, playing out this year and hopefully getting something done."
That doesn't mean that Graham is comfortable being a lame duck from a contract standpoint, however.
"I mean you know you always want to be secure," he admitted. "But I'm OK with whatever because at the end of the day, next week we get that [Super Bowl] ring. If we didn't have the team we have, then I would say let's get secure. But we've got a great team to do it again, and I'm hoping to be a part of it, because we've got an open window right now to go back to back."
-John McMullen covers the Eagles and the NFL for 973espn.com. You can reach him at jmcmullen44@gmail.com or on Twitter @JFMcMullen
Want more NFL? Check out John's piece on why 'The Cleanse' in Cleveland was about more than losing at GetMoreSports.com