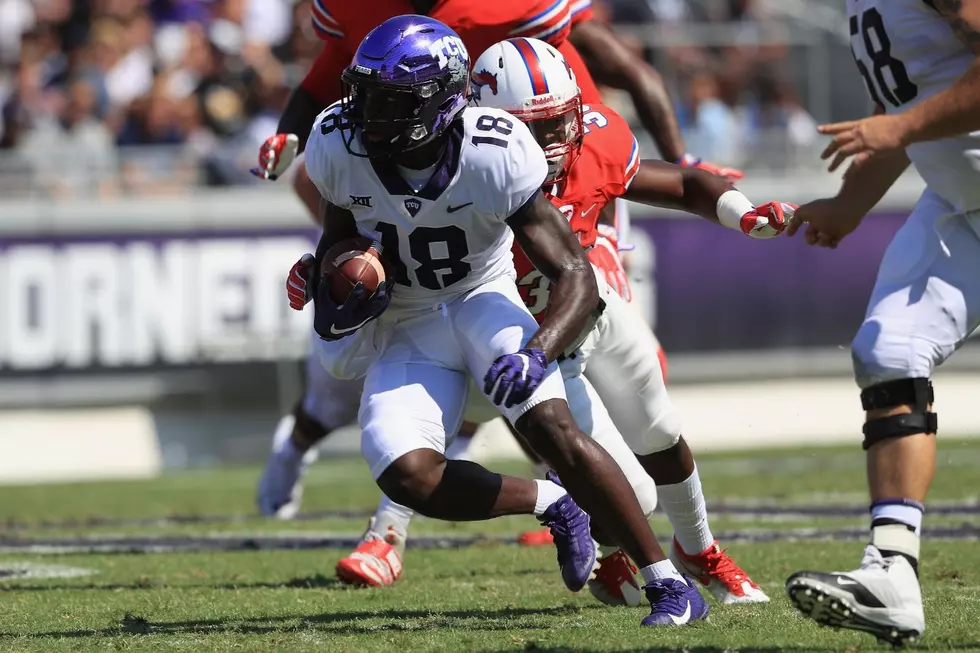 Can Reagor Be The Play Maker The Eagles Need His Rookie Season?
Photo by Ronald Martinez/Getty Images
Last week, Eagles Head Coach Doug Pederson spoke to the media on his conference call about Eagles First Round Pick Jalen Reagor, how once the team can get some "Grass Time with the Rookie Wide Receiver, that Reagor could be used in "Multiple Spots" in the Eagles Offense.  During his college career, Reagor was one of only two FBS players in each of the last three seasons with at least four deep receiving touchdowns and he averaged 15.2 Yards Per Reception at TCU.  Also, with Reagor accumulating 183 Offensive Touches in his three seasons at TCU, his versatility as an offensive weapon is a fit for a Doug Pederson Offense that is top three in Most Offensive Snaps Per Game over the last four seasons.
Yahoo Sports NFL Writer Eric Edholm joined Josh Hennig on Saturday and talked about why he thinks Jalen Reagor could have a big impact for the Eagles his Rookie Season:
"(Jalen Reagor) is such an explosive play maker and we saw it way more in 2018 than we did in 2019, it was so frustrating to watch (TCU) games last year because they were breaking in a Freshman Quarterback, the offense design fairly was called into question.  It really took them about five or six games before they started figuring out Jalen Reagor's too good to not get the ball more than three to four times a game.  It was a very slow start to the season, he would get open, they wouldn't (throw) him the ball; Finally they moved him into the backfield to use him as a Wildcat guy, they used him End-Arounds, they used him on Bubble Screens, they started getting the ball in his hands just knowing he can make things happen.  So I wouldn't be shocked to see something of a similar role (in the Eagles Offense); But watching his tape, even though he had a tendency to kind of round of his routes at times, (Reagor) still needs to work on the precision of his routes. - Even with that, the lower body explosion, the strength that he has for such a small guy...his dad (Monte Reagor) was an Eagle, a Defensive Lineman, it's crazy to think about that (NFL) lineage, but I really think he's got that ability to come in and make big plays."
Checkout what Edholm says about Jalen Reagor's readiness to play in the NFL, perspective on Matt Pryor, the 2020 NFL Draft Wide Receivers, and more.
Eagles First Round Draft Pick Busts