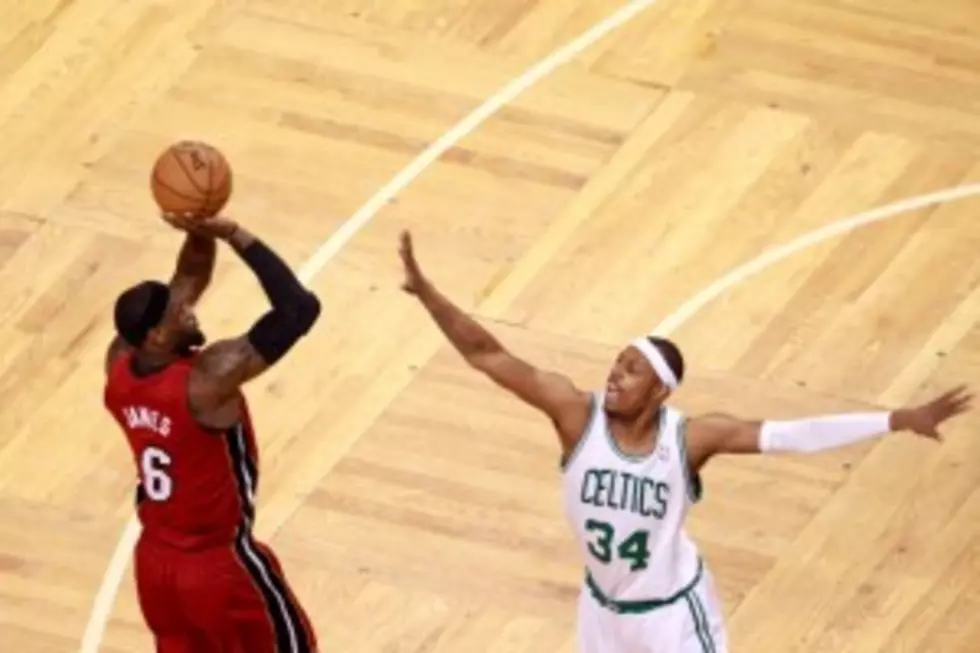 Celtics at Heat, Game 7 on 97.3 ESPN
LeBron James has no idea what he will do for an encore.
He offered a simple vow instead.
"I won't regret Game 7," James said.
There may not have been another sentiment the Miami Heat would have preferred hearing more as they prepare to host the Boston Celtics tonight.
James is coming off a season-saving 45-point, 15-rebound, five-assist effort to force Game 7. The winner will head to Oklahoma City to start the NBA finals on Tuesday night and the loser heads into an offseason of decided uncertainty.
"Win, lose or draw, I'm going to go in with the mindset like I've had this whole season," James said. "And you know, we'll see what happens."
A series that has gone back and forth — Miami won the first two games, then lost three straight before James carried the Heat to a win that denied Boston the East crown on Thursday night — comes down to an ultimate game.
For the Heat, it's a chance to play for the ring they couldn't win last year in the opening act of the Big Three era. For the Celtics, it's probably one last chance for their current core to reach the NBA's mountaintop.
"This team has been about adversity all year long, you know, so this is not going to be nothing new," Celtics forward Paul Pierce said.
"It's been tough for us all year long to get to the point where we would be at, and why wouldn't it be tough now? Winning is hard. Trying to get to the finals is hard. And this is as hard as it gets. And I think we are prepared for it."
It's the 111th time a best-of-seven NBA series has gone the distance.Home teams are 88-22 in the previous matchups.
That means little to Heat coach Erik Spoelstra. The last time Boston was on his team's court, the Celtics sputtered offensively and still managed to leave with a win, taking Game 5 to put Miami on the brink.
"Both teams will come out with an appropriate level of urgency," Spoelstra said. "And that's the beauty of a Game 7. We fought and earned the right to have this on our home court. We don't take that for granted and we don't assume that that will take care of anything.
"We're going to have to play, compete at the same urgency level we played last night. And we'll also have to play well and probably have to beat them when they're at their best."
Copyright by STATS LLC and The Associated Pres