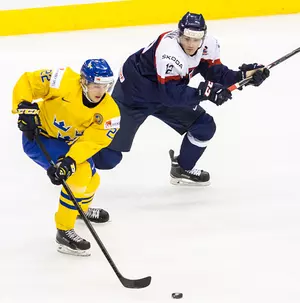 Could Oskar Lindblom Make the Flyers Roster This Fall?
Oskar Lindblom was taken in the fifth round by the Flyers in 2014. (Photo by Dennis Pajot/Getty Images)
VOORHEES — Oskar Lindblom hopes his offseason workouts won't be too uncomfortable.
After Flyers development camp ends next week, he will return to his native Sweden and could either train with established NHLers or his old team.
The one he just left. To sign his first North American contract.
"A little bit, but I train with them all summer," the left wing said. "I know the guys and know the coaching staff. I think it's gonna be fine."
The 20-year-old has some work to do to earn an NHL spot in the fall, something that's a rarity for players at the July camp where the emphasis is on learning how to be a pro and on-ice evaluations don't happen.
Lindblom, a fifth-round pick in 2014, will return from Sweden in mid-August to start making his case for Ron Hextall and the general manager is about ready to listen.
In fact, he thinks Lindblom is a success story of development camp. This year is his fourth and now he may be ready to jump to the highest level.
"We picked Oskar. He goes back to Europe. No one even talks about him," Hextall said. "What does he do? He just gets better and better and better. There also wasn't a spotlight on him. Quite frankly I wish all our kids could just go away and nobody talk about them and all of a sudden they show up three years later and, 'Wow, this kid's a pretty good player,' but with social media and everything else nowadays you can't hide them.