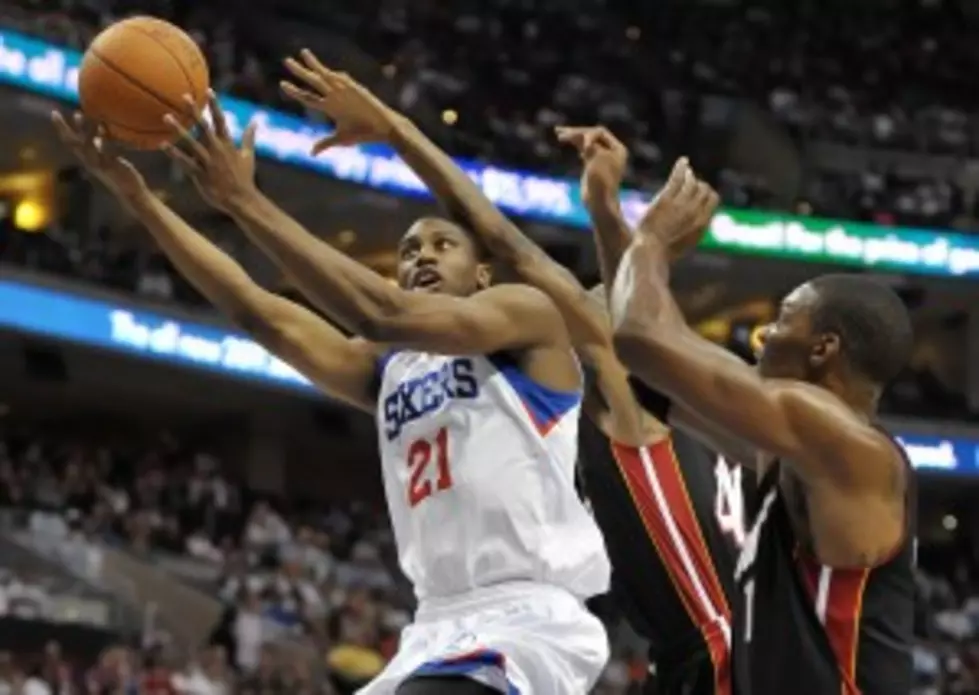 Countdown To Sixers Basketball: Day 2
Disclaimer: I, unlike most of you out there, believe the 2011-12 Philadelphia 76ers are going to be a very, very good basketball team. Over the next four nights, I will count down the four biggest reasons for another season that will result in postseason basketball (along with the first back-to-back .500 or better seasons since '01-'02/'02-'03) in the Wells Fargo Center. Why? Because A) I love this sport and B) It's time the people of this area got on board with a young, exciting basketball team.
We are in the midst of one of the strangest NBA preseason periods in league history. Training camps began on December 9th. Free Agency began on December 9th. The ability to prepare a team for a season becomes increasingly difficult when players are changing teams, signing new contracts, being traded, and negotiating deals in the middle of practices. Throw in the fact that coaches are being given a reduced camp period to prepare for the rigors of a shortened season and you have the possibility of chaos.
Like in this current 2011 NFL season, continuity is going to become a big theme of the NBA season. Teams that are most familiar with each other, style, tempo, and coaching will succeed the most early in this odd season. Teams that are in a flux may take significant time to gel. How does that effect your '11-12 Philadelphia 76ers? Well, they just might have the most cohesiveness of any Eastern Conference contender.
In terms of minutes per game played, Philadelphia will return their top ten players (Iggy, Jrue, Brand, Meeks, Thad Young, Lou Williams, Turner, Hawes, Nocioni, Speights) from last season's rotation. How rare is that in a league of year-to-year movement, especially in a lockout shortened off-season? It's so rare that we are staring at the only Eastern Conference playoff team from last year with that claim to fame.
A quick run down of the other playoff teams from last year shows the significant changes to the rosters:
Chicago: Lost Kurt Thomas, adding a full season of Jokaim Noah back into the mix
Miami: Added Shane Battier
Boston: Lost Jeff Green for the year due to heart issues, traded Glen Davis to Orlando for Brandon Bass, no longer have the idea of Shaq hanging over the roster
Orlando: Traded Brandon Bass for Glen Davis, could be moving Dwight Howard any minute
Atlanta: Lost 30 minutes and 14 points from the professional Jamal Crawford
New York: Signed Tyson Chandler, amnestied Chauncey Billups, and are still working out the flow between prolific forwards Amare Stoudemire and Carmelo Anthony
Indiana: Signed David West to provide major scoring at the power forward position
As Doug Collins spoke about recently with forward Marreese Speights, playing 10 or 11 man rotations is going to be critical during a schedule that calls for many back-t0-back or back-t0-back-t0-back games.
"Mo Speights had by far his best practice today," Collins told the Daily News yesterday. "I told him that, going out on the West Coast, I need him. I need experienced guys as we start this season. I'm hoping that he's going to take this next week and really push himself, because he can do so many things for us. We're going to need strength in numbers. I think with four games in 6 nights I'm going to need 10 guys, 10 or 11 guys, and I don't want to put too much pressure on [rookies] Nik [Vucevic] or Lavoy [Allen] that early in the year on the road to have to count on them. Mo becomes very important for us as we get ready to start the season."
Not many teams have the ability to run 10 or 11 deep with quality players. This Sixer team truly has that. Factor in the eventual emergence of the rookie center from USC and Lavoy Allen, and one of the big challenges for this team will be finding enough playing time for everyone. Thanks to so many games in such a short period, all the fresh legs will be needed.
While most contending teams have bigger and better #1 scorers or a Big 3 that can't be rivaled by any combination in Philly, no one has the combination of depth and cohesiveness of this Sixer squad. In a strange year, expect the status quo to be more important than the flashy, big name signing.
Update: I watched the replay of Tuesday night's Sixer-Wizard game while writing this. Not surprisingly, Doug Collins played ten guys at least ten minutes. Rookie center Nikola Vucevic cracked the lineup and scored five points.
Coming tomorrow: Trusting Rod Thorn