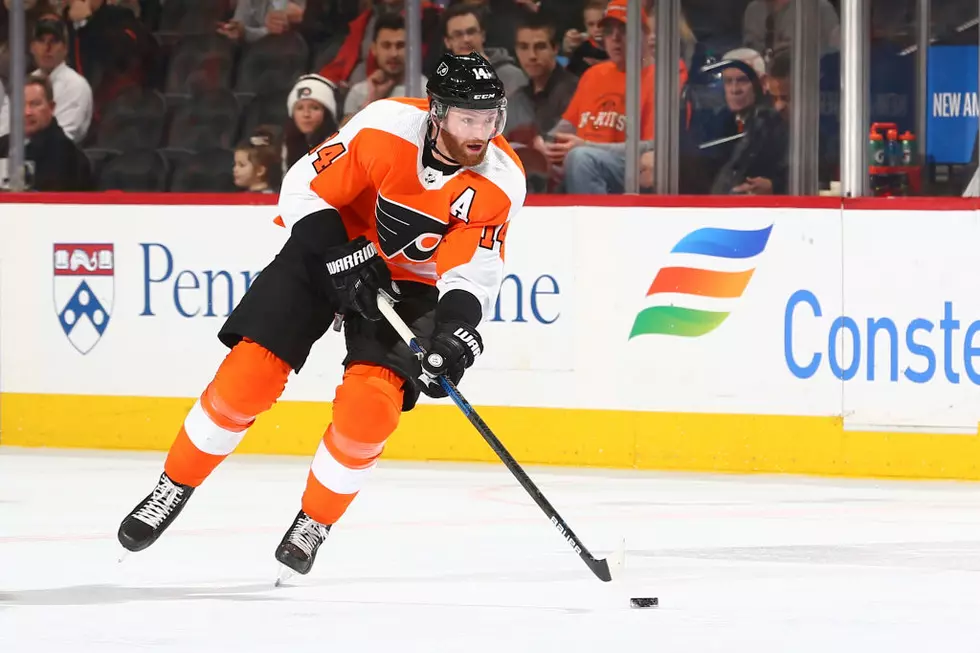 Couturier on Path to Finally Getting His Due in Selke Race
(Mitchell Leff/Getty Images)
At the All-Star break in January, the members of the hockey media had cast their votes for the midseason portion of some of the league's top individual honors. Among the most talked about discussions was the Selke Trophy race. At the top of the list was Flyers center Sean Couturier.
Couturier has become a perennial candidate for the award. Even in his rookie season, Couturier earned two fifth-place votes in the Selke race, finishing 41st in overall voting. In just his third season in the league, Couturier finished ninth in the Selke Trophy voting, getting one second-place vote and two third-place votes. He earned one second-place vote and two third-place votes two seasons later in 2015-16, finishing eighth in overall voting.
Two seasons ago, Couturier took his game to the next level, matching the defensive level of play with his best offensive season to date, scoring 31 goals and posting 76 points. He received 37 first-place votes that year, but finished second in the Selke race to Kings' forward Anze Koptiar, who received 70 first-place votes.
Last season, Couturier matched his 76 points from a season ago and topped his career high in goals with 33. Couturier wasn't even a finalist for the Selke this time around, however, finishing sixth and getting just two first-place votes. Ryan O'Reilly took home the award with 48 first-place votes.
Couturier came out ahead in the midseason voting, beating out O'Reilly, who came in third, and Patrice Bergeron, the four-time Selke winner, who finished second. So that prompted the thought: could this finally be Couturier's year?
Through 69 games in the 2019-20 season, Couturier has 22 goals and 59 points, and while there is no guarantee that over the final 13 games he was going to match the previous season's career marks of 33 goals and 76 points, his plus-minus has skyrocketed to a plus-21 rating after being a plus-2 rating a season ago. His face-off win percentage of 59.7 is the highest of his career. His advanced stats are also at all-time highs with a CF% of 58.4 and FF% of 57.6. The Flyers also have a plus-32 goal differential in all situations with Couturier on the ice.
These statistics are really nothing new for Couturier. He was arguably deserving of the honor two years ago and now as a nine-year veteran of the league, he may finally be getting his due as one of the league's top two-way forwards by adding some hardware to his collection.
Of course, it helps that the Flyers have seen a transformation in team play this season too. Two years ago, when Couturier finished second in the voting, the Flyers were dismissed in the first round of the playoffs. In other recent years, they have either barely made it into the playoffs or fallen short of making the postseason. With their playoff spot seemingly locked up, Couturier was in the position of leading centerman on a team that was viewed as a playoff threat for a change.
There's no telling when the season will return to action and how things will go for Couturier and the Flyers when the season returns. But to this point, Couturier has once again established that he is one of the top defensive forwards in the game with a lot of offensive upside. Perhaps this season of team success for the Flyers will also be enough to finally put him over the top and get him some much-deserved recognition with one of the NHL's top awards.
READ MORE: How Much Food Do You Need to Shelter in Place?
Enter your number to get our free mobile app