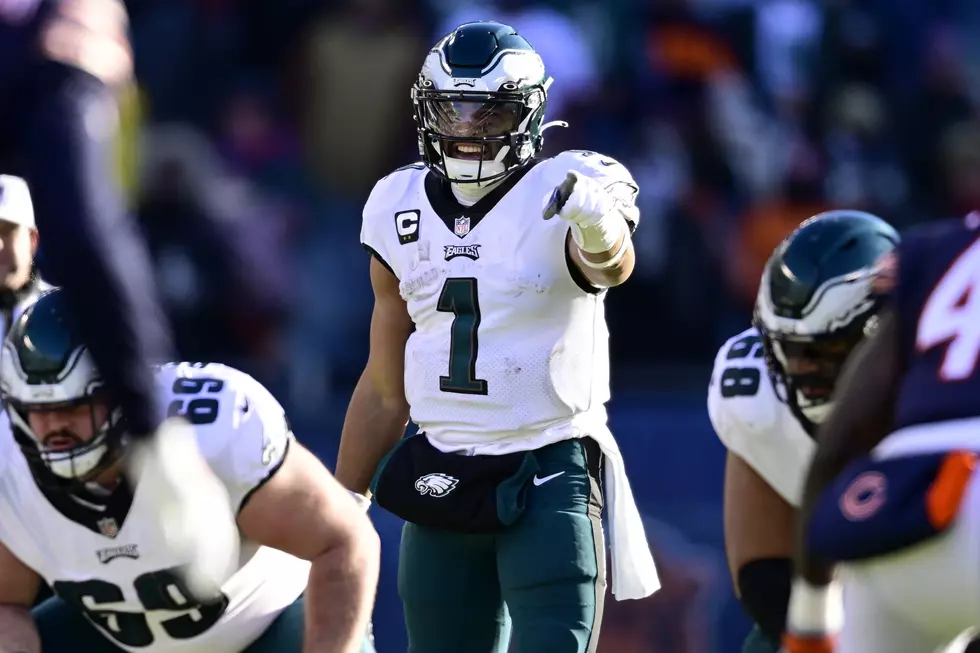 Dave Weinberg's Eagles-Bears 2-Minute Drill
Getty Images
A quick look at the Eagles 25-20 win over the Chicago Bears on Sunday at Soldier Field.
Eagles' best number: 6 (Eagles sacks)
Eagles' worst number:  3 (Eagles turnovers)
View from my living room: 
We finished decorating our Christmas tree on Saturday evening. We received a major assist from our 4-year-old grandson, Graham, who covered it with tinsel.
Three stars
1. Eagles edge rusher Haason Reddick (2 sacks, constant pressure)
2. Eagles defensive end Josh Sweat (2 sacks, 3 tackles for loss)
3. Bears quarterback Justin Fields (2 touchdown passes, 95 rushing yards)
Eagles' best play
Wide receiver A.J. Brown, who had nine receptions for 181 yards, got behind the Bears defense for a 68-yard reception that led to Jalen Hurts' fourth-quarter touchdown.
Eagles' worst play
Bears quarterback Justin Fields spun away from Reddick in the pocket, then broke two more tackles during a terrific 39-yard run that set up running back David Montgomery's 9-yard TD in the second quarter.
Turning point
The Bears drew within five points at 25-20 on Fields' 32-yard TD pass to wide receiver Byron Pringle with 2:43 left in regulation. The Eagles recovered the ensuing onsides kick and picked up a first down that enabled them to run out the clock.
Did you notice?
The Eagles (13-1) can clinch the NFC East and the top seed in the conference with a win over the Cowboys (10-4) on Christmas Eve. ... Jacksonville and coach Doug Pederson beat the Cowboys in overtime Sunday. ... Hurts threw two first-half interceptions after throwing three total picks in the first 13 games. ... Brown's 181 receiving yards were the most by an Eagle since Jeremy Maclin had 187 at Arizona in 2014. ... DeVonta Smith had 126 yards against the Bears. ... New punter Brett Kern averaged 45 yards on two kicks and also served as Jake Elliott's holder. Elliott was 2-for-3 on field goals.
The Top 50 Best Sandwich Shops You Need To Eat At In New Jersey