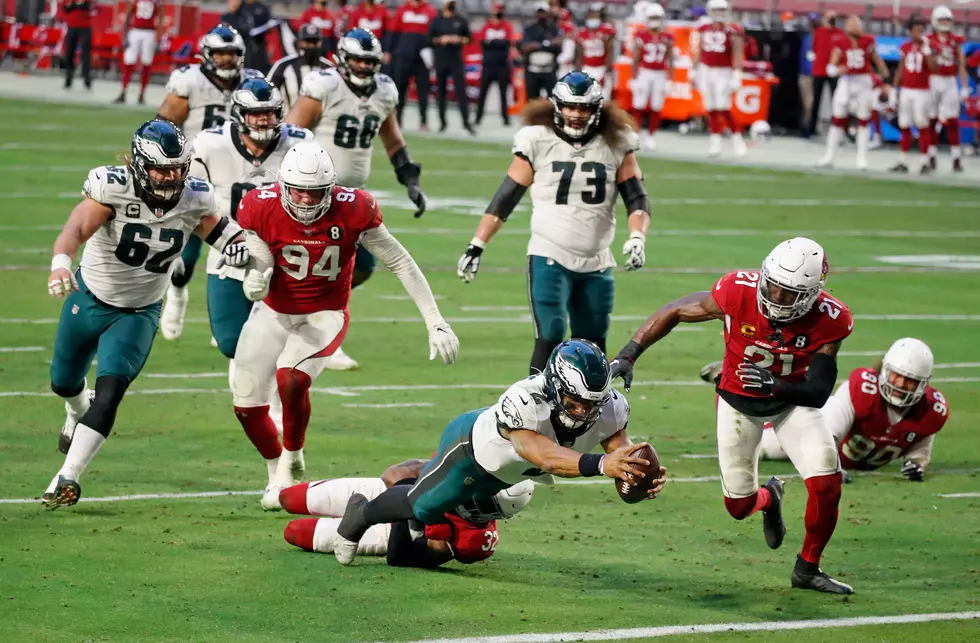 Dave Weinberg's Eagles-Cards 2-Minute Drill
Getty Images
Here is Dave Weinberg's quick look at the Eagles loss to the Cardinals.
Eagles' best number: 338 (Jalen Hurts' passing yards)
Eagles' worst number: 169 (DeAndre Hopkins' receiving yards)
Enter your number to get our free mobile app
View from my living room:
I don't know if my indigestion was caused by the Eagles' special teams or the five-alarm chili I had for dinner.
Three stars
1. Cardinals wide receiver DeAndre Hopkins (9 receptions, 169 yards, 1 incredible TD reception)
2. Eagles quarterback Jalen Hurts (338 passing yards, accounted for 4 TDs)
3. Cardinals quarterback Kyler Murray (406 pass yards, accounted for 4 TDs)
Turning point
The game wasn't decided until the final seconds, when the Cardinals knocked away a pair of Hail Mary passes in the end zone to end the game.
Eagles' best play
Rookie wide receiver Quez Watkins grabbed a short pass from Hurts and sprinted up the sideline for a 32-yard touchdown in the second quarter. It was Watkins' first career TD.
Eagles' worst play
The special teams had a lousy day. Cards defender Ezekiel Turner stormed up the middle and blocked a punt by Cameron Johnston that led to a Cardinals touchdown that made the score 16-0.
Did you notice?
Johnston missed most of the game a concussion. His absence was felt more as a holder than punter. Backup holder Zach Ertz couldn't handle Rick Lovato's low snap after a TD, thus preventing the Eagles from taking a 27-26 lead. ... The Eagles defense forced a season-best three takeaways. ... Eagles rookie cornerback Michael Jacquet played well under tough circumstances. ... Hurts was called for intentional grounding in the end zone on the first possession, resulting in a safety. ... Eagles wide receiver Alshon Jeffery caught two passes for 63 yards and drew two pass interference penalties.
Parting shots
Eagles quarterback Jalen Hurts, on the loss: "I hate losing more than I love to win."
Cardinals quarterback Kyler Murray, on the game: "We kept fighting."
Eagles vs Giants 2020