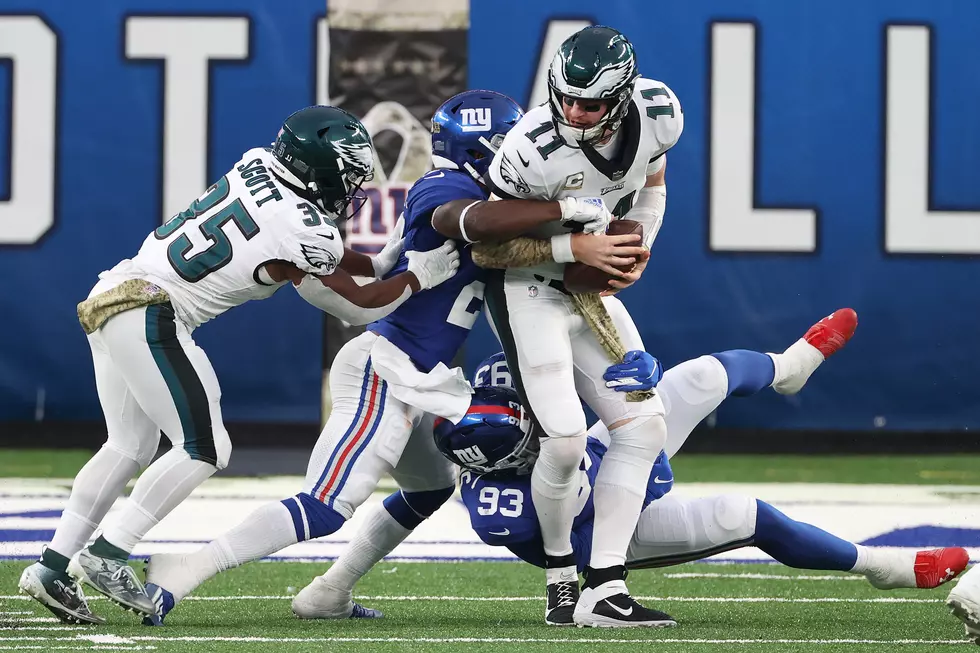 Dave Weinberg's Eagles-Giants 2-Minute Drill
Getty Images
Dave Weinberg takes a quick look at the Eagles loss to the Giants, dropping them to 3-5-1 on the season.
Enter your number to get our free mobile app
Eagles' best number: 0 (Carson Wentz turnovers)
Eagles' worst number: 0 (Third-down conversions)
View from my living room:
Congrats to Dustin Johnson on his record-setting Masters victory.
Three stars
1. Giants quarterback Daniel Jones (244 yards passing, 34-yard TD run)
2. Eagles running back Miles Sanders (15 carries for 85 yards)
3. Giants wide receiver Darius Slayton (5 catches for 93 yards)
Turning point
The Eagles closed the deficit to 14-11 on Boston Scott's 56-yard touchdown run on the first drive of the second half. The Giants promptly answered with a 75-yard, six-play scoring drive. Running back Wayne Gallman's 1-yard leap into the end zone put them back in control at 21-11.
Eagles' best play
Scott alertly stayed in bounds at the end of his 56-yard TD run. It was the Eagles' third-longest run from scrimmage this season. Sanders had a pair of 74-yarders earlier this year.
Eagles' worst play
Eagles coach Doug Pederson made the ridiculous decision to attempt a two-point conversion after Corey Clement's TD run cut the Giants' lead to 21-17 in the third quarter. Wentz was sacked on the attempt.
Did you notice?
Wide receiver Alshon Jeffery made his season debut. He did not catch a pass. ... Sua Opeta and Matt Pryor were the starting guards. ... The Eagles were 0-for-8 on third-down conversions. It was the first time they failed to convert one since 2004. ... The Giants snapped an eight-game losing streak to the Eagles dating back to 2016. ... Neither Wentz nor Jones committed a turnover. They had a combined 29 giveaways entering the game.
Parting shots
Pederson, on the loss: "I'm mad and I'm disappointed. It's on me, the way we played today."
Jones on his TD run after tripping on an 80-yarder earlier this season: "I tried to stay on my feet this time."