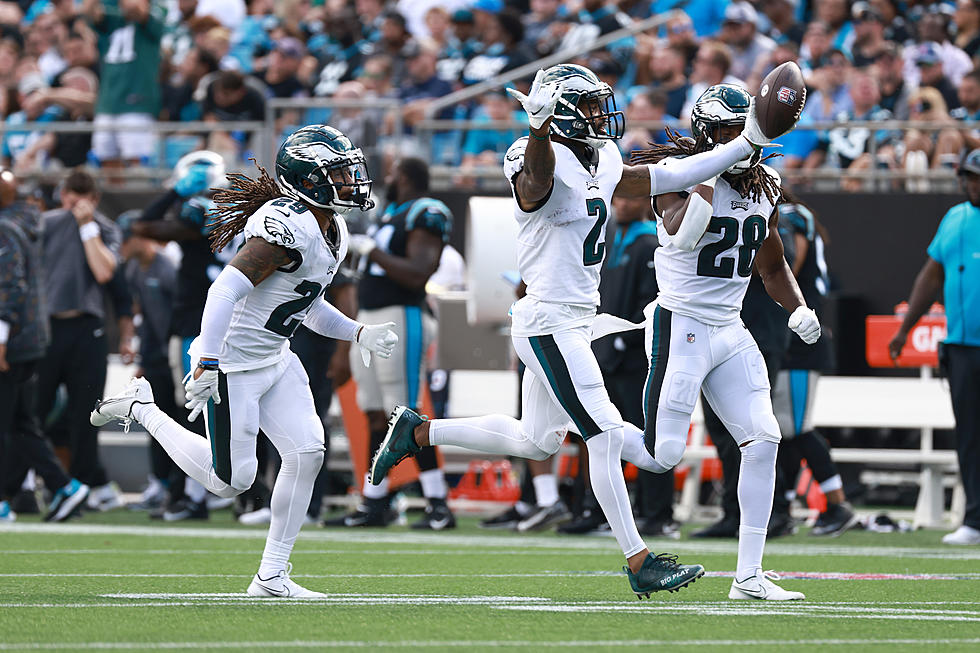 Dave Weinberg's Eagles-Panthers 2-Minute Drill
(Photo by Grant Halverson/Getty Images)
Here is a quick look at the Eagles come-from-behind win over the Panthers on Sunday, getting them to 2-3 on the season.
Eagles' best number: 3 (Interceptions by Eagles defense)
Eagles' worst number: 2 (Eagles turnovers)
View from the press box: A shirtless guy wearing an Eagles hat ran onto the field in the first half while Eagles fans cheered.
Three stars
1. Eagles cornerback Darius Slay (two interceptions)
2. Panthers Haason Reddick (two sacks)
3. Eagles quarterback Jalen Hurts (two touchdowns)
Eagles' best play
Wide receiver Quez Watkins got behind the Panthers' defense and quarterback Jalen Hurts found him for a 53-yard gain that led to Hurts' 1-yard sneak for a touchdown in the third quarter.
Eagles' worst play
Center Jason Kelce's shotgun snap sailed over Hurts' head and rolled into the end zone in the second quarter. Hurts tried to recover the fumble, but missed. Carolina missed an opportunity to recover it for a touchdown, but the ball squirted out of the back of the end zone for a Panthers' safety.
Turning point
The Panthers led 18-13 when Eagles linebacker T.J. Edwards stormed through and blocked a punt deep in Panthers territory. Hurts scored his second rushing TD on a 6-yard keeper, then scrambled and hit wide receiver DeVonta Smith for a two-point conversion that gave the Eagles their first lead of the game at 21-18 with 2:38 left in regulation.
Did you notice?
Right tackle Lane Johnson missed his second straight game for personal reasons. Jordan Mailata started in his spot while Andre Dillard remained at left tackle. ... Christian McCaffrey didn't play for the Panthers. ... There were quite a few empty seats at Bank of America Stadium, probaby because it was 75 degrees and sunny. ... Defensive tackle Javon Hargrave earned his sixth sack of the season in the second quarter, the most of all NFL DTs this season. ... Defensive end Ryan Kerrigan made his first tackle of the season in the second quarter. ... Defensive tackle Fletcher Cox earned his first sack of the season in the third quarter. ... Panthers linebacker Haason Reddick, a Temple grad, blew past Mailata for back-to-back sacks in the third quarter. ... Panthers were 2 for their last 11 in third-down conversions.
Eagles vs Carolina Panthers, Oct 10, 2021