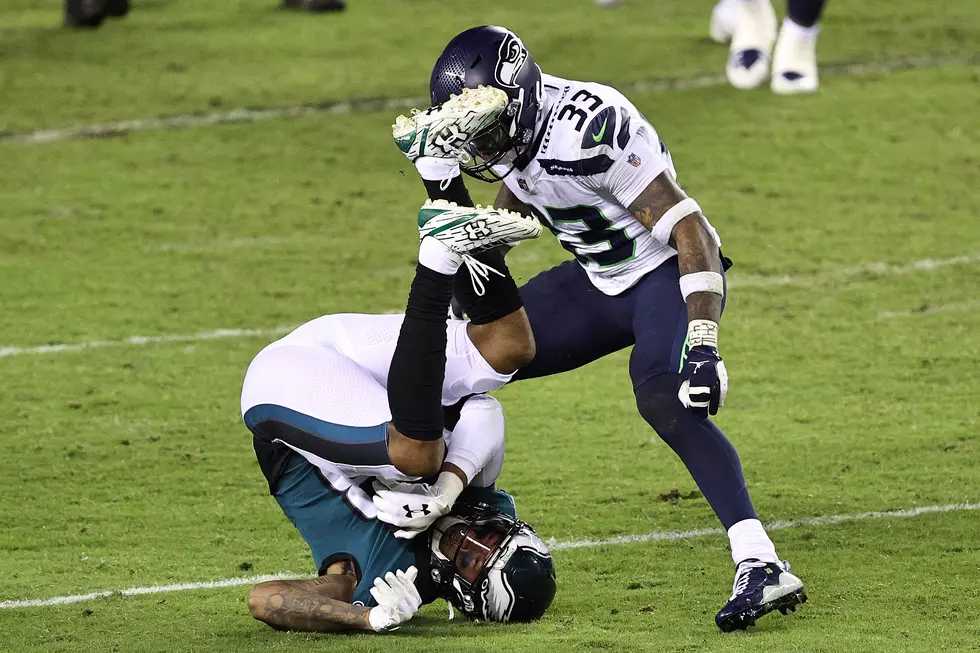 Dave Weinberg's Seahawks-Eagles 2-Minute Drill
Getty Images
Dave Weinberg takes a quick look at the Eagles 23-17 loss to the Seattle Seahawks on Monday night.
Eagles' best number: 100 (consecutive starts by Jason Kelce)
Eagles' worst number: 0 (Eagles first downs on first five drives)
View from my living room:
My golf cart rolled into the lake at Cape May National last Saturday. That was more fun than watching the Eagles' game.
Three stars
1. Seahawks wide receiver DK Metcalf (177 yards on 10 catches)
2. Seawhawks safety Jamal Adams (9 tackles, sack, tackle for loss)
3. Eagles defensive end Derek Barnett (2 tackles for loss)
Turning point
The Eagles were trailing by 11 points in the fourth quarter when they reached Seattle's 15-yard line. Rather than kick a field goal, coach Doug Pederson went for it on fourth down. Carson Wentz wound up throwing his career-high 15th interception.
Eagles' best play
Barnett tackled Seahawks wide receiver David Moore for a 5-yard loss on fourth-and-goal from the 2-yard line on Seattle's opening drive.
Eagles' worst play
Wentz's interception on the fourth down play was ugly. Tight end Dallas Goedert ran the wrong way.
Did you notice?
Jason Peters started at right guard and did not play well. The entire offensive line struggled, allowing six sacks. ... Rookie quarterback Jalen Hurts was on the field for two plays. ... Metcalf dominated Eagles cornerback Darius Slay all game. ... Eagles place-kicker Jake Elliott missed a PAT for the first time this season. ... Kelce's 100th straight start was the longest streak by an Eagles' center since the AFL/NFL merger in 1970. ... Wide receiver Alshon Jeffery had 35 snaps to Travis Fulgham's 37.
Parting shots
Eagles cornerback Darius Slay, on playing against Metcalf: "I let the team down. I told the defense, that game was on me."
Seahawks coach Pete Carroll, on the win: "It was good to see us play like that. We were in control."