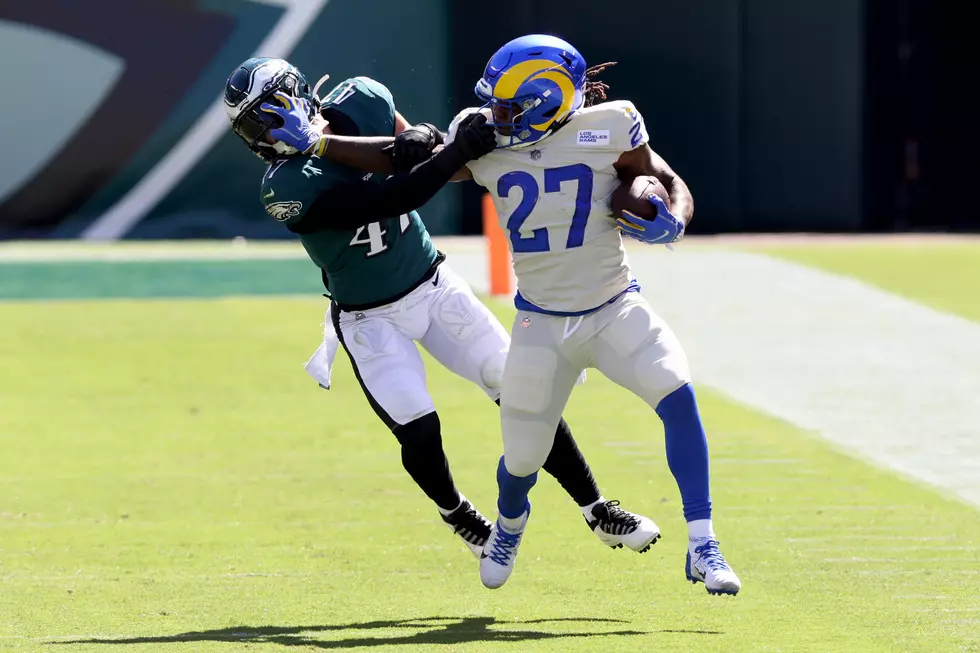 Eagles at 49ers: 3 matchups to watch in prime-time tilt
Rob Carr/Getty Images
The Eagles (0-2-1) will travel to the West Coast to take on the San Francisco 49ers (2-1) in a prime-time matchup on Sunday Night Football.
While the Eagles search for their first win, many things must fall into place to accomplish that feat on Sunday night. Let's take a look at three matchups to watch.
LT Jordan Mailata vs. RDE Kerry Hyder
It's been an interesting week for Jason Peters, whose week began with fatigue and ended with a trip to injured reserve with a foot injury. Peters, 38, has been a shell of his former self through three games, but his absence leaves the team razor-thin at one of the most crucial positions.
On the other hand, Mailata, a former Australian rugby star, has been a fascinating story. A seventh-round flier in the 2018 NFL Draft, the monstrous 6-foot-8, 346-pound lineman has shown marked improvement over the past two seasons under Jeff Stoutland. While he's come on in relief in various spots this season, Mailata is slated to make his first NFL start against a respectable 49ers' pass rush.
On Sunday night, Mailata will be locked up with veteran edge rusher Kerry Hyder. Hyder, who leads the 49ers with two sacks, doesn't win on athleticism or get-off, but rather, his pass rush plan, patience in working his moves, motor, and leverage. While Mailata dwarfs Hyder is size, look for the veteran to pull out all the stops on the first-time starter.
If Mailata is unable to keep Hyder at bay, the Eagles will have difficulty establishing any semblance of offense.
LB Nathan Gerry vs. TE George Kittle
Perhaps the league's most maligned linebacker, Nathan Gerry will be tasked with shadowing the game's premier tight end in George Kittle.
Gerry mightily struggles with eye discipline, often getting caught peeking into the backfield. This causes him to appear a step late in coverage and slow closing on the football. When Gerry's had a bead on the ball-carrier, he often takes poor angles or wrap-up consistently. In some instances, he does not do a sufficient job disengaging from blockers, which effectively takes him out of the play.
Look for Kyle Shanahan to scheme up ways to isolate his tight end on Gerry. The Eagles must provide help, or the 49ers could jet-out to an early lead and not look back.
Fletcher Cox/Javon Hargrave vs. 49ers interior
Arm strength aside, the 49ers shouldn't miss a beat with Nick Mullens under center. There have been times where the third-year signal-caller has run the offense better than Jimmy Garoppolo. Nevertheless, if the Eagles expect to remain competitive throughout, they must find ways to generate pressure up front -- specifically from their formidable defensive tackle duo.
The prime-time matchup presents a suitable spot for the Eagles, financially tied to Cox, Hargrave, and Malik Jackson, to receive a return on the investment. The 49ers interior wall of left guard Laken Tomlinson, center Ben Garland, and right guard Daniel Brunskill have struggled against size and power. If the Eagles can produce penetration from the interior, move Mullens off his spot, and narrow throwing lanes for the 6-foot-1 quarterback, they'll have a chance to make some stops.