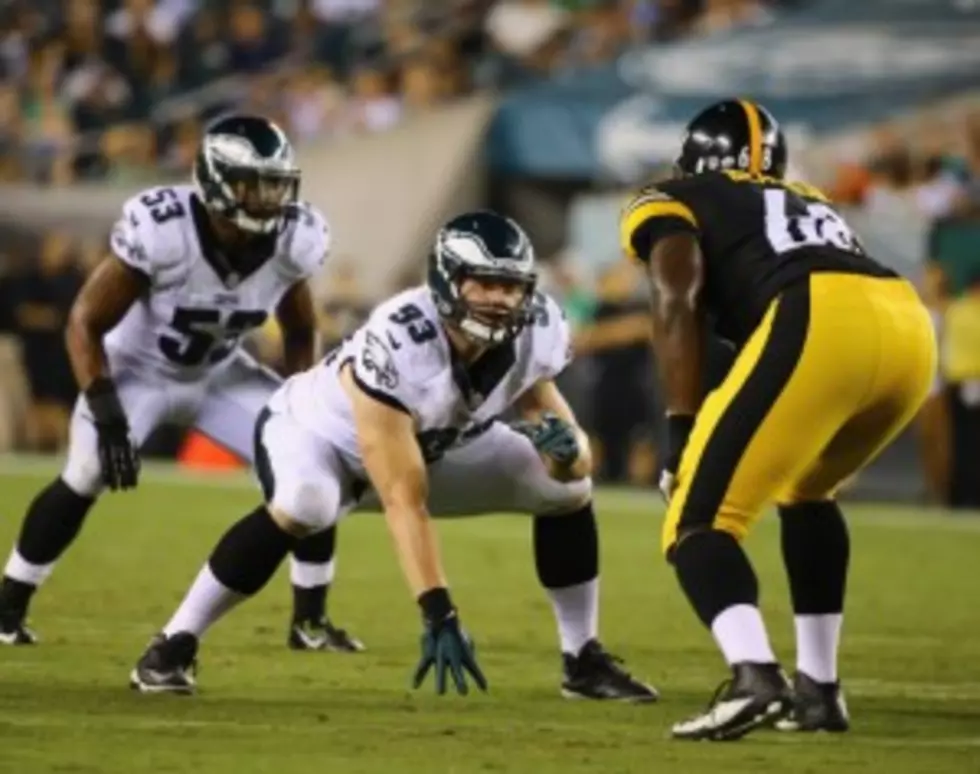 Eagles' Bair is Always Ready to Help
Eagles DE Brandon Bair is ready to help. Photo courtesy of Getty Images Sport
PHILADELPHIA (973espn.com) - After dressing in all 16 games last season, defensive end Brandon Bair has been a healthy scratch in the first two tests of 2015. That figures to change on Sunday due to injuries to both Cedric Thornton and Taylor Hart.
Thornton, the Eagles underrated starter at the five-technique opposite Fletcher Cox, suffered a broken hand against Dallas last Sunday and will be sidelined for at least a few weeks. Meanwhile Hart, the second-year pro out of Oregon who essentially has replaced Bair on the game day roster, hasn't been able to practice this week because of a shoulder injury.
(Listen to John McMullen discuss the Eagles injuries and Thursday's practice)
Those injuries are creating a bit of a domino effect on the defensive line with Vinny Curry set to move back up front as a pass rusher after his move to outside linebacker and Bair, who recently signed a one-year, $675,000 extension, on call as a run-stopper.
Hart has been playing 28 percent of the defensive snaps through two weeks so Bair should be in line for some significant playing time against the Jets.
"It's not like I've never played before," the lengthy 6-foot-7 end said Thursday. "I played in every game last year so whatever happens, happens."
That said, not knowing if you are going to dress each week has a way of messing with players, a fact Bair acknowledged.
"It shouldn't (affect preparation)," Bair told 973espn.com. "It's more of a mental thing and I made it a goal this year once I found out I wasn't dressing to prepare every week like I was going to play and go from there. You got to keep preparing and see what happens."
"I have been in the NFL for five years and I understand how things work," he claimed. "I realized there was a chance I wouldn't be dressing if Taylor Hart continued to play this well."
Having a veteran who understands his role is a nice little option to fall back on if your  Eagles defensive coordinator Billy Davis.
Philadelphia has a lot of concerns as it prepares to head up the Jersey Turnpike but Bair shouldn't be one of them.
-John McMullen covers the Eagles and the NFL for 973espn.com. You can reach him at jmcmullen44@gmail.com and on Twitter @JFMcMullen.