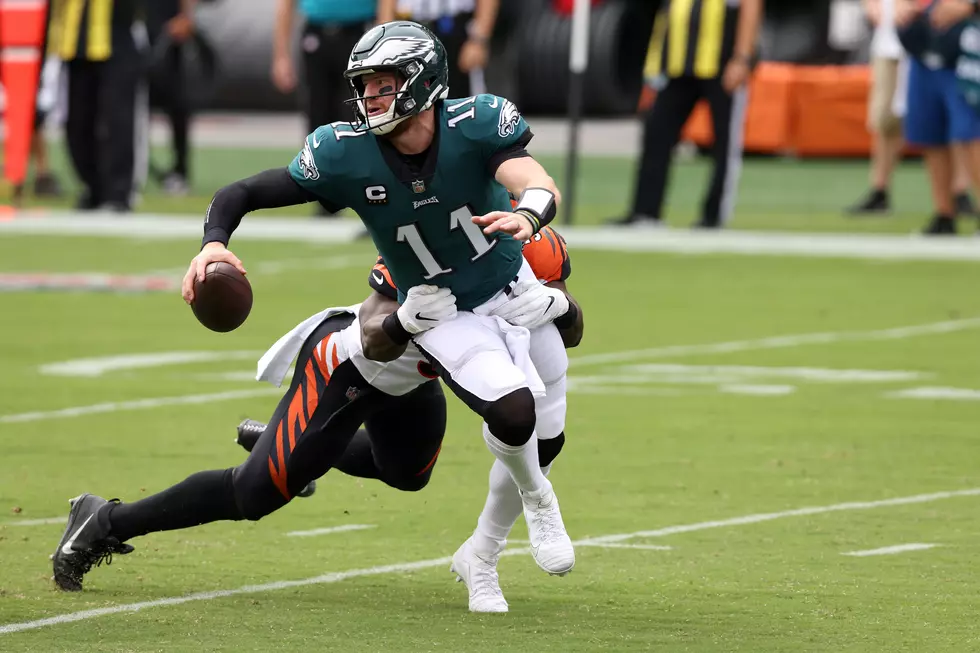 Eagles-Bengals: Observations From the Tie with Cincinnati
Rob Carr/Getty Images
Sunday's matchup between the Cincinnati Bengals (0-2-1) and Philadelphia Eagles (0-2-1) ended in a tie in overtime following a questionable sequence of events in the waning moments.
The Eagles' offense exhibited more motions and creativity than it has all season, but the execution still left much to be desired. The Bengals offensive line was no match for the vaunted Eagles' defensive line, but Burrow could exploit the middle of the field with the primary receiving option, Tyler Boyd.
Below are four observations from Sunday's game.
1. Has Doug lost his edge?
Jake Elliott has the leg to drill a 58-yard field goal attempt, but when Matt Pryor committed an egregious offsides penalty that effectively made it a 64-yard attempt, Doug Pederson played not to lose.
With 19 seconds left in overtime, on the Bengals' 46-yard line, Pederson opted to send the punt team out rather than leave Elliott on the field to attempt the game-winner.
Even if Doug felt the field goal attempt was a longshot, I have to think the Eagles had a play to pick up 12 yards on 4th-and-12. To not give your team a chance at the end is inexcusable.
2. Improved play from Carson
Carson Wentz was far from perfect on Sunday, but at times, he offered glimpses of the quarterback he's been for much of his career.
Now, I'm not going to sit here and say he delivered most of his passes with pinpoint accuracy because that wouldn't be accurate. However, with the game hanging in the balance, Wentz dropped a dime to Zach Ertz that gave the team momentum, and when there was little open downfield, Wentz put the offense on his shoulders and flashed his signature escapability.
The Eagles will need far more consistency from their franchise signal-caller, but Sunday proved that hope isn't lost. Wentz completed 29-of-47 pass attempts for 225 yards, a touchdown, and an interception on Sunday, and rushed for 65 yards and a touchdown on nine carries.
3. Jason Peters struggles
Nothing will diminish what Peters has accomplished throughout his career. The decorated offensive tackle is a surefire Hall of Famer and the best offensive lineman in team history. However, the Bodyguard struggled on Sunday.
Peters struggled with the speed and athleticism of Carl Lawson, who registered two sacks on the afternoon and nearly picked up a third. Peters appeared slow out of his stance and sluggish most of the afternoon and was shaken up late in the game. While this is expected to be a common theme continuously, there isn't much available on the free-agent market. The team would be wise to add a veteran to the tackle mix in anticipation of injury or inevitable regression.
4. Miles Sanders in mid-season form
Sanders may have been running behind a makeshift offensive that included Nate Herbig, Matt Pryor, and a lackluster Jason Peters. Still, he appears to be in mid-season form after missing much of the summer with a hamstring injury.
Sanders reached the 95-yard mark for the second consecutive week, this time on 18 carries. He exploded through the holes like he was shot out of a cannon and demonstrated his innate ability to get skinny through the narrowest of creases to pick up positive yards. The second-year running back appears much more patient at the line of scrimmage and his vision is vastly improved.
Speaking of the offensive line, they struggled in pass protection, but I thought they did an excellent job blowing defenders off the ball in the running game, particularly along the interior — another standout showing from center Jason Kelce.