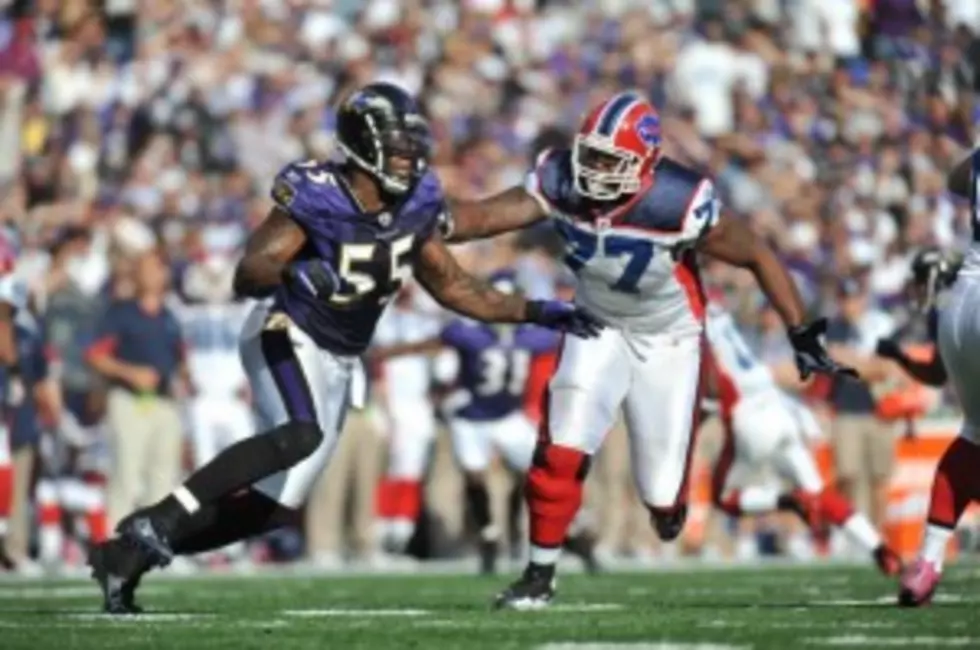 Eagles Camp Countdown: #8 – Offensive Line
It looked like the Eagles would come into the season with one of the best offensive lines in the league, and the opportunity to keep the same five starters, without question, from the first day of training camp to the end of the season – if they stayed healthy.
Then left tackle Jason Peters, the Eagles best offensive lineman and one of the league's best, ruptured his Achilles tendon on March 27th.  He was a longshot to make it back in 2012, but had an outside chance at seeing the field by the end of the season.
Then, in May, Peters re-ruptured the tendon when the Roll-A-Bout he was using to move around his house malfunctioned, according to CSN Philly's Derrick Gunn.
As Gregg Rosenthal of NFL.com put it, "A ruptured Achilles is the worst NFL injury we can think of. Experiencing the same injury twice in one offseason is almost unimaginably lucky."
That's the fate that befell Peters and the Eagles, and it sets up the biggest storyline along the offensive line: Can Demetress Bell stay healthy and consistent enough to be a solid replacement at left tackle?
The Birds signed Bell shortly after Peters first injury after he spent his first three years in the league with the Bills.  Bell started eight games in 2009 before a knee injury cut his season short, started every game in 2010 and started six last year, dealing with a shoulder injury.
Bell has the physical tools to be a quality starter, but needs to show that he can use them consistently.
"Demetress was one of the top free agent offensive linemen available this year and we are happy to be able to add him to our squad," said head coach Andy Reid when Bell was signed in early April.
"We had a chance to meet him over the weekend and study him extensively on tape and we came away quite impressed with what we saw and heard."
If Bell struggles, King Dunlap would be next in line at left tackle.  Dunlap has started seven games at three different positions in the last two years for the Eagles, but is little more than a slightly above average backup at the NFL level.
Beyond Bell, the Eagles starters are set barring injury.  Evan Mathis returns to play left guard after a career year under offensive line coach Howard Mudd last year, in which he ranked as one of the top left guards in the league.
The Eagles have a pair of second-year players side by side in center Jason Kelce and right guard Danny Watkins.  Todd Herremans starts at right tackle.
Kelce was impressive from the beginning of training camp, proving to be a quality player even as a rookie.  It took Watkins longer, but he finished the year strong. Both figure to improve this year.
Herremans is experienced and versatile, and should give plenty of confidence to left-handed quarterback Michael Vick as he protects his blind side.
After the five starters and Dunlap, who likely has a roster spot, it begins to get interesting.  The Eagles don't return any other players with NFL experience from last year's team.
Beyond Dunlap, the Eagles lack an experienced backup tackle.  They drafted Dennis Kelly in the fifth round out of Purdue, so the 6-foot-8, 321 pounder should be given a good chance to make the roster.
That said, many considered Kelly to be a reach and some had projected him as an undrafted free agent.
Philadelphia claimed D.J. Jones off of waivers from Baltimore in February.  Jones has never appeared in a regular season game despite spending time with the Dolphins and Ravens.
Thomas Welch was another pickup from the waiver wire after playing in eight games with the Rams and Patriots last year, including one start as an extra tight end with New England.
Both Welch and Jones are underdogs to make the roster.  While the Eagles are a little light on experienced tackles, they have a handful of interior lineman who could warrant a roster spot.
The Eagles signed Mike Gibson, who they drafted in the sixth round in 2008, as a versatile interior lineman.  Gibson played in 20 games for the Seahawks over the last three years, including eight starts in 2010.  The Cal product has started at both guard positions in the NFL, and the Eagles list him as a guard and center.
Steve Vallos, who signed a one-year deal with the Eagles in March, has a similar bio.  Vallos played in 32 games with the Seahawks in 2008 and 2009, starting eight.  He then spent two years with the Browns, appearing in eight games.  Vallos is listed as a center and guard, and seven of his eight NFL starts are at the center position.
Julian Vandervelde is a second-year guard who spent last year with the Eagles, appearing on the active roster for just one game, after being drafted in the fifth round out of Iowa.
Typically, you'd expect him to be a favorite, but not a lock, for a roster spot.  However, there's an interesting numbers game brewing.
The Eagles selected Brandon Washington in the sixth round this year out of Miami, and said they had him graded higher as a guard.  Washington's draft stock was hurt by playing out of position at tackle during his last year with the Hurricanes.
That makes four backup interior lineman who all have a legitimate chance of making the roster, but the Eagles are highly unlikely to keep more than three.  Given the versatility of Gibson and Vallos, the Eagles could make a case for keeping just two interior lineman on the roster.
That bodes particularly poorly for Dallas Reynolds, another guard and center who spent most of the last three years on the Eagles practice squad and is again battling for a roster spot.
Last and least likely to make the roster along the interior of the line is Alfred McCullough, an undrafted free agent out of Alabama.  McCullough played both guard and tackle in college, but at 6-foot-2, seems to have the size profile of an NFL guard.
The Eagles will obviously keep Bell, Mathis, Kelce, Watkins and Herremans along the offensive line.  Dunlap is the only truly experienced backup tackle on the roster, so give him a spot as well.
That's six gone, and the Eagles will probably keep nine or 10. Vandervelde stayed on the roster all last year as a rookie, so he's been groomed for a backup spot.
The Eagles spoke highly of Washington after drafting him and will not want to risk losing him on waivers to get to the practice squad, so pencil him in.
Kelly was a high enough draft pick to warrant a spot, so he's in as well.
That's nine, and if the Eagles decide to keep 10 it will likely come down to Gibson and Vallos.  Gibson is younger and has gotten on the field a lot more in the last two years, so give him the edge.