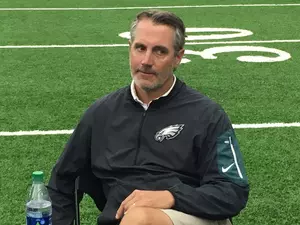 Eagles' Cory Undlin to Get Promotion in Detroit
Eagles DB coach Cory Undlin talks shop. (Photo: John McMullen/973espn.com)
PHILADELPHIA (973espn.com) - Eagles defensive backs coach Cory Undlin is leaving the organization to become the Detroit Lions' defensive coordinator, a move first reported by ESPN's Field Yates.
Undlin has remained close with Detroit head coach Matt Patricia since 2004 when both started their NFL coaching sojourns on Bill Belichick's staff in New England.
In Philadelphia, Undlin was a Chip Kelly hire who survived the transition to Doug Pederson and was considered No. 2 of the defensive coaching staff and the top in-house candidate to replace Jim Schwartz if the current Eagles DC got the top job in Cleveland where he interviewed last week.
The Browns, however, hired former Minnesota offensive coordinator Kevin Stefanski on Sunday, a day after the Vikings were ousted in the divisional-round of the playoffs.
Undlin's history with the Eagles is a mixed bag, often respected for coaching up players with lesser pedigrees like former seventh-round pick Jalen Mills and ex-waiver wire pickup Cre'Von LeBlanc but at the same time knocked for the lack of development from the organization's two premium picks from the 2017 draft, second-rounder Sidney Jones and third-round selection Rasul Douglas.
The Eagles' passing defense was ranked No. 19th in 2019 and gave up more than its share of big plays: 15 of 40-or-more yards to be exact, the second-worst figure in the league. With or without Undlin, significant change could be coming on the outside with both Mills and Ronald Darby set to become free agents in March.
Undlin's assistant, Dino Vasso, could be in line for a promotion but the Eagles could also look outside the building for a more experienced voice. Veteran safeties coach Tim Hauck also remains on the staff.
-John McMullen covers the Eagles and the NFL for 973espn.com. You can reach him at jmcmullen44@gmail.com or on Twitter @JFMcMullen