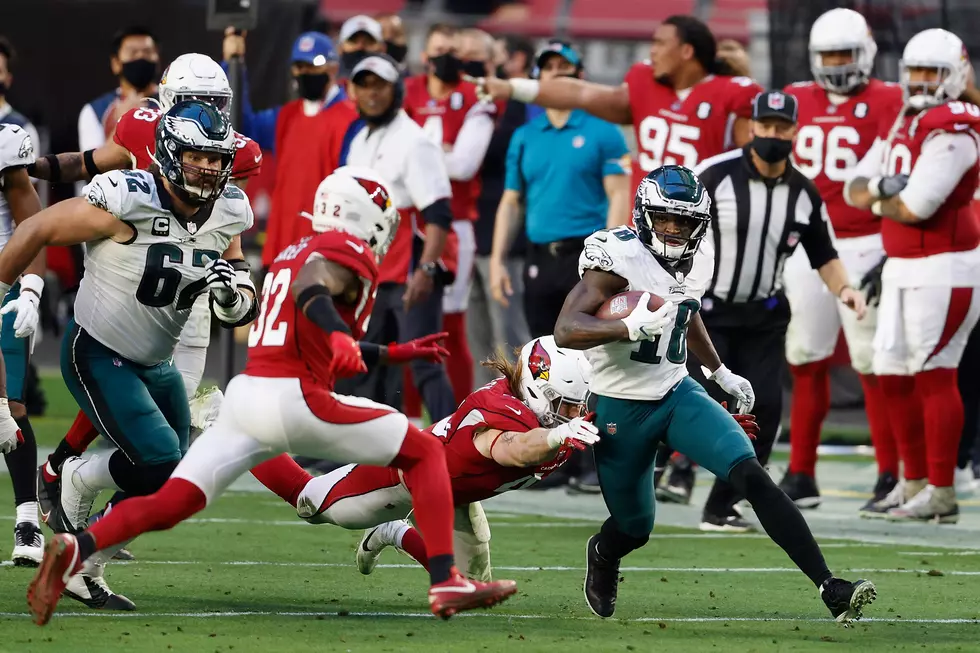 Eagles-Washington: 3 matchups to watch in regular-season finale
Christian Petersen/Getty Images
The Eagles (4-10-1) will host the Washington Football Team (6-9) for the regular-season finale at Lincoln Financial Field.
Rookie signal-caller Jalen Hurts gets the nod once again, though he is expected to eventually give way to Nate Sudfeld as a battered Eagles' team looks to close the book on a disastrous 2020 season.
This Week 17 divisional clash distinctly favors Washington -- seemingly across the board -- which bodes well for an Eagles team that will likely yield a top-five draft choice in the 2021 NFL Draft.
For the final time this season, let's take a look at three matchups I'll be closely monitoring.
QB Jalen Hurts vs. Washington pass rush
According to an ESPN report on Sunday morning, the relationship between Carson Wentz and head coach Doug Pederson is "fractured beyond repair" and the quarterback intends to request a trade. With Hurts slated to make his fourth NFL start, Wentz will reportedly be a healthy scratch for Sunday's game.
If the Eagles and Wentz do intend to part ways in the offseason, however, the team must protect Hurts, who will assuredly be under siege behind an insufficient offensive line.
While Sunday's game will do little to move the needle in favor of Hurts, it will be interesting to see how he responds after a dismal showing in Dallas. Despite playing behind a makeshift offensive line and a short supply of offensive weapons, Hurts must protect the football, make better decisions, and see the field better to give team brass an encouraging final snapshot heading into a tumultuous offseason.
With the likes of Chase Young, Montez Sweat, Daron Payne, and Jonathan Allen bearing down on Hurts for most of the evening, the most important thing is ensuring he emerges from the game unscathed.
WR Jalen Reagor vs. CB Kendall Fuller
Sure, Reagor has struggled from a route running standpoint, hasn't flashed the explosiveness that justifies his first-round pedigree, and has generally underwhelmed while peers from his draft class have gone on to have banner rookie campaigns. That said, it's still far too early to write him off.
With many key offensive contributors on the mend, I fully expect Reagor to be heavily involved in the game plan. Whether it's Hurts or Nate Sudfeld at the controls on Sunday, the Eagles must prioritize getting the ball in Reagor's hands on jet sweeps and screens while uncorking a couple of deep heaves.
Although it has undoubtedly been a turbulent season for the Eagles' first-round pick, Reagor must showcase his big-play ability in space and prove that he can consistently win his matchups against Fuller to inspire confidence entering the offseason.
If not, the team may have to invest yet another premium pick on a pass-catcher.
LB Alex Singleton vs. Washington RBs, TE Logan Thomas
Singleton has been among the team's few feel-good stories to surface from a largely forgettable 2020 season.
A 27-year-old journeyman who originally rose to prominence with the Calgary Stampeders of the Canadian Football League (2016-18), Singleton latched onto the back end of the Eagles' roster last season as a special teams dynamo. Despite not being inserted into the starting lineup until Week 6 this season, Singleton leads the Eagles in tackles (106) and his 686 defensive snaps are sixth-most on the unit.
As productive as he's been, however, the team must determine whether Singleton can be counted on as a 16-game starter moving forward, or if he best fits as a role player. While he's thrived as a tenacious, instinctive run-and-hit linebacker, questions remain in regards to his coverage abilities.
In general, Eagles' linebackers struggle immensely with eye discipline and making plays in space. Singleton will have his coverage skills put to the test against Washington. Running back Antonio Gibson is listed as questionable and could be limited if active, but keep an eye on diminutive scat-back J.D. McKissic. The elusive speedster is known for his receiving prowess and can turn a short dump-off into a big gain.
In the same vein, tight end Logan Thomas has been a popular target for Washington quarterbacks and acts as a safety valve. Like McKissic, Thomas is an athletic pass-catcher who could find success working against Singleton in space.