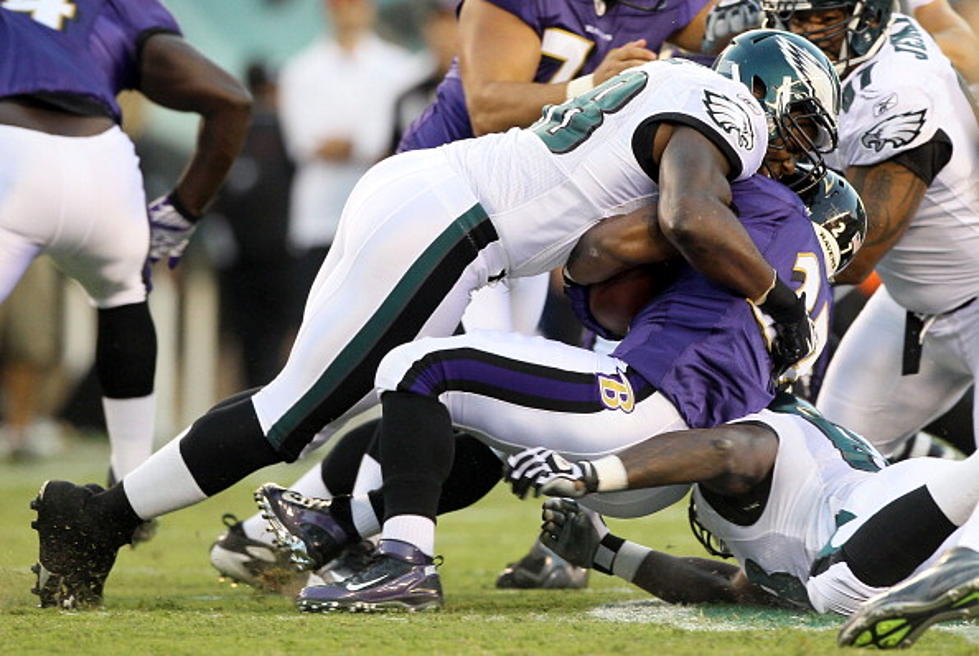 Eagles Face Tough Test in Home Opener Against Ravens
The Eagles host the Ravens today at 1 p.m. Lincoln Financial Field in a showdown of a pair of 1-0 teams that come into Week Two in vastly different ways. Philadelphia visited Cleveland in Week 1 and escaped with a 17-16 win.  Baltimore eviscerated Cincinnati 44-13 at home on Monday Night Football.
The Eagles top two wide receivers, Jeremy Maclin and DeSean Jackson, are both on the active roster today after being listed as questionable with injuries. Maclin has a hip pointer and a hip flexor strain, while Jackson has a sore hamstring.
Eagles quarterback Michael Vick has faced questions about his ability to limit turnovers and remain confident after serving up four interceptions against the Browns.
"I believe in my abilities, I believe in the skill set that I've been blessed with," Vick said Friday. "The only thing is not to force it. Don't try to make things happen when there's not an opportunity to and just be patient. Don't get frustrated and just stay the course, man, have fun playing the game."
Meanwhile, Vick's counterpart, Joe Flacco, completed more than 70 percent of his passes for 299 yards, two touchdowns and no interceptions.  Now words like "elite" are being thrown around as Flacco, who grew up within 10 miles of Lincoln Financial Field in Audubon, N.J., makes a homecoming.
This is Flacco's first regular season game in Philadelphia, in his fifth NFL season.  Flacco played most of his college football at the University of Delaware after transferring from Pittsburgh.
"[There are] a ton more Eagles fans [than Ravens fans]," Flacco said of the region. "Hopefully, I will have a couple of guys that will convert for a week, but we'll see. They're pretty diehard around there."
Speaking of fans, head coach Andy Reid made a plea to Eagles fans this week given that the Ravens have turned their offense into a no-huddle.
"This is one of those weeks that you're glad that you're playing [at] Lincoln Financial [Field]," Reid said. "They are doing these no huddle things and our fans will be out of their minds on this thing and make it tough on them.
"We'd like them to be very loud."
That will be impacted, in part, by the Eagles ability to get their offense running smoothly and get Vick into the rhythm of the game.  After playing just 12 preseason snaps due to a pair of injuries, coaches thought he needed to get acclimated.
"You know that we don't make excuses, but after the ballgame, I do think there was a little bit of rust there now," said Eagles offensive coordinator Marty Mornhinweg. "I usually don't go there, but I do think that was a real thing."
Vick was asked to drop back and pass 62 times last week, while the Eagles called only 23 running plays, excluding three kneel downs with the win in hand.
"We won the game, but certainly looking back we could have done some other things," Mornhinweg said of the ratio. "Just because you have a whole overload amount of turnovers doesn't, just because it didn't work very well because of the penalties and turnovers doesn't mean it wasn't the right thing to do.
"You know we look at that closely, I go back and back and back and back."
Mornhinweg also said there was more to work on in practice this week than he had expected after the season opener, but according to Vick, improvements were made.
"I think we've cleaned up a lot, I think as the weeks go on we'll continue to get better, obviously every game is not going to be perfect, it's not going to be flawless," Vick said. "You know, you learn from your mistakes and I think sometimes things not happening so well can be the best teacher for you as long as you clean it up."
Adding to the challenge is the fact that the Eagles are going up against a talented defense.  Last year the Ravens ranked third in total defense and scoring defense, fourth against the pass and second against the run.
While pass rushing linebacker Terrell Suggs is on the physically unable to perform list as he recovers from a torn Achilles tendon, the Ravens still have a few impact players on defense.
"Everything revolves around 52 and 20," said Mornhinweg, referring to Ravens linebacker Ray Lewis and safety Ed Reed. "Those are just two high-level, excellent players - even more than high level. These are two of the great players in the game who have great experience and instincts."
Much has been made of their age – Lewis is 37, while Reed is 34 and considered retiring before this season.  More has been made of their play last week – Lewis racked up 14 tackles, a sack and a forced fumble, while Reed returned an interception for a touchdown.
Reid called Lewis a Hall of Famer, and both he and Reed will likely get in on their first ballots.  For now, though, the Eagles are more concerned with how they'll match up.
They also have to worry about athletic nose tackle Haloti Ngata, a 340 pounder.
"In terms of the Baltimore Ravens defense and their front seven, he's probably the most challenging, at this point," said Eagles center Jason Kelce. "He does so many good things, he's a smart player too."
The Ravens are also willing to move Ngata around, lining him up in a zero-technique over the center or as a five-technique defensive end, and anywhere in between.
"More people are going to be studying for Haloti, it's not like he's over the center on every play," said Kelce.
Meanwhile, when the Ravens have the ball, the Eagles will be trying to slow down an offense that clicked on all cylinders last week, gaining 430 yards and putting up 37 points.
The Ravens used a no-huddle, but it was comprised of their old offense in a new tempo.
"It's really the same plays," Reid said. They have a couple new things, but for the most part it's the same plays and they are just doing it with no huddle."
Perhaps as impressive as Flacco's stats in the opener was his command of the offense, drawing some, albeit extremely premature, comparisons to Peyton Manning by national analysts.
"The confidence that he's operating in that no-huddle," said Eagles defensive coordinator when asked what impressed him about Flacco. "The trust that he has in his receivers. I think we all watched the game and he just let those guys make plays. His strength, and he's a big guy in the pocket, allows his O-line to set a certain way because he can see over those offensive linemen."
Castillo said it would be important for the Eagles to recognize the tempo of the Ravens no-huddle, as they could snap the ball as soon as they get to the line, wait an additional 10-15 seconds, or let the play clock run all the way down.
While the Ravens have been known more for their running game over the years, and Ray Rice is one of the top three in the league, they've built an impressive array of weapons for Flacco in the passing game.
"They really have five guys that are really good," said Castillo. "Those outside receivers are also very good. Really it's hard because you can't just focus on the tight ends because you have to focus on those outside receivers too."
Baltimore boasts a pair of third-year tight ends on the rise in Ed Dickson and Dennis Pitta, while Torrey Smith and Anquan Boldin lead the wide receiver corps.
Pitta caught five passes for 73 yards last week, while Boldin hauled in four for 63 yards.  Each caught a touchdown.  Smith caught two passes for 57 yards, including a 52-yarder and his speed makes him a consistent threat.
The fifth player Castillo referred to was running back Ray Rice, who caught three passes for 25 yards last week and caught 76 passes for 704 yards and three touchdowns last year.
Of course, stopping the passing game is a moot point if you can't defend the run, and Rice poses even more challenges there.
"Ray Rice is a nice player," said Eagles linebacker DeMeco Ryans. "He's a very durable guy and you see the last few years that he has been in the league, he has gotten it done with both rushing and passing. He doesn't miss a lot of games and doesn't miss a lot of snaps."
Clearly the Eagles have their work cut out for them on both sides of the ball, which is why this game was marked as a big test for a Birds team with Super Bowl aspirations as soon as the schedule came out.
Now it's as much about showing growth and improvement after a lackluster win in Week One, but either way, the Eagles will know if they can hang with one of the top teams in the NFL by the end of the day.
Out: Wide receiver Riley Cooper (collarbone).
Questionable: Wide receiver DeSean Jackson (hamstring), wide receiver Jeremy Maclin (hip pointer and hip flexor strain) and cornerback Curtis Marsh (hamstring).
Probable: Safety Colt Anderson (knee), wide receiver Jason Avant (wrist) and safety Kurt Coleman (facial lacerations).
Out: Tackle Jah Reid (calf).
Questionable: Linebacker Paul Kruger (back) and defensive end Pernell McPhee (knee).
Probable: Center Matt Birk (thigh) and safety Ed Reed (thigh).