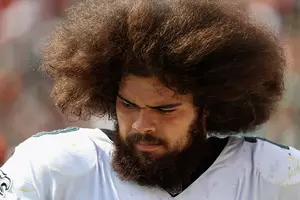 Eagles Got Team-Friendly Deal Out of Seumalo
(Photo by Rob Carr/Getty Images)
PHILADELPHIA (973espn.com) - The numbers are in and the Eagles got a team-friendly deal done with emerging left guard Isaac Seumalo.
Seumalo got a $4 million signing bonus and just under $12.7M in guaranteed money on a three-year extension, according to an NFL source. He is entering the final year of his rookie deal in 2019 and nothing is changing there with the Oregon State product earning a $749,000 base salary with a cap hit of just under $1.74 M.
From there the three-year extension starts in 2020 with Seumalo getting pumped up to a salary of $3.1M. That continues to escalate to $4M and just under $5M for the rest of the deal. The cap hits in each season for Philadelphia are $4.06M, $4.96M and $5.98M but Howie Roseman built in an escape clause just in case Seumalo doesn't continue to progress.
The Eagles can void the 2022 season if they like by the 10th day of the 2020 league year. So, essentially Seumalo got two years tacked onto his rookie deal at a cost-effective price for a veteran starter with a team option for the third.
Former Eagles executive Joe Banner was impressed by his former lieutenant's handiwork:
The Jason Kelce numbers are also in and as we reported back in January, the key there was giving the veteran center some security because the guaranteed money on his prior deal had run out.
Kelce, 31, was under contract through 2020 with only salaries of $6.5 million in 2019 and $7 million in 2020 remaining.
The tweak extended Kelce by a year and gave the All-Pro a $7.57M signing bonus, which can be spread over the entire three-year period for cap purposes.
Meanwhile, Kelce's 2019 salary was lowered to just $930,000, a real-world effect of giving Kelce $8.5M for the upcoming season, the majority of it guaranteed and $2M more than he was originally supposed to get while at the same time lowering the cap number for the Eagles from that $6.5M down to $2.44M.
The final two years of Kelce's deal include salaries of $1.5M and $5.5M with cap hits of $6.414M and $8.414M respectively, a clear indication that the All-Pro is taking this year-by-year right now and things will be revisited again after the 2019 campaign.
-John McMullen covers the Eagles and the NFL for 973espn.com. You can reach him at jmcmullen44@gmail.com or on Twitter @JFMcMullen