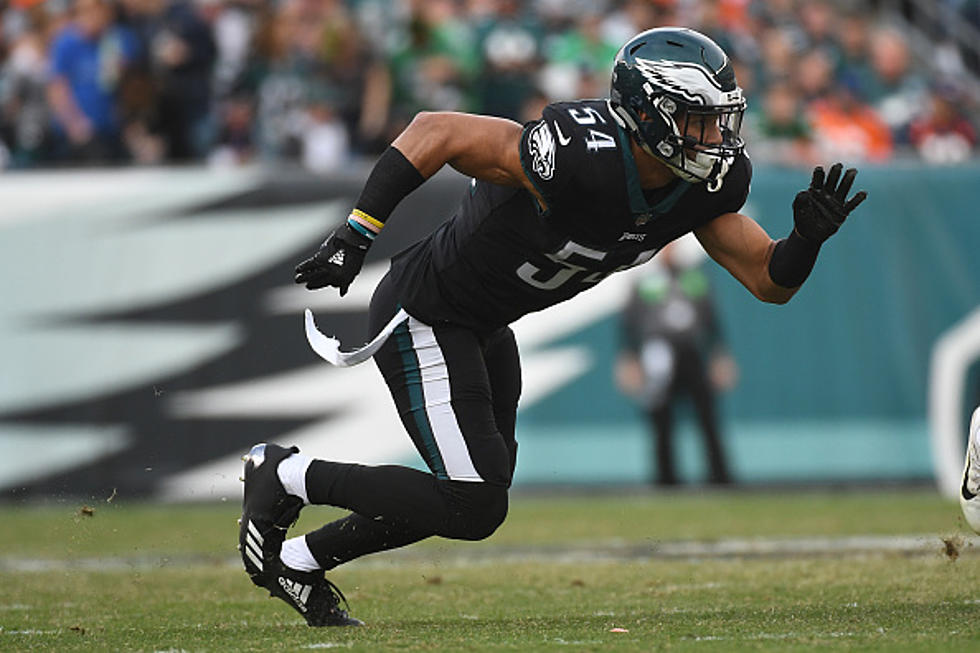 Eagles' Grugier-Hill Needs Back Surgery
(Photo by Andy Lewis/Icon Sportswire via Getty Images)
PHILADELPHIA (973espn.com) - Dallas week is not off to a roaring start in Philadelphia.
The Eagles have placed linebacker Kamu Grugier-Hill on season-ending injured reserve with a back issue that will require surgery.
According to the organization, Grugier-Hill, 25, reported back discomfort after Sunday's 37-27 win at Washington and an MRI on Monday confirmed that the fourth-year pro was suffering from a lower lumbar disc herniation.
From there, after consulting with the team's spine surgeon, the decision was made to proceed with surgery for Grugier-Hill. He ends the 2019 campaign having played in 10 games and amassing 23 tackles with four tackles for loss.
"I don't know. He felt discomfort after the game," Eagles coach Doug Pederson said Wednesday before practice when asked what was going on with KGH. "[He] reported it, got an MRI on Monday and it revealed that he needs to be shut down for a little while."
Grugier-Hill's agent, Steve Caric, had a different take in a text to NJ Advance Media.
"Kamu has been playing through significant pain for the majority of the 2019 season," Caric told NJ Advance Media. "This pain has forced him to take weekly pre-game pain-killing shots and IV drips. This past week the pain became unbearable and it was determined he required a minor and minimally invasive back procedure to relieve the pain. He is expected to be fully recovered in 3-4 weeks.
"Kamu is the ultimate team player who has given everything he has to this organization the past 4 years."
Grugier-Hill played only five snaps against the Redskins after fighting through a concussion suffered early in the game at Miami on Dec. 1. He told the medical staff at the time that he dinged his shoulder before reporting symptoms the next week and missing the Dec. 8 contest against the New York Giants, a scenario which did not go over well with head coach Doug Pederson.
Despite that, Jim Schwartz said Grugier-Hill's light workload against Washington had nothing to do with a discipline issue.
"They ran a lot of big personnel in there and we had a little different lineup in the big personnel, so I think that took a little bit of his snaps away," the defensive coordinator explained. "And then on third down we were a lot of dime personnel. Just sort of the way that they had played and then our matchups against it."
To replace Grugier-Hill, who also missed the first three games of the season with a sprained MCL suffered in training camp, on the roster, the Eagles elevated defensive tackle Bruce Hector from the practice squad.
"It's huge," Pederson said of losing KGH. "You know, he's been a core [special] team player for us early in his career. And obviously here doing the dual role, playing linebacker for us too. Somebody that we're going to miss."
Former Auburn linebacker Deshaun Davis, a sixth-round pick of Cincinnati back in April of this year who spent some time on the Jacksonville PS, was signed to the PS by Philadelphia. A 5-foot-11, 235-pound thumper Davis is regarded as an inside linebacker.
In Grugier-Hill's absence, Nigel Bradham and Nate Gerry will remain the nickel linebackers with rookie T.J. Edwards stepping up into KGH's role with the base defense.
Grugier-Hill is set to be a free agent in March.
As far as the Eagles' other injuries for Sunday Pederson is at least hopeful he can get back two starters who have been dealing with ankle injuries: right tackle Lane Johnson and right defensive end Derek Barnett while it's "status quo." according to the coach when it comes to receiver Nelson Agholor (knee) and running back Jordan Howard (shoulder).
-John McMullen covers the Eagles and the NFL for 973espn.com. You can reach him at jmcmullen44@gmail.com or on Twitter @JFMcMullen