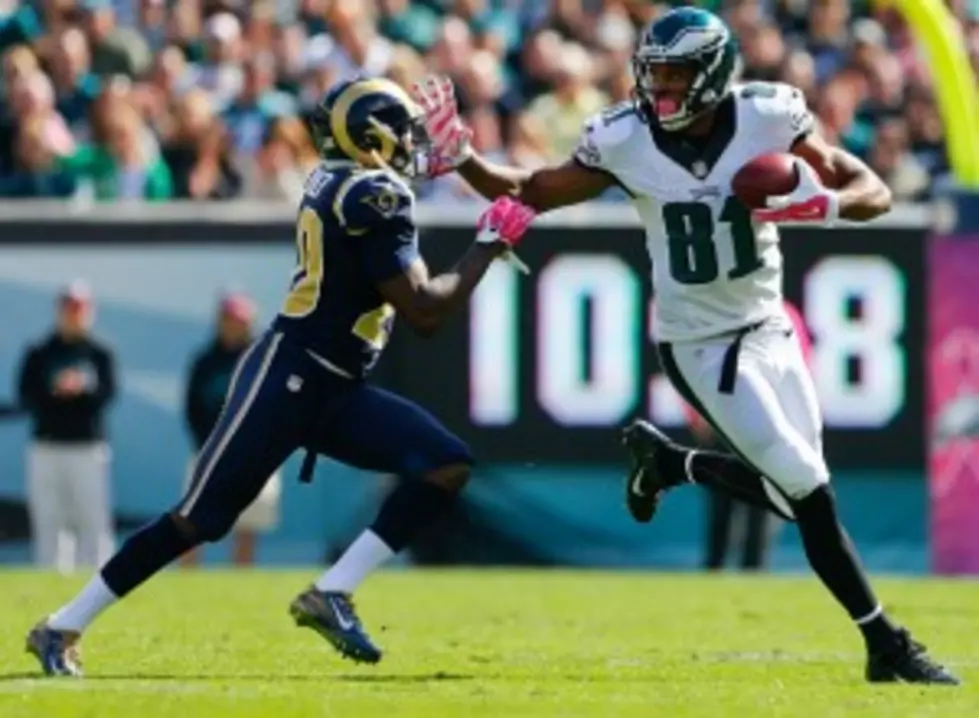 Eagles Inactives, Pick and Matchup to Watch vs Packers
Jordan Matthews catches a pass with defensive back Lamarcus Joyner of the St. Louis Rams defending on the play, October 5, 2014 at Lincoln Financial Field in Philadelphia, Pennsylvania. (Photo by Rich Schultz/Getty Images)
The Eagles are coming off a an impressive 41-21 victory over Carolina on Sunday to improve to 7-2 on the season. At 7-2, Philadelphia remains a half-game ahead of Dallas (7-3) in the NFC East, the Cowboys had a bye last week.
The Packers' 55-14 blowout win over the Bears in Week 10 helped them improve to 6-3 on the season, second place in the NFC North division.
In the 2009 draft, the Jets took quarterback Mark Sanchez with the fifth pick of the first round.  Sanchez completed 15-of-22 passes for 202 yards with two touchdowns and two interceptions in relief of Nick Foles last week vs. the Texans.
Aaron Rodgers continues to be one of the best in the game, he was drafted by the Packers with the 24th pick of the 2005 draft. In his most recent start, Rodgers completed 18-of-27 passes for 315 yards and six touchdowns in Sunday night's 55-14 win over the Bears
Including playoffs, the teams have met 41 times in a rivalry that dates back to 1933; Green Bay leads, 25-16.  Philly won last year's meeting, 27-13 in Green Bay.
(ESPN.com NFL insider KC Joyner looks at the match-up)
The Eagles have pretty much a full bill-of-health, other than the obviously big losses; quarterback Nick Foles and linebacker DeMeco Ryans.
Ryans was placed on injured reserve with a torn Achilles' tendon, ending his season. Foles does not need surgery on his "cracked" collarbone, and the Eagles "hope" he can return in six weeks.
On the Packers injury front, while they have a few bumps and bruises, most notably guards Josh Sitton and T.J. Lang, there are no major injuries or game-time decisions that should be a surprise.
(Listen to this week's The Outside View with Bob Watt of 107.5 The Fan)
Match-Up to watch: Eagles secondary vs Packers vertical passing game
(ESPN's Sal Paolantonio talks about the match-up to watch)
The Eagles secondary has been very Dr. Jeckyll and Mr. Hyde this season.  There are games when they play very well, but there are other games where it looks like teams can have their way with them.  One thing the Packers excel at is throwing the ball downfield.
Jordy Nelson is one of the top receiving threats in the game and is coming off a game in which he had six catches for 152 yards and two touchdowns in the Packers' Week 10 win over the Bears, making it the fourth time he has eclipsed the 100-yard mark this season. He was able to exploit a matchup with Bears CB Tim Jennings all night, and later got behind S Brock Vereen for his second touchdown.
Its conceivable to say that could be Cary Williams and Nate Allen this week
On the other side, Randall Cobb has been a huge weapon, especially in the red zone. Cobb secured 4-of-6 targets for 72 yards and a touchdown in Sunday night's win over the Bears. He has a touchdown catch in every game but Week 3 this season.
Eagles' inactives: QB Nick Foles, S Earl Wolff, CB Jaylen Watkins, C Julian Vandervelde, T Dennis Kelly, WR Jeff Maehl and DE Taylor Hart.
Packers' inactives: QB Scott Tolzien, CB Demetri Goodson, LB Carl Bradford, WR Jeff Janis, TE Brandon Bostick, LB Jayrone Elliott and DT Luther Robinson.
Reaction: The Packers are a very good team at home in the Rodgers era, 32-3 to be exact. This season, at home, he had has 15 TD passes, no interceptions and a 140.1 rating. He has great weapons, is very accurate and doesn't make many mistakes.  However, the Eagles pass rush, like it's secondary has been very up-and-down.  When it's up, it can gobble up eight sacks in a game.  When it's down, Rodgers could have all day to find his open receivers running around an average Eagles secondary.  Eddie Lacy is a good back but really hasn't gotten going yet this season - with temps in the mid-to-low 20's maybe this is the week they dial his number.
For Philly Jordan Matthews has emerged with Mark Sanchez at quarterback, but he will have his hands full this week in the slot with Casey Hayward.  According to Profootballfocus.com, Matthews has reeled in 37 passes from the slot, on 54 targets. Only Packers wide out Randall Cobb has more targets, receptions, and touchdowns out of the slot this season.
Per PFF, having taken 112 snaps in slot coverage, Hayward has only been targeted 10 times, tied for third out of 55 cornerbacks who have spent a minimum of 65 snaps in coverage. When targeted, he has held opposing quarterbacks to a rating of 22.5, second-best among all cornerbacks in slot coverage.
If the Packers can take away that weapon, Sanchez will have to find other ways to win the game and I think he is capable because he has great weapons to find.  Jeremy Maclin, Darren Sproles, Zach Ertz should all have big plays today and LeSean McCoy, who had 155 yards on the ground vs. Green Bay last season should find some running room vs. the 30th ranked rush defense in the NFL.
Philadelphia (31.0) and Green Bay (30.8) are the highest scoring teams in the NFC so expect a lot of fireworks but Philly proves today they are to be taken serious.
The Pick:  Eagles 37, Panthers 34