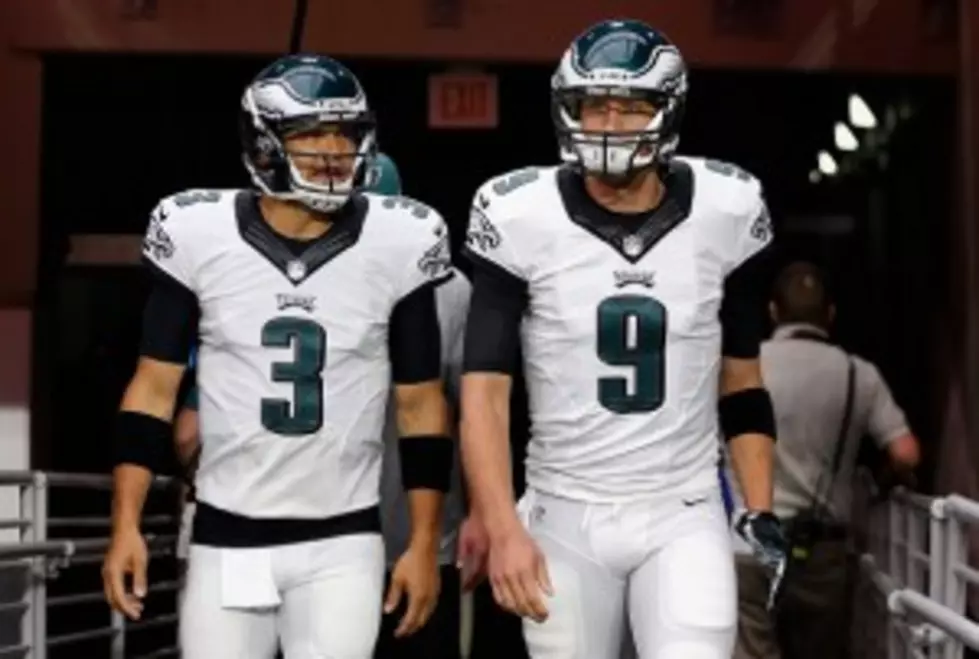 Eagles Inactives, Pick and Matchup to Watch vs Panthers
Mark Sanchez could be the Eagles' starting quarterback for the rest of the season and possibly the playoffs. (Getty Images, Christian Petersen)
The Eagles are coming off a an impressive 31-21 victory over Houston on Sunday ti improve to 6-2 on the season. At 6-2, Philadelphia remains a half-game ahead of Dallas (7-3) in the NFC East, the Cowboys defeated Jacksonville 31-17 on Sunday in London.
The Panthers' 28-10 loss at New Orleans in Week 9 dropped Carolina to 1-5-1 over their last seven games and their record to 3-5-1.
In the 2009 draft, the Jets took quarterback Mark Sanchez with the fifth pick of the first round.  Sanchez completed 15-of-22 passes for 202 yards with two touchdowns and two interceptions in relief of Nick Foles last week vs. the Texans.
Cam Newton was drafted by the Carolina Panthers with the first pick of the 2011 draft. In his most recent start, Newton had a rough game, completing just 10-of-28 passes for 151 yards and an interception, adding seven rushes for 43 yards and a touchdown.
The Eagles have won five of seven all-time regular-season games versus Carolina.
(ESPN.com NFL insider KC Joyner looks at the match-up)
Nate Allen will return after missing last week's game with a hamstring injury.  Also returning for the Eagles is starting left guard Evan Mathis, moving Matt Tobin to right guard. Eagles starting right guard Todd Herremans will undergo season-ending surgery, and was placed on injured reserve and will miss the rest of the season.
The obviously big losses this week for the Eagles are quarterback Nick Foles and linebacker DeMeco Ryans.  Ryans was placed on injured reserve with a torn Achilles' tendon, ending his season.  Foles does not need surgery on his "cracked" collarbone, and the Eagles "hope" he can return in six weeks.
On the Panthers injury front, left tackle Byron Bell will return from his knee injury, this is a huge help for Carolina, undrafted rookie replacement David Foucault started last week and was badly exposed in last Thursday night's loss to the Saints.  The Panthers have downgraded CB Bene Benwikere to out for the game, has been out since Week 5 with a high-ankle sprain.  More bad news for Carolina, Panthers right guard Trai Turner has been ruled out for the game, undrafted rookie Andrew Norwell will start his third straight game.
And of course the biggest loss for Carolina is not having pas rushing specialist Greg Hardy, who  The Charlotte Observer reports contract-year has likely played his final snap as a member of the Panthers.
(Listen to this week's The Outside View with Joe Person of the Charlotte Observer)
Outside View: 
(ESPN's Sal Paolantonio talks about the match-up to watch)
Eagles 4th ranked offense vs Panthers 24th Ranked defense: The Eagles may have a backup quarterback starting tonight, but Mark Sanchez has plenty of experience in the NFL.  The Eagles offense is just about to get a full bill of health this week with the return of Evan Mathis at left guard, giving the Eagles four-of-their-five starters healthy.  That should mean some more running room for LeSean McCoy and passing lanes for Sanchez.  The Panthers have been weak against the run recently, allowing 134.8 per game in their last four.
The Panthers had one of the leagues best defenses one season ago, when we spoke to Joe Person of the Charlotte Observer this week on the Sports Bash he commented that "What happened to this defense, Greg Hardy happened, the Panthers have no pass rush and a older, aging secondary."
Sounds like a recipe for success for Sanchez in his first NFL start since Dec. 30, 2012, after missing last season because of a torn labrum in his right shoulder. Including the postseason, Sanchez owns a 37-31 career record as a starter with 77 scores and 72 picks.
He also noted: "People in the Panthers locker room have been talking about Shady McCoy."
Eagles' inactives: QB Nick Foles, S Earl Wolff, S Jaylen Watkins, OL Julian Vandervelde, OL Dennis Kelly, WR Jeff Maehl, and DE Taylor Hart
Panthers' inactives: WR Philly Brown, CB Bene Benwikere, RB Chris Ogbonnaya, S Robert Lester, OT David Foucault, OG Trai Turner, and OL Mike Remmers
Reaction: The Panthers are a confusing team, they had one of the best defenses in the NFL one season ago, but the loss of Hardy has crippled their pass rush and they have injuries and a weak secondary.  The Eagles should be able to take advantage with the play-action pass game, look for McCoy and Maclin to have big plays tonight.  Another Eagle who should flourish vs this defense is Jordan Matthews.  Already a favorite target of Sanchez, he should have some great match ups in the slot.
If Carolina is to pull off an upset on Monday night, they would need to have Cam Newton play much better than he did last week.  Joe Person told us today on the show "Cam Newton has not been the same Cam Newton of past seasons," if that changes tonight, the Panthers have a chance to score against an Eagles defense that is missing it's hear-and-soul.
I think the addition of Mathis, the line getting back to pretty much full strength and the addition of Sanchez will be a nice boost to this offense.  The Carolina offense is to limited tonight.
The Pick:  Eagles 34, Panthers 17