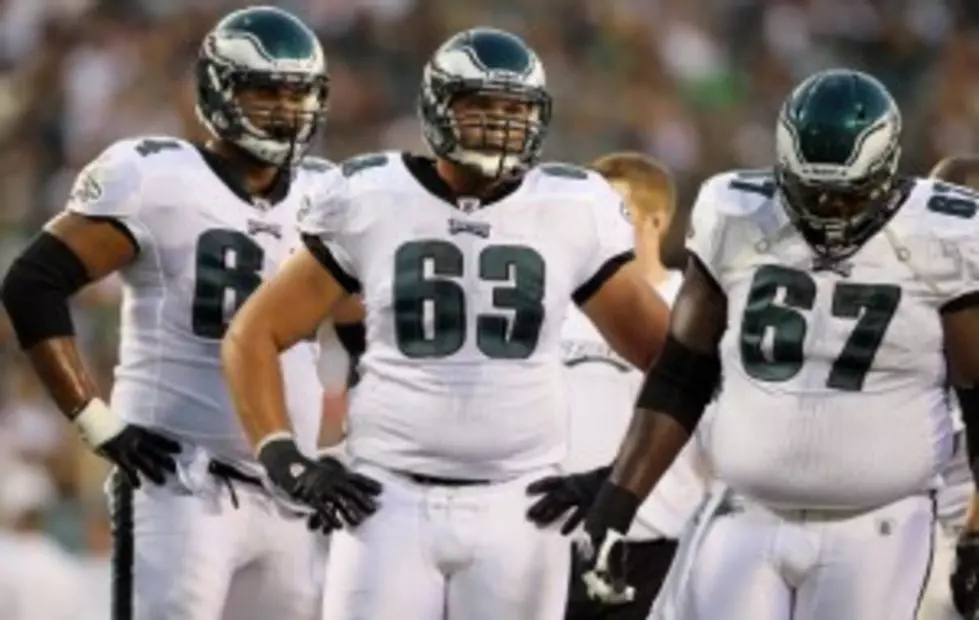 Eagles Injury Report: Has Demetress Bell Won the Left Tackle Position
Danny Watkins should be ready to go on Sunday vs. Pittsburgh (Photo by Jim McIsaac/Getty Images)
Eagles guard Danny Watkins did not participate in practice on Wednesday because of a chest injury suffered in Sunday's game against New York.
King Dunlap who was also injured the past few weeks with a hamstring injury he sustained during the second half week two win over Baltimore. With the absence of guard Watkins to the right side, Dunlap took reps at right guard in his absence on Wednesday.
So does this mean Demetress Bell has won the left tackle spot after this performance against the Giants?
"The one positive is that Bell really played well in our game," explained coach Andy Reid.  "That bides me a little time to see how King is doing."
Reid was non-committal when asked about Dunlap's return to the left tackle position when Watkins returns to the line-up.
"He's going to work today," said Reid.  "I'm just going to see how he's feeling. He'll work today and see how everything works out there."
Linebacker Akeem Jordan was also sidelined on Wednesday with a hamstring injury. Coach Andy Reid said Jordan was close and that he's running, but he's not quite there yet. Jordan has battled recurring injury issues over the last couple of seasons and his status for Sunday's game remains uncertain. Jamar Chaney replaced him at weak-side linebacker.
Defensive lineman Derek Landi also missed practice today with swelling in the knee but Reid said he should be fine for Sunday's game.
Wide receiver Riley Cooper practiced fully  on Wednesday, coach Reid said: "He's making progress, he practiced fully last week and we'll see how he does this week. He's getting confidence as we go." Reid also said it doesn't seem that he is still having issues with his injured collar bone.
"No, it's strong enough," Reid said.  "He's got a plate in there, so it's a matter of just him trusting it and feeling comfortable with it.
Wednesday practice report
LB Akeem Jordan (hamstring)
DT Derek Landri (knee)
G Danny Watkins (chest)
S Colt Anderson (knee)
T Demetress Bell (thumb)
LB Jamar Chaney (knee)
WR Riley Cooper (collarbone)
LS Jon Dorenbos (ankle)
T King Dunlap (hamstring)
WR Damaris Johnson (foot)
RB LeSean McCoy (knee)