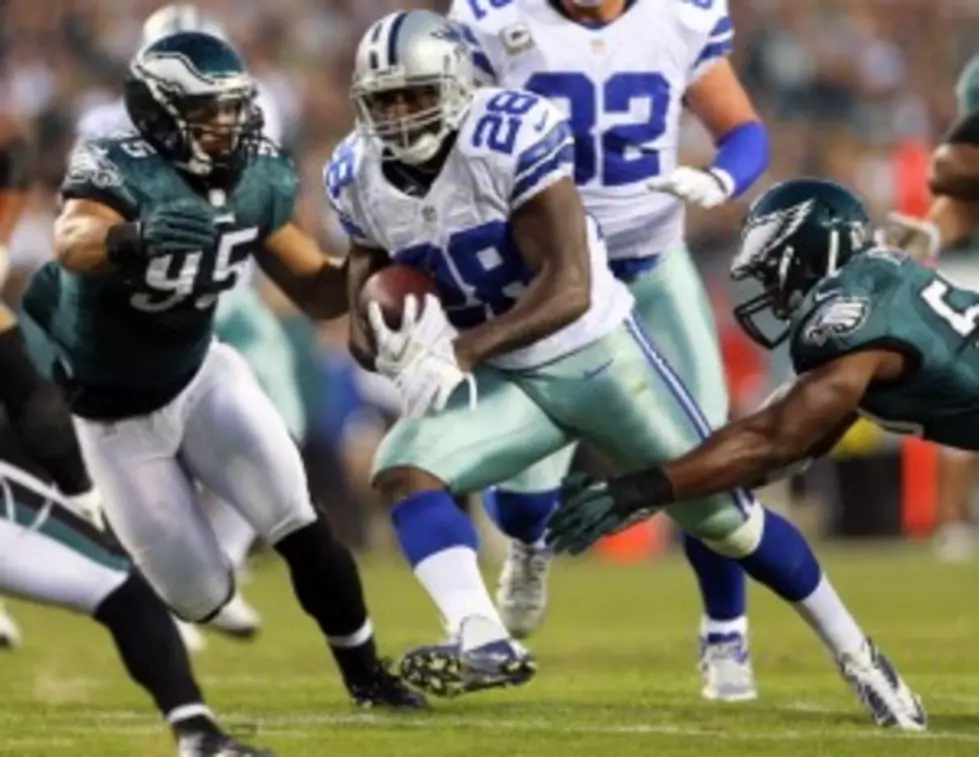 Eagles Inside Linebacker Battle is One to Watch
Eagles ILB Mychal Kendricks (left) admits he's uncertain about his future in Philadelphia. (Photo by Elsa/Getty Images)
One of the more interesting battles developing through Philadelphia Eagles offseason workouts and OTAs is for the inside linebacker position.  
The Eagles have, essentially, three players fighting for two spots at the inside linebacker position.  Although Brad Jones and third-round rookie Jordan Hicks have seen some time rotating in with the first unit, it's really a three-person battle between three-year starter Mychal Kendricks, DeMeco Ryans, who has started 40 games in three seasons in Philadelphia, and Kiko Alonso, who was acquired in the LeSean McCoy trade this offseason, but did not suit up for one regular-season game last year in Buffalo due to injury.
Alonso is "100 percent back" for OTAs and one thing is certain, the Eagles are impressed with what he brings to the team.  His rookie season in Buffalo consisted of 159 tackles, four interceptions and two sacks - he missed all of last season with a torn ACL.
But one thing is clear - the Eagles like what they see.
"He's got speed, so when he's on a running back he's got the ability to cover them man-to-man," explained Eagles defensive coordinator Billy Davis.  "He's a natural linebacker, he really is, who has the ability to cover man-to-man."
The 6-3, 238-pound Oregon product has been getting plenty of first-team reps at inside linebacker throughout OTAs the past two weeks.  And, according to defensive coordinator Billy Davis, is getting better and better on a daily basis.
"He really has a great feel inside, he's very natural at finding the ball and reading his keys from tackle to tackle," Davis stated.  "And that showed his rookie year with how many tackles he had."
If Alonso's arrow continues to point upward, and his play lands him in the starting lineup, that means one of last season's two starters will be forced out and into a reserve role.  For now, it appears the coaching staff does not want to move Ryans, they signed the veteran to an extension this offseason.
Even though there are no pads and players are still wearing shorts, Davis said his staff is working on getting everybody up to speed and because of the talent and versatility, the team can add more packages.
"Right now, we're working on getting them up to speed to learn the defense," Davis said of the Eagles three inside backers. "We're dealing with some injuries that we're overcoming, so we're not overloading any of them with too many reps. But we're teaching all of them."
"And what it does is expands our ability to play with more packages. In our first year, we just played base and nickel. In our second year, we played base, nickel and dime. But now with these new linebackers and a pretty good stable of them, we can expand the packages we might run."
The best-case scenario for the Eagles would obviously be having all three players perform well enough to give Davis options.  Considering Kendricks and Ryans both have played in Davis system in the past, Alonso is the wild-card that can make that happen.  So far, the returns have been good.  And Davis is hoping that arrow continues to point up.
"We know we have plenty of snaps to split. It really is an advantage for us to have a group of inside 'backers with multiple skill sets. We can easily put a package together, and we will, with the best players on the field."
It's no secret, the while Kendricks and Ryans were solid performers when they were on the field, adding depth to that position was a major priority for Kelly and the Eagles this offseason.
"We're just trying to get everybody up to speed and teaching Kiko [LB Kiko Alonso] the defense," Eagles head coach
Chip Kelly
said.  "Mychal [LB Mychal Kendricks] and DeMeco [LB DeMeco Ryans] have both done an outstanding job when they've been here.
"We thought it was a priority for us, especially because of the injuries we had at inside linebacker, to improve our depth there.  Drafting Jordan [LB Jordan Hicks], to go back, Najee [LB Najee Goode] who missed the entire year last year, throw him in there with Acho [LB Emmanuel Acho], and then we got [LB] Brad Jones in the offseason, was a priority for us.  The fact that we have some guys that can play is a positive for us."
Unless someone comes calling for Kendricks, we might just have to take Davis' word that all three guys will be a factor in the defense, that seems hard to believe, but could be fun to watch.