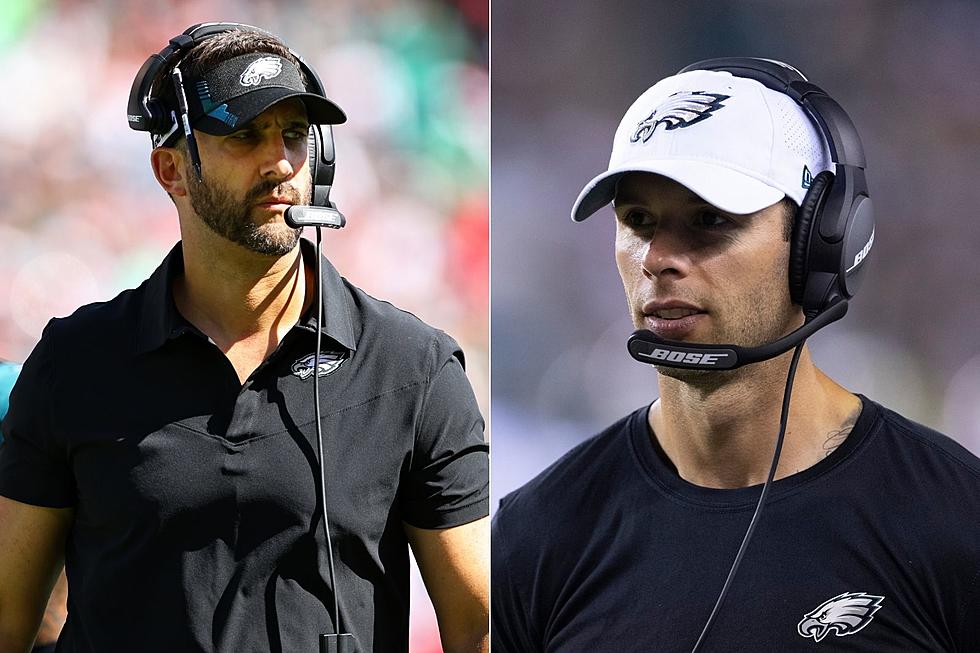 Eagles' Jekyll and Hyde Season is thanks to Sirianni and Gannon
-Nick Sirianni: (Photo by Mitchell Leff/Getty Images) -Jonathan Gannon: (Photo by Mitchell Leff/Getty Images)
After NFL Week Five, the Philadelphia Eagles have a 2-3 record thanks to and in spite of their their young Coaching Staff.  The 2021 season features a major change to the Eagles coaching staff with a youth movement led by Head Coach and Offensive Play Caller Nick Sirianni joined by first time Defensive Coordinator Jonathan Gannon. We all knew that this year would be about development and transition towards building another NFC East Contender but this "Jekyll and Hyde" spectacle is getting exasperating for anyone watching the Eagles.
From week to week, it has become abundantly clear we do not know what to expect from the Eagles Offensive and Defensive Play calling.  In his first year as Eagles Offensive Play Caller, Nick Sirianni seems to not understand how to carry success from game to game.
*In Week One, the Eagles Running Backs had a total of 24 Carries and Six Pass Catches but in Week Two the Backs totalled 19 Carries and Three Catches. Then in Week Three, the Miles Sanders and Kenneth Gainwell combined for Three Carries and Six Catches. Week Four against the Chiefs they accumulated 10 Carries and Nine Cacthes for the RBs but in Week Five Eagles' win Sanders and Gainwell combined for 13 Carries and Six Catches.  From game to game, there is no consistency from the Offensive Play Caller Nick Sirianni in how he utilizes the Running backs in the Offense!
*The usage of the Tight Ends is also puzzling: In the loss to the Chiefs when the Eagles scored 30 Points, Zach Ertz and Dallas Goedert combined for 13 Targets but in their other home loss to the 49ers when Philadelphia scored just 11 Points we saw Ertz and Goedert combine for just four targets.
As I pointed out a couple weeks ago, Nick Sirianni is overthinking and trying to "Reinvent the Wheel" each week.  The Offensive Play Calling is so inconsistent and the Head Coach constantly saying "I have to do better" is a weak explanation for what is going on with this Offense. The Eagles have a young Quarterback who has started just nine games in the NFL, but Sirianni is depending on Hurts too much to "Save the Day" on Third Downs instead of putting him in a better position to succeed.  Sirianni's obsession with screens and pick plays is hurting the Offense combined with the redundant penalties taking points off the board almost every week this season.
Now let's turn the spotlight on Jonathan Gannon, who never called Defensive Plays or worked as a Defensive Coordinator before this season.  In the win over the Panthers, the Eagles Defense held the opposition under 300 Total Yards for the second time this season and under 20 First Downs in Weeks One and Five.  But this is the same defense that allowed 83 Total Points against the Kansas City Chiefs and Dallas Cowboys.
So why is it the Panthers, Falcons and 49ers combined to score 41 Points on the Eagles Defense but the Chiefs and Cowboys combined to double that number?  A major part of this happened because Jonathan Gannon has proven to have something in common with former Eagles Defense Coordinator Jim Schwartz: The are stubborn about making changes to their defensive game plans.
Gannon is running a Zone Defense that appears to be an amalgamation of Mike Zimmer's Zone Defense and the famous Tampa Cover Two system.  There is a long history in the NFL of Zone Defensive Systems working but how Gannon calls the defense each week is the real issue.  The Eagles Defense ran what is referred to by experts as a Passive Zone where they wanted to keep everything in front of them and has similar concepts to the infamous Schwartz usage of the passive "Sticks Defense". In the Cowboys and Chiefs losses, whenever Gannon attempted to make adjustments he was thoroughly out schemed and outcoached by the opposing play callers who manipulated Eagles Defenders on almost every down.
The Eagles Defense also does not blitz often and when you cannot get consistent pressure on opposing Quarterbacks, coaches tell their QBs to be more patient and let plays develop.  Then Gannon's defense attempts to disguise their coverage to look like they are coming with a Blitz and then they drop into zone coverages on third down.  BUT what's the value of pretending to bring a Blitz if you almost NEVER actually bring the Blitz?
On top of all of this is the reality that former Vikings Linebacker Eric Wilson and third year Eagles Linebacker Alex Singleton look like they are being asked to do things in this Defense that are not their strengths.  Singleton has led the Eagles Defense in Solo Tackles for two straight years but Gannon is asking him to chase Receivers around half the game.  On the flip side, Wilson's Snap Counts fluctuate from week to week and he officially only has two starts despite the fact his addition this offseason was supposed to be a sign that the Eagles were upgrading their Linebackers.
In the book "Strange Case of Dr Jekyll and Mr Hyde", Scottish author Robert Louis Stevenson tells the tragic story about a man whose experimentation with a serum that transformed him from a gentlemanly doctor into a self-indulgent monster.  From week to week, we have no idea what version of Nick Sirianni and Jonathan Gannon we are going to get: Some weeks, Gannon's defenses stays aggressive in their Zone Coverages with Safeties lining up in the box and drop into coverage last second while Sirianni's offenses look efficient and explosive putting opponents on their heels.  But other weeks, Gannon's Defense looks Passive and indecisive while Sirianni's Offenses calls plays that make zero sense and obsesses over Screen Plays.
Every time we think that Nick Sirianni and Jonathan Gannon are learning from their previous mistakes, they give us new reasons to not trust them. That is a major element of the tragedy for the people entangled in the sage of Dr. Jekyll and Mr Hyde because they never knew if they could trust or rely on the Doctor to keep the Monster under control. The Jekyll and Hyde saga had a tragic ending; We can only hope Sirianni and Gannon can avoid football's version of similar events and stop self-destructing their Offense and Defense on random weeks.
Eagles vs Carolina Panthers, Oct 10, 2021