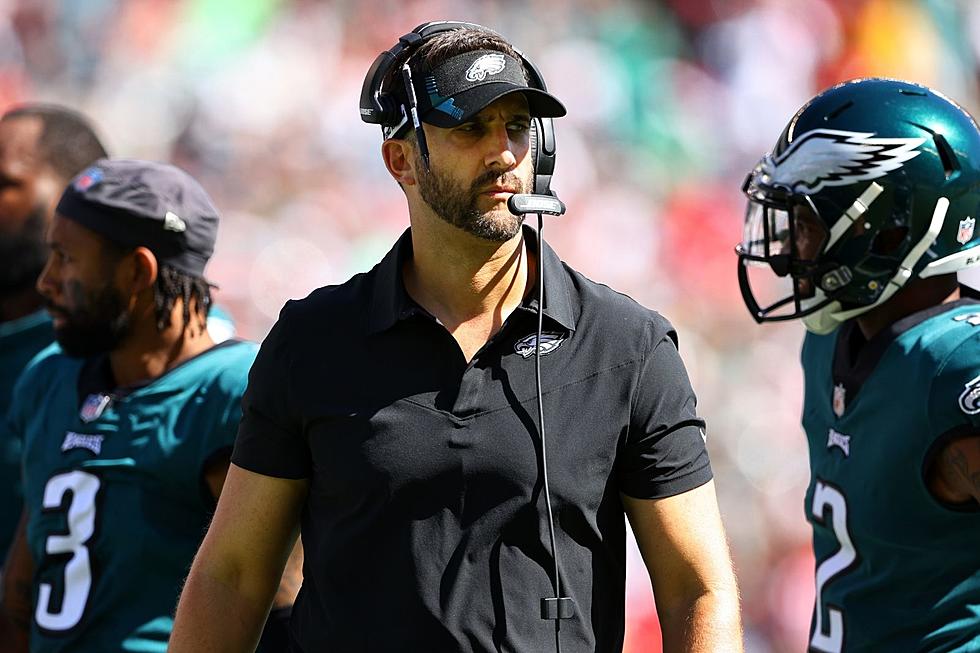 Eagles need to fix Mental Errors and Overthinking or Else
(Photo by Mitchell Leff/Getty Images)
We have all heard coaches and players talk about the mental side of the game, that success on the field is more mental than physical at the elite level. In Sunday's Eagles loss to the 49ers, the fans at Lincoln Financial Field saw this reality play out on the field as Head Coach Nick Sirianni and his players made mental errors that led to a loss in a winnable game.
Some experts call it Overthinking and others call it Analysis Paralysis, whatever you want to call it, the truth is Nick Sirianni fell victim to his own mind trying to do too much and the Head Coach admitted as much. When it came to that "gadget play"/ Wanna-be "Philly Special" that turned the momentum of the game from Philadelphia's favor, handing it off to the 49ers and the Eagles never recovered.
That is the biggest issue in Sunday's loss that was the difference between Week One and Week Two for the Eagles. They never bounced back from their failure to score after the big pass play to Quez Watkins.  Sirianni's game plan deviated from what they did well the week before, getting away from using the Tight Ends and got away from the balanced attack utilized in Atlanta:
*Miles Sanders and Kenneth Gainwell combined for 19 Rush Attempts for 69 Yards versus 49ers while in Atlanta they combined for 24 Rush Attempts for 111 Yards.  Also, they had Eight Pass Targets versus the Falcons but only three versus San Francisco.
*Zach Ertz and Dallas Goedert combined for four pass targets versus the 49ers but the week earlier they had seven pass targets; that variation in targets resulted in a difference of 46 Passing Yards (30 Receiving Yards for Tight Ends versus 49ers and 76 Receiver Yards versus Falcons).
Now some people may say that this is because the San Francisco defense has better talent than what the Eagles faced in Atlanta.  But when you break down the passing game you see that Jalen Hurts had six pass attempts of 20 yards or more versus the 49ers (2-6) but against the Falcons Hurts only had two pass attempts of 20 yards or more (2-2).  In order to make deep throws, you need time from the Offensive Line and if Hurts had more deep throws then his guys were giving him time to throw. The 49ers Defense got three Quarterback Hits on Jalen Hurts and the week before, the Falcons Defense got two QB Hits on Hurts.
As you can see from NFL Next Gen Stats, the passing game was different from Week One to Week Two and it wasn't because the 49ers defense was great, it was because the game plan obviously got away from what worked in Week One:
Now to compound the issues on offense this past Sunday was the horrible mental errors by the players on the field. The Eagles have committed more penalties than their opponents for two straight games, totaling 146 Lost Yards on 22 Penalties. Two penalties were incredibly egregious by Eagles Defenders against the 49ers: Leading with the Helmet resulting in Unnecessary Roughness Penalties by Derek Barnett and K'Von Wallace were completely unacceptable and unnecessary. This coaching staff preached fundamentals and playing football the right way all offseason and now we have two players on defense who reverted back to their previous bad habits. Wallace was a hard hitting Safety at Clemson who had a bad habit leading with his helmet on many plays while Barnett has a history of Personal Fouls during his Eagles career:
Thanks to poor coaching decisions and play calling along with mental errors by players on the field doomed the Eagles in a game they could have won at home versus the 49ers in front of a raucous Lincoln Financial Field. Now they are 1-1 heading into the toughest stretch of their schedule for the 2021 season:
*Travel to Dallas to play the Cowboys on Monday Night Football, a team that is the favorite to win the NFC East with latest odds of -140 at Fan Duel Sportsbook (Eagles are currently +400 to win the NFC East)
*At home against superstar Patrick Mahomes, the Kansas City Chiefs, and Andy Reid returning to Philadelphia
*Travel to Carolina to play a Panthers team whose Defense has looked really good so far this season and Sam Darnold has shown he is finally reaching his potential in a better situation
*Return home to play the defending Super Bowl Champions Tampa Bay Buccaneers and Tom Brady on a short week Thursday Night Football game
*Travel to Las Vegas to play a suprising Raiders team that has started the season 2-0 beating two teams many expected to be AFC Playoff Contenders
The Eagles need to clean up the mental errors, stop overthinking, get back to the basics and fundamentals that Nick Sirianni preached during the Offseason and Training Camp or the Eagles will be on a six game losing streak heading into their Halloween Day matchup with the underwhelming Detroit Lions. The "Silver Lining" is that their three road games are against teams that they have the talent to compete with but they have zero chance of winning any of those five games if Nick Sirianni is going to overthink the offensive game plan or if the players are going to keep committing unnecessary penalties on a weekly basis.
Atlantic County Bars to watch Football this season (alphabetical order)