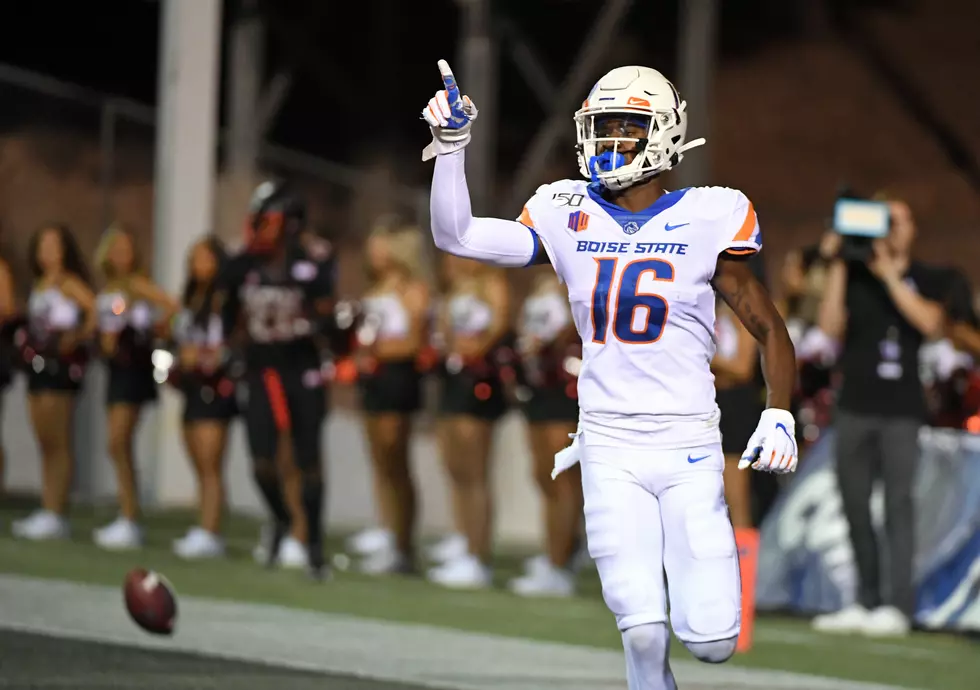 Eagles' John Hightower offers enticing blend of speed, versatility
Ethan Miller/Getty Images
Years before hearing his name called on draft weekend, John Hightower's path to professional football seemed like a nearly impossible feat.
A two-way standout at Riverdale Baptist High School in Upper Marlboro, Maryland, Hightower's initial steps in what has been a gradual climb to the pinnacle of the collegiate ranks began with a 1,000-mile journey to Raymond, Mississippi.
Miring in relative obscurity at Hinds Community College, where he provided depth at wide receiver for two seasons, Hightower totaled 31 receptions for 509 yards and seven touchdowns over his 18-game junior college career.
Emerging from the uncharted depths of JUCO football, Hightower decided to trek 2,000 miles from Raymond to Boise, Idaho, to play out his final two years at Boise State University.
Hightower appeared in 10 games (4 starts) in his first season with the Broncos, compiling 31 receptions for 504 yards and six touchdowns, in addition to producing 163 yards and two touchdowns on the ground and adding value on special teams. The wiry wide receiver finished second on the team in touchdowns (8) and third in all-purpose yards (870).
After bursting onto the scene as a junior, Hightower garnered preseason first-team All-Mountain West Conference recognition ahead of the 2019 campaign. For an encore, Hightower registered 51 receptions for 943 yards and eight touchdowns, carried the ball 16 times for 154 yards, and doubled as the Broncos' primary kick returner, averaging 24.6 yards on 26 opportunities. Hightower, who faced seemingly insurmountable odds merely two years earlier, ultimately became a household name.
The Maryland native earned second-team All-Mountain West honors at both wide receiver and kick returner and a prestigious invitation to the 95th annual East-West Shrine Bowl.
Entering Shrine Bowl week, few prospects prompted as much intrigue as the sleekly built Boise State speedster. While Hightower flourished as one of college football's premier deep threats in 2019 -- averaging 18.5 yards per reception -- many were interested in seeing how the 6-foot-2, 172-pound receiver would fare in his 1-on-1 matchups and contested-catch situations.
After a rocky start to the week in which he experienced little resistance creating separation but failed to come up with the football on multiple occasions, Hightower quickly returned to form, salvaging the week-long evaluation.
The Broncos' standout impressed onlookers with his nuanced route running and downfield presence, and any questions surrounding his inconsistent tracking of the football were effectively laid to rest.
On the heels of his newfound success, Hightower was largely viewed as an intriguing late-round sleeper throughout much of the pre-draft process.
Over the offseason, the Eagles made a concerted effort to restock a cupboard largely absent of explosive playmakers by selecting TCU pass-catcher Jalen Reagor in the opening round of the 2020 NFL Draft -- and continued to add to the oft-maligned receiving corps on Day 3.
Following the selections of K'Von Wallace and Jack Driscoll, the Eagles stumbled on additional value later that afternoon, landing Hightower in the fifth-round. Hightower, 24, joins a crowded Eagles' receiving corps that suddenly boasts the requisite speed to field a 4x100 relay team.
Due to the coronavirus pandemic, Hightower, like most rookies, will enter training camp deprived of a full offseason and at a distinct disadvantage from an acclimation standpoint. With four wide receivers essentially etched in stone on the depth chart, that likely leaves Hightower in a four-person camp battle with Marquise Goodwin, Greg Ward, and fellow rookie Quez Watkins for one, possibly two remaining spots.
Working in Hightower's favor is his dazzling speed, versatility, and length. The Boise State product can stretch teams vertically on the perimeter or in the slot, pick up yards on jet sweeps -- he accumulated 317 yards on 24 carries at Boise State -- and contribute in the return game.
Hightower will need to add size to his slender frame and acquire an 'above the rim' mentality when the ball is in the air to attain sustained success at the next level, but his physical traits suggest the Eagles landed a player that was simply a product of an immensely deep class of wide receivers.