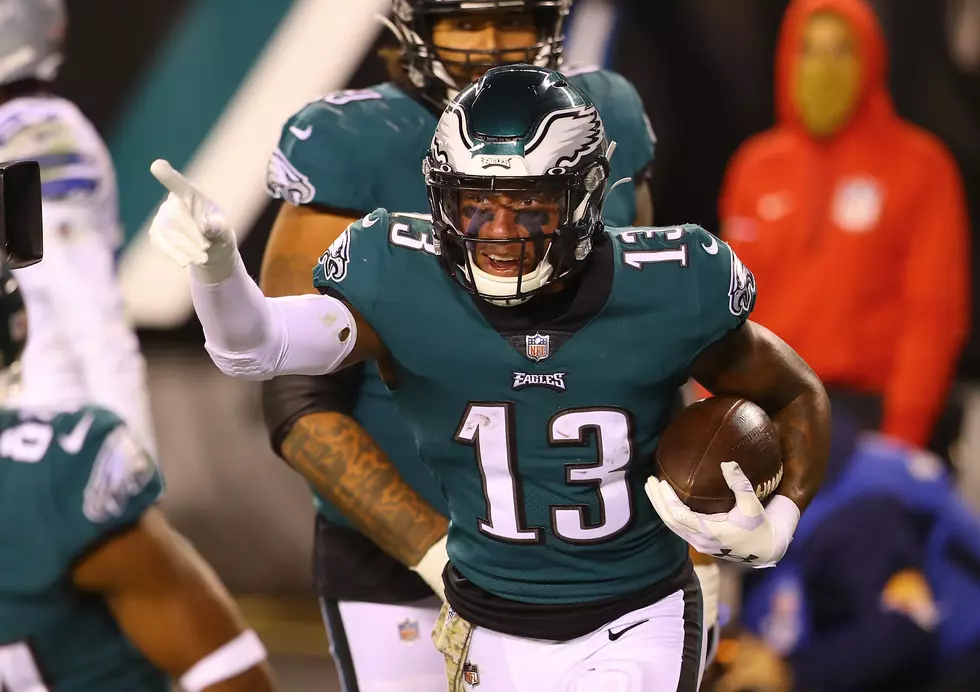 Eagles Notes: Fulgham's Playing Time, Mailata's Future, Sweat Impressing
Getty Images
Eagles wide receiver Travis Fulgham was one of the top players in the league for a four week span.
That seems like it was in another season.
Enter your number to get our free mobile app
Fulgham had a two week span where he had 16 catches for 227 yards and two scores over against the Steelers and Ravens. In those games he saw 23 targets. The next two weeks against the Giants and Cowboys, he added 11 catches for 151 and a touchdown on 18 targets.
Since then he has just 16 total targets in five games, totaling 32 yards on 16 targets.
When asked about the game plan last week, that saw Fulgham play just 11 snaps, with zero targets, Eagles head coach Doug Pederson took some of the blame.
"We know we have to do better," Pederson admitted. "He has to do better. He's got to play better, but at the same time Alshon is playing better too, so we're going to play the guys on that particular play who are in the game. That's based on game plan, so you can't put it on Travis. You can put it on me. I'm the play caller, I call the personnel groups, so put it on me. "
The 25-year-old Fulgham is in his first season with Philadelphia. In 10 games, he has 33 receptions on 60 targets for a team-leading 467 yards and four touchdowns. His snaps have declined since the return of veteran Alshon Jeffery, who missed the first eight games of the season.
Fulgham looked like a young player the Eagles lucked into, with all the injures at the wide receiver position, he was thrown into the fire and excelled.  The former sixth-round pick, bounced around with Detroit anf Green Bay before finding a home with the Eagles.  It seems he was destined to have a more defined role beofe Jeffery returned to the lineup.
"I'll tell you this, Alshon is getting heathier and is playing better and we game plan for him," Pederson explained on Thursday. "There are certain plays, specific plays that Travis is going to be in on and there's specific plays that Alshon is going to be in on."
He still ranks second behind Greg Ward in targets and leads the team in receptions and yards, but it appears that his role is minimal moving forward this season.
Here are a few more personnel updates Carroll provided Wednesday.
• Right tackle Jack Driscoll, who started the past two games, appears to be done for the season with a MCL injury.
"He's definitely going to miss some time with the injury. We don't know yet honestly if he needs surgery at all, but he's definitely going to miss some time," Pederson said, adding that Matt Pryor will start in his place on Sunday against Arizona.  Pryor will have his hands full with former Temple product Hasson Reddick.
"He's quick, he's fast, agile, he can bend, speed rusher," Pederson described. "Obviously, he had a heck of a game the other day, so Pryor's got to get in here and study the tape and study him and expect him to be prepared."
• Pederdson shared some thoughts on the left tackle position with Jordan Mailata playing well there during his time in the lineup.  However keep in mind the Eagles drafted Andre Dillard in the first-round last year to take over for Jason Peters, but is out for the season with a torn biceps.
"I don't know. We haven't really fully seen Andre Dillard either at that spot so it's hard to sit here today and say that," Pederson said about Mailata being the future left tackle. "He's helping himself, I would say that. Jordan has played well enough to maybe compete at that spot, but I think it's a little unfair to sit here and say he's a full-time starter moving forward without seeing enough of Andre who obviously we drafted to take that spot."
• Second-year defensive end Josh Sweat, who had two sacks and a forced fumble on Sunday against New Orleans is earning more trust from defensive coordinator Jim Schwartz, but that doesn't mean his role will change.
"We've always had confidence in him, Schwartz said on Tuesday. "He's played a lot of football for us and we'll continue to rotate those guys up front and try to keep those guys as fresh as we can and keep them fast and making plays."
Eagles vs Giants 2020