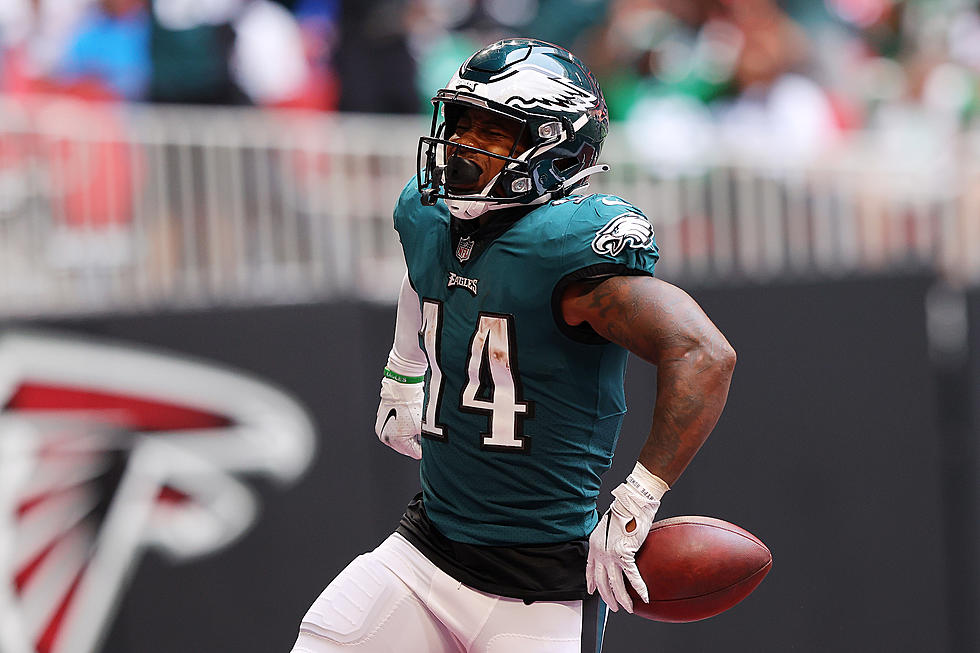 Eagles Notes: New Faces Shine in Win Over Falcons
(Photo by Kevin C. Cox/Getty Images)
The Eagles had to hit the road in Sunday's season opener, but the end result was a pretty impressive 32-6 win over the Atlanta Falcons.
Eagles vs Falcons: 3 Up and 3 Down
After allowing the Falcons to score a pair of field goals on their first two drives to open the game, the Eagles were in control the rest of the way, dominating in seemingly every aspect of the game.
The Eagles allowed only 114 yards after the Falcons' first two offensive drives, both of which resulted in field goals. In total, the Eagles defense allowed only 260 yards (136 passing, 124 rushing) and sacked Matt Ryan three times.
As you'd expect, Eagles new head coach Nick Sirianni was thrilled with how his team opened the 2021 season. He spoke to the media on Monday to break down the big Week 1 win.
Here's some of the highlights:
New faces shine in offense
"Man, I thought he did a really good job there. He did an excellent job," Eagles head coach Nick Sirianni said when asked about his assessment of how QB Jalen Hurts handled his first start.
That was certainly the case, with Hurts tossing three touchdowns and most importantly, not turning the ball over.
The first score of the year, though, was something Eagles fans hope to get accustomed to seeing with the Eagles, and that was Hurts dropping a perfect touch pass to DeVonta Smith in the end zone.
With a man coverage and Smith lined up in the slot with man coverage, he used a nice rub from veteran Zach Ertz and ran past his defender into the end zone, and Hurts threw a perfect ball to Smith for the Eagles first score of the season.
"We saw the coverage we wanted, rolled with it and executed the play," DeVonta Smith said.
Also standing out was rookie running back Kennth Gainwell, who capped a 6-play, 50-yard scoring drive with his first career rushing TD (8 yards).
With both Gainwell and Smith scoring touchdowns, its the first time that two Eagles rookies scored touchdowns in a season opener since at least 1950, according to Pro Football Reference.
Two tight ends are better than one
Also on the offensive side of the ball, we saw both of Philadelphia's top tight ends get some work in the passing game with Zach Ertz and Dallas Goedert combining for six catches for 76 yards and a touchdown.
Goedert is entering his third NFL season while Ertz is entering his ninth.
Ertz played a big role on the teams first touchdown catch to DeVonta Smith, lining up on the outside and setting a "pick" for Smith to rub off and get separation for an easy pitch and catch for a score.
Goedert caught a couple of key passes including a 9-yard touchdown pass at the end of the first-half to give the Eages a 15-6 lead heading into the locker room. Overall Goedert got more snaps on offense than Ertz, playing in 73% of the offensive plays.
Ertz had a hamstring issue that might have bothered him throughout the game, but still caught two passes for 34 yards, and he lined up all over on offense for the Eagles, playing in 58% of the teams snaps.
"Zach's hamstring, we were just being cautious there," Sirianni said on Monday. "He, obviously, came back in and played, we're still evaluating through with him."
Defensive line stands out
If there was one area of the Eagles' defense that turned heads on Sunday, it was the defensive line, where multiple players shined at various moments in the game.
Philadelphia kept their lineman fresh, using a steady rotation at that spot, getting sacks from Hassan Ridgeway and two from Javon Hargrave.
"He was awesome. He was ready to go, and he's just got that ability to move on and play on. He really helped us out yesterday over there in Atlanta," Sirianni said about Ridgeway.
In particular, the play of Philadelphia's line in the red zone really caught Sirianni's eye.
"If they score those two touchdowns, it's 15 to 14 at half," Sirianni explained. "It's a completely different feel and it's a completely different feel for how the second half plays out. Ton of credit to the defensive coaches and defensive players executing. Really pleased with that."
However it was Hargrave that stood out on Sunday
The sixth-year defender missed a lot of time in 2020 due to a pectoral strain injury after signing a three-year, $39 million pact in March of 2020. He had a solid career in Pittsburgh, racking up 14.5 sacks in four seasons.
Hargrave is just 28 years old and playing next to Fletcher Cox, he appears to be putting it all together for Philadelphia's defense in 2021.
Injury updates
The Eagles entered the Week 1 opener in very good shape in the health department, and they left Atlanta pretty healthy. But three players did leave the game with injuries and head coach Nick Sirianni provided some updates on Monday.
Wide receiver J.J. Arcega-Whiteside left the game with a ankle injury, Sirianni was asked if he would be ready for Week 2.
"J.J.'s ankle, he's day-to-day. I thought did an excellent job yesterday of blocking. He was aggressive. He was able to make some plays, kind of sprang out there for extra yards."
The other two injuries, were safety Marcus Epps and Ertz.
"Marcus is still in the concussion protocol."
Photo gallery: Eagles Open 2021 Season at Atlanta Falcons