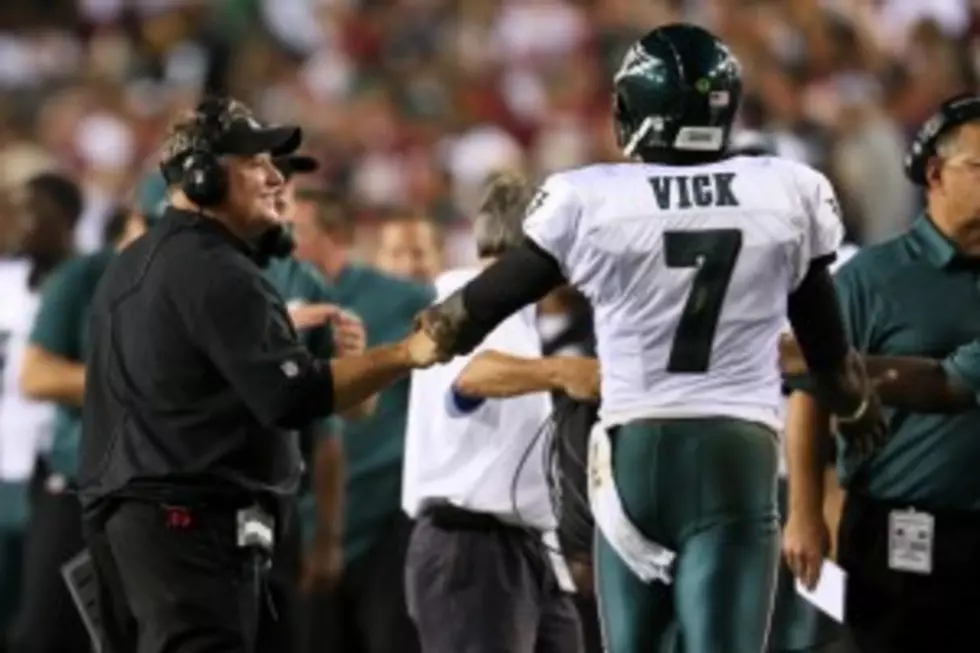 Eagles Notes: Vick Could be a Game-Time Decision
Mike Vick also said he could play this Sunday if he had to, but strongly hinted he will not suit up. (Photo by Rob Carr/Getty Images)
Coming out of their Week Five win over the New York Giants, Philadelphia Eagles quarterback Mike Vick couldn't finish the contest due to a hamstring injury. Vick has been able to practice on a limited basis for the past two days, but the Eagles aren't sure what to expect for Sunday.
Speaking Thursday, Eagles coach Chip Kelly hinted he won't officially announce his starting quarterback until Sunday morning.
"We'll see how it is as we go into it, Eagles head coach Chip Kelly stated.  "Again, we're never going to put [Mike] in harm's way and we're always going to do what's best for the team.  The good thing is we still have three full days.  We've got Thursday, Friday and Saturday of training to really get a full evaluation of where we are with this whole thing.."
Vick was officially listed as limited in Thursday's practice. While Coach Kelly has said he doesn't have to announce his decision until Sunday morning, but all signs point to Nick Foles starting against the Bucs.
During Thursday's practice, tight end James Casey (knee), punter Donnie Jones (foot),  and Vick (hamstring) were all limited participants.  Speaking of injuries, safety Patrick Chung was back on the field as a full participant and is on schedule to play on Sunday.
Chung's shoulder injury is progressing much better than it had been a week ago according to the head coach. The safety wasn't able to practice the last two weeks, but has been able to do that so far through the first two days of practice this week.
"You know, he went through yesterday," Kelly said.  "We want to see how he rebounds.  He went through everything full yesterday, so how does he rebound today, is there any residual effect from it, so today is a big day for Pat."
Cornerback Brandon Boykin (groin) was once again a full participant at practice, but this time was joined by linebacker Connor Barwin (knee) on that list.
The only other member of the active roster listed as limited this week on the injury report is running back Chris Polk, who is hobbled by a ankle injury and was limited on Wednesday, he was a full participant on Thursday.  He will continue in the same role in the offense.
"Obviously LeSean is the number one guy," Kelly explained.  "But we got him in early and I think it was in the second quarter against the Giants, and we'll continue to do that as long as we're getting enough reps on offense to do that."
The Eagles get back on the practice field Friday at the Nova Care Center.